Best Camera For Walking Videos (Guide On The 7 Cameras)
Walking travel videos are becoming very popular on platforms like YouTube and TikTok. People are watching these videos exclusively, and it has become a separate genre for content creators.
What makes these videos appealing to people is the quality visuals on them. Recording such high-quality videos always comes down to choosing the right camera and building the correct setup.
Finding the best camera for walking videos is the first hurdle to overcome to record such videos. Whether you want it for content or a hobby, the videos' quality is crucial. That's why we bring the top 8 cameras for recording these videos to help you get the best quality.
How To Get Started With Walking Tour Videos?
If you are clueless about where to start with these walking tour videos, this short guide may help. Creating such content involves several steps to reach a point where you can pursue this whole thing professionally. Here are the steps you should follow to make quality walking tour videos.
Step 1: Get The Perfect Camera For Recording
The first step towards making walking tour videos is to get the right camera for recording. If you don't have a mesmerizing video quality, it won't captivate people to watch your videos. To get that kind of quality, you have to have a high-quality camera.
That doesn't mean you need a dedicated camera for that purpose. Even an iPhone can be the perfect camera for recording such videos, considering their quality. Other than an iPhone, you can use mirrorless cameras, pocket cameras, action cameras, and so forth.
Step 2: Assemble The Complete Recording Setup
Just having a camera can get you the desired quality from these walking videos. You will need additional gear like a gimbal or a mount, a quality microphone, recording software, and the perfect settings. Without these things, you can't achieve the perfect quality.
Among these items, you must emphasize the mount or gimbal to ensure your video has exceptional stabilization.
Even if your camera comes with stabilization, getting a gimbal alongside can always provide the best quality footage for these videos.
Step 3: Plan Out Your Content To Ensure Engagement
Honestly, no one wants to watch a video where someone is simply walking. The video needs to be engaging; the best way to do it is through telling a story. Your videos need to have that appeal to the audience where you tell a story or have a conversation with them.
For instance, you can record these walking videos and explain the history or tell a story regarding the place you are exploring. This can add much value to your video and make it more engaging for the viewers.
Step 4: Execute The Videos Properly
When you are recording such videos, you must ensure that you are not shying away from making content. You can't be uncomfortable while making these videos.
Also, when recording these videos, you must keep the walking speed in control. Don't walk too fast, as it may miss out on some spots in the city, and don't walk too slow to make the video boring and lengthy.
While recording videos, you have to make sure you are capturing the interesting parts of a place. Avoid places that don't excite the viewers, otherwise, you may not create the engagement you desire in your videos.
Step 5: Editing The Videos
Once you are done recording, you must get to these videos' post-processing phase. Here, you make the video more appealing through color correction, exposure settings, and, most importantly, blurring people's faces.
Plenty of software exists for this purpose, such as Final Cut Pro X, Da Vinci Resolve, Adobe Premiere Pro, and so on.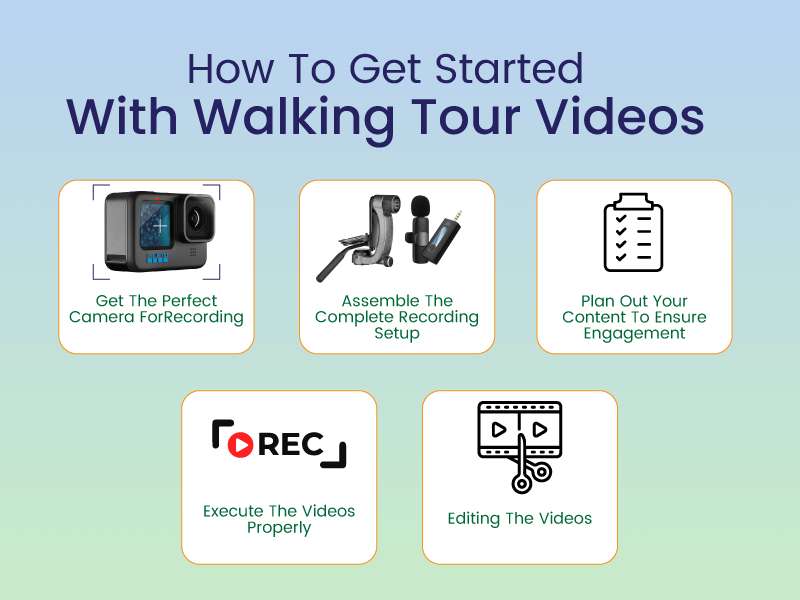 What Are The Best Youtube Channels For Walking Tour Videos?
The easiest way to learn and improve on making walking tour videos is to watch similar videos. Below is a table of some top walking tour video channels on YouTube with their subscriber numbers.
| | |
| --- | --- |
| Channel name | Subscribers |
| BookingHunterTV | 268k |
| Tourister | 254k |
| Prowalk Tours | 556k |
| Wanderlust travel videos | 124k |
| Wanna Walk | 205k |
| 4K Urban life | 347k |
7 Best Cameras For Walking Videos
Plenty of cameras can provide high-end quality videos; that's not a big issue. However, a combination of stabilization, portability, and quality makes up a perfect walking tour video camera for YouTube.
Based on these three factors, we found the following 7 cameras to come out with flying colors. Go through them individually and see which one captures your interest the most.
#1 DJI Osmo Action 3 Standard Combo
Starting the list with an amazing camera from DJI, renowned for making video equipment. It's an action camera with features to record videos while you are on the move.
Right off the bat, the camera features 4K HDR video capabilities with 1 billion colors delivering vivid images. You can get all the natural details in the footage, and everything appears with the right color contrast in every scenario.
In the OSMO Action 3, HorizonSteady technology keeps all your shots steady and smooth. It's a signature stabilization technology of the camera, which makes it great for recording videos while walking. In fact, you can even record while biking, skydiving, or skiing with this one.
The camera can perform well even in the rainiest conditions due to its waterproofing capabilities. The camera is meant to go under 16 meters of water without extra accessories. This means you have nothing to worry about while shooting walking videos on a rainy day.
Feature the maximum footage of a city with its 150 minutes of battery life and continuous shooting. Carrying the camera with you will never be an issue since it's very compact and lightweight. You can simply pack it up in your pocket if you want.
Pros
Record excellent high-resolution videos
Great image stabilizing capabilities
Very easy to mount the camera
Excellent protection for all outdoor activities
Portability is truly exceptional
Cons
Doesn't come with any storage features
Lacks a bit in terms of aesthetics
#2 DJI Osmo Pocket – Handheld 3-Axis Gimbal Stabilizer with Integrated Camera
DJI knows how to rule the game of travel and portable cameras. The Osmo Pocket is another example of that statement. It even has the word pocket, so you know you are getting portability on this camera. And it has a lot more to offer alongside.
Starting, you get stunning details in your clips using the camera's 1 /2.3-inch CMOS sensor. It's paired with an 80-degree FOV and an aperture of F/2.0 for excellent video clarity. On top of that, the camera can deliver 4K resolution videos at 60 FPS for smoothness.
What makes the camera suitable for walking or moving videos even more, is its 3-axis gimbal attached to it. Stability will never be an issue in your video clips. And, of course, you won't have to worry about getting a gimbal or amount separately.
Its single-handed design makes it much more convenient to carry it around even on the busiest of streets. The handle is sweat-proof and features a very comfortable grip, so you don't get a hand ache after a day of shooting.
Things get even better with plenty of video features available in the camera. From panorama shots to night shots to story modes, you get everything on this one. It also features great tracking abilities with ActiveTrack and FaceTrack. Motion lapse and timelapse are just a plus.
Pros
Excellent portability
Packed with functions and features
Offers direct streaming using smartphones
Compatible with plenty of devices
Produces high-quality, stable videos
Cons
It doesn't have zooming abilities
App could be a bit better
#3 Dji Pocket 2 Exclusive Combo – Best Overall Pick
Here is another excellent choice from DJI that turns out to be the best option for vlogging, walking videos, hiking, and so much more. It's the perfect package for any content creator who is willing to make IRL videos on their trips all over the place.
First, the 8x zoom with a 64MP camera makes this one an upgraded choice over the Osmo pocket. You can capture the tiniest of details while zooming in with this camera. This feature comes in handy for recording videos and clicking photos.
This camera is perfect if you want to focus on a certain subject while recording walking videos. ActiveTrack 3.0 can track any subject you focus on effortlessly, even when they are moving.
Coming to the quality of the videos, you get 4K resolution on the clips with a 60FPS. Videos will always remain stable thanks to its 3-axis stabilization in the attached gimbal. With such stability, you can get that soothing walk-through-the-town vibe in every video.
While you may think the handle is only there to hold the camera, it does a lot more than that. There is Wi-fi and Bluetooth connectivity to connect your devices. Also, you get an audio jack, a tripod mount, external speakers, and a mic receiver.
Pros
Excellent portability
Great versatility with various functions
Top notch video quality
Effective zooming for details
Works well in low light conditions
Cons
It can get hot after use
Questionable battery backup
#4 Insta360 One X2 360 Degree – Best For Convenience
Insta360 One X2 has to be one of the most convenient pocket cameras available. Its features can easily satisfy the users with performance, comfortability, portability, usability, functionality, and many more. It's a perfect camera for hiking videos.
The most incredible fact about this camera is it can record videos at a complete 360-degree angle. There are two cameras here, one in the front and one in the back, with CMOS sensors. When you record videos, both cameras start recording, and you can choose which angle to keep later on.
The feature that makes the camera perfect for walking videos is its stabilization capabilities. Its FlowState Stabilization technology offers great stability through horizon leveling algorithms. As a result, the shots come out quite smooth without even using a gimbal.
Speaking of smoothness, the video quality is also impeccable from both the lenses on the camera. It can produce videos in 5.7k resolution and capture every detail you want in your footage. It works great for walking videos in a crowded city.
Topping things off comes the camera's advanced features, making it a very smart choice for content creation. It offers live streaming options, webcam ability, an AI editing feature, a voice control option, and an invisible selfie stick.
Pros
Compact and lightweight to carry
Excellent picture quality
Impressive image stabilization
Offers lots of advanced features
Very easy to use with the app
Cons
Needs a lot of editing
The app needs some improvements
#5 Sony Zv-1 Digital Camera For Content Creators – Best Dslr For Walking Videos
If portability is not your first criterion and you want versatility, then Sony ZV-1 can be perfect for your walking videos. It's a DSLR camera, so you can't carry it in your pocket, but you can surely use it for many different purposes.
In this camera, you get a 20.1MP 1″ Exmor RS CMOS sensor that can provide great quality images on the fly. And the 24-70mm Zeiss T-lens with its F1.8 – 2.8 aperture brings out the best details in everything you shoot with this camera.
With the help of the Bionz X image processor on the camera, you get excellent tracking and fast autofocus ability. It works out great when you have to shoot those walking videos in a busy city with many people and traffic moving around.
Shooting walking videos is all about stability; with this camera, you won't have any problems. The camera itself has great image stabilization with automatic exposure tracking faces. This means every single face appearing in your video will always be well-lit.
What makes the camera unique is its versatility in functionality. While you can use it for walking videos, it also works great as a regular camera. It's suitable to work as a vlogging or streaming camera. You can use it for photography purposes as well.
Pros
Perfect for versatile usage
Excellent video and image quality
Offers top-notch tracking abilities
Pretty lightweight and compact for vlogging
Easy to share content in different mediums
Cons
Requires a gimbal for perfect stabilization
The battery life isn't that good
#6 Gopro Hero11 Black – Waterproof Action Camera
Whenever you think of capturing videos on the move, GoPro is a name to pop up frequently. And their Hero11 had to make this list because it's surely one of the best cameras you will ever get for creating walking videos.
The feature that makes it your perfect walking companion is its stabilization capability. With the HyperSmooth 5.0 video stabilization feature, it can capture steady videos and make them look smoother than butter. And the AutoBoost feature amps up the game even more.
Packed with a CMOS sensor, the camera can record videos with an amazing video resolution of 5.3k to give you excellent details, colors, and sharpness. Whether walking in a rural area or an urban area, the view will always mesmerize with this camera.
Capture the most to your capabilities with its 1/1.9″ sensor allowing the camera a significant field of view. It has an 8:7 ratio view to capture a much wider scenery while making those walking videos in a city.
Apart from walking videos, you can use the camera for vlogging, streaming, and many other sports activities. It's a completely waterproof camera with many protective abilities to make it usable in various outdoor activities and conditions.
Pros
Great for portability
Impressive video quality
Impeccable stability in videos
Wider FOV for more space
Suitable for recording every outdoor activity
Cons
Indoor videos can turn out grainy
Doesn't work great for long recordings
#7 Ricoh Theta Z1 51gb Black 360° Camera
Regarding portability, here is another pocket camera to carry everywhere you go. While small, the features are truly surprising, and the quality is top-notch for recording your walking videos.
First of all, this camera is capable of providing a smooth 360-degree video experience with high-precision stitching. You can get these videos in a 7K resolution and 23MP sensor to capture every little detail in a single view.
There are also enhanced HDR capabilities to capture scenes with great clarity and contrast. It can maintain a balance in different scenes with varying brightness levels. This works great for walking videos as it won't be awkward in visuals.
With its iconic image processing algorithm, it can achieve excellent low noise in the footage and high-end resolution. The dynamic range correction on the camera helps it achieve the perfect level of exposure in all the images and videos.
Something that keeps the camera ahead is its high-quality illuminated CMOS sensor. The sensor can suppress typical ghosting, flaring, and fringing issues to bring out the best possible image quality you can expect from this one.
Pros
Super compact and lightweight
High-quality video footage
Works great for varying brightness in the outdoors
Features 360-degree video recording
It comes with many advanced functions
Cons
Quite expensive
The Wi-fi connection is pretty weak.
Things To Consider When Buying A Camera For Walking Videos
As soon as you think about buying a camera to record walking videos, you have to consider several considerations for the best result. Considering such factors always lead you toward the most suitable option based on your requirements. Let's check those out quickly.
Video Quality And Resolution
The most important factor you have to consider in the camera is video quality. The video quality has to be top-notch and bring out the best possible details it can. Of course, nowadays, the standard is to have a camera with at least 4k resolution. So, aim for that resolution in your camera.
The frame rates should be at least 60fps to give you that fluid motion in your videos. While you can get by with 30fps videos, they don't look as soothing as 60fps or 120fps videos.
Stabilization
Stabilization is another key feature to look for in a camera for creating walking videos. Since you will be walking with the camera, any kind of shakiness will disrupt the quality of the videos. That's why you get a camera that provides excellent image stabilization features.
Portability
When capturing walking videos, you must get a lightweight and compact camera. You need something easy to carry without aching your hand or filling up your backpack. Also, the camera needs to have a mount or gimbal attachment.
Unique Features
This is where you can differentiate a lot of cameras and find which one is perfect for your purposes. Some cameras come with wireless connectivity to connect your smartphone and start streaming. Then there are some cameras that have microphones and speakers attached to them.
You also get advanced features like AI editing in some cameras. Then there are plenty of handy features like exposure correction, fast tracking, easily replaceable mounts, etc. Get the one that impresses you the most.
Battery Life
The last thing to consider is battery life. You should get a camera with long battery life to capture the most possible footage. A battery backup of around 110 to 160 minutes is great for such a camera, as you won't be walking through a city more than that.
Final Thoughts
By now, you have a clear idea of what the best camera for walking videos works like. The features you should be prioritizing are image stabilization, video quality, and portability. Anything after that comes down to your preferences.
Considering everything, we would suggest the DJI Pocket 2 Exclusive Combo as the best overall pick. It has excellent video quality while providing good portability and top-notch image stabilization.
But if it doesn't fancy you, you can always check out the other ones offering various kinds of features. No matter which one you pick, they all deliver on the basic factors for such cameras.

I'm Lisa brown, 25 years old photography enthusiast living with the dream to capture every moment I live. I've been engaged with photography for five years in a row. I dream of sharing all the experiences with every rising photographer dreaming of being professional.