Finding The Best Gimbal for BMPCC 6k (Top 10 Gimbals)
Clicking pictures on the go becomes much easier with the Black Magic pocket cinema camera 6k. The quality you end up with is top-notch. However, getting the best Gimbal for BMPCC 6k can take your photography and cinematography game to the next level.
Well, you can find plenty of gimbals out there, but it's rare to find ones compatible with BMPCC 6k. And an incompatible gimbal is as good as not having one in the first place.
Fortunately, we have done all the hard work for you. Here, we list 10 perfect gimbals for the BMPCC 6K camera. So, if you want the best performance from your BMPCC 6K, check them out below.
Why Should You Get A Gimbal For Bmpcc 6k?
BMPCC 6K is already known for its amazing picture quality to its users. And when you add a gimbal in the setup, things just get even better in terms of the quality and performance of the camera. Here's the value a gimbal can add to your BMPCC 6K setup –
Stabilizes the scenes and makes them much smoother
Carrying the BMPCC 6K becomes even more convenient
You can shoot while moving to record vlogs and walking videos
The flexibility to move and shoot helps for more cinematic effects
It can help you be more creative with your videography to stand out
Utilizes the capabilities of BMPCC 6K to their fullest.
As you can tell, these benefits are too good to miss out on, especially if you plan to do it professionally. It's one of the best investments for a BMPCC 6K setup.
Motion Stabilizers Or Gimbals: Which One Is Better For Bmpcc 6k?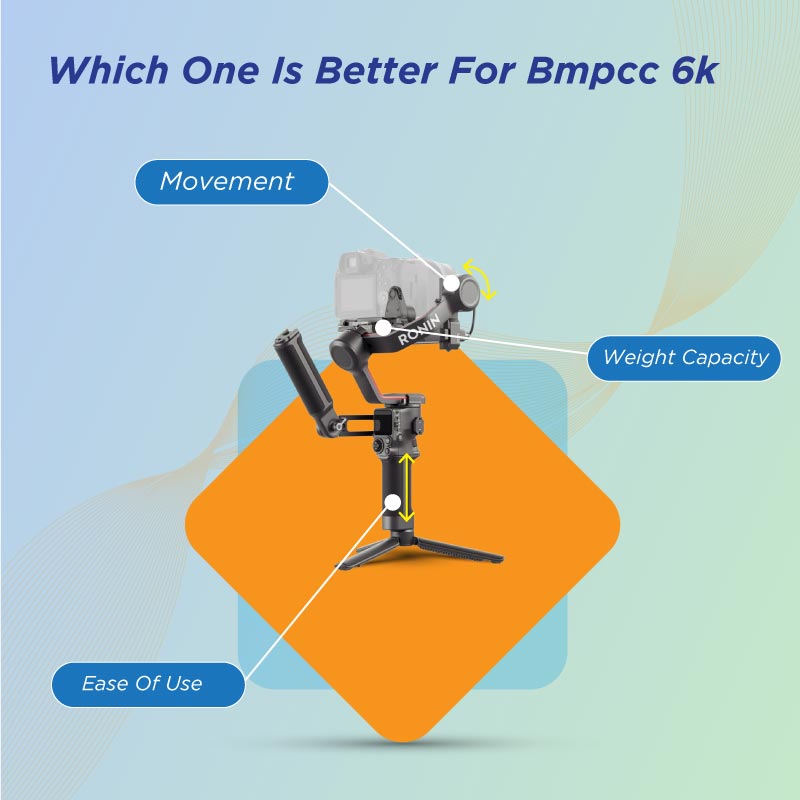 Well, in reality, gimbals are also a type of stabilizer. Both are used for stabilizing a camera and providing steady photos or videos. However, the basic stabilizer is much more different in functionality compared to gimbals.
Let's quickly run down the differences between the two pieces of equipment based on some factors.
Movement
The first thing that differentiates the two is movement. Gimbals come with motors that help them balance the camera even through serious movement. Stabilizers don't have that feature and work well only when set up in a certain place.
Weight Capacity
Gimbals aren't meant to hold or carry heavy cameras; they are much more suitable for lighter cameras. On the other hand, stabilizers can easily hold very heavy cameras without any trouble. Since you don't have to move around with it, carrying it is not easy either.
Ease Of Use
Using a gimbal is much easier than using a stabilizer. Setting up a stabilizer requires camera stability, straightness, and line structure knowledge. With gimbals, you can simply rely on the motor to get all the job done for you.
Setup Time
Setting up a camera on a gimbal doesn't take too much time, whereas setting up a camera on stabilizers can be time-consuming. A camera will balance itself automatically on a gimbal, but you have to do it manually with stabilizers.
Creativity And Output
One of the best factors about gimbals is the scope of creativity. You can do various movements and take versatile shots using a gimbal. It's impossible to get that kind of versatility with stabilizers as they don't offer that freedom of movement.
Considering all these factors, if you are into modern filmmaking and want to create amazing videos with BMPCC 6K, go for a gimbal. If taking steady shots in one place is your priority, a stabilizer might work for you.
10 Best Gimbals for BMPCC 6K
All the gimbals in this list are compatible with BMPCC 6K. So, that won't be of any concern to you whatsoever. Along with that, you also get the assurance of quality with all these choices. Let's check them out individually to see what each of these gimbals has to offer.
#1- Zhiyun Weebill S [Official] 3-Axis Gimbal Stabilizer for DSLR Cameras
Zhiyun is a pretty popular brand when you get into the world of camera rigs. The Weebill S is one of those wonders that Zhiyun creates to go along with a handy camera like the BMPCC 6K itself. There are plenty of features that make it an amazing pick.
Right off the bat, the BMPCC 6K is super easy to mount on this gimbal with its easy mounting features. It takes about 5 seconds to mount the camera to the gimbal, and it's ready for shooting.
Coming to balance, the gimbal does a phenomenal job of balancing the camera by itself. Also, the motors on the gimbal are of top-notch quality, which helps you take much more stabilized photos and videos.
What makes the gimbal better is the advanced features it has. You can get features like subject tracking, time lapse modes, trajectory mode, vortex mode, etc. With all these functionalities, you can access creative ideas without spending too much time on them.
Pros
Excellent battery life and quick charging
Comfortable handle
Easy to mount and release
Offers smooth stabilization
Comes with plenty of modes and features
Cons
The button setup is a bit awkward
Need to remove batteries to charge them
#2- DJI RS 2 – 3-Axis Gimbal Stabilizer for DSLR and Mirrorless Cameras
When it comes to gimbals, no brand can get better than DJI. And the DJI RS 2 is another example of their gimbal excellence. Its pretty impressive features make it the perfect pick for BMPCC 6k.
Straight up, the payload or weight capacity of the gimbal is something that awes everyone. The gimbal weighs just about 2.3 lbs, yet it has a weight capacity of 10 lbs. With that capacity, it can carry 5 BMPCC 6k cameras at once.
For the performance factor, you get professional quality movements from this gimbal. And all the credit goes to their Titan stabilization algorithm. It provides simply majestic results, and the SuperSmooth technology just takes stabilization to another level.
What gives it the best advantage is the intuitive controls. The gimbal interface has plenty of shortcuts and features that make it very user-friendly. The 1.4″ colorful touchscreen eases the process of using features like ActiveTrack 3.0 for quick tracking subjects.
Pros
Professional quality stabilization
Very lightweight and durable
Great weight capacity and compatibility
Good battery backup
Lots of amazing and advanced features
Cons
It's very expensive
There is a learning curve to using it
#3- DJI RS 3 Pro Combo, 3-Axis Camera Gimbal Stabilizer – Best For Stabilization Performance
Here's another DJI gimbal with lots of updated features and functionalities that can surely elevate your photography game. With the DJI RS 3 Pro, you can do many more things than you could imagine with the BMPCC 6k. It simply takes the camera to a professional level of cinematography.
Right out of the box, the gimbal arrives ready to shoot smooth and steady shots with your BMPCC. With its automatic axis lock system, it shifts from sleep mode to quick transitions with one click of the power button.
The follow focus or focus tracking feature simply makes it the most innovative and effective gimbal within the competition. Its LiDAR focusing technology, paired with ActiveTrack Pro, takes tracking and focusing to a new level with a precise detection range of 14 meters.
Coming to the basics like weight capacity, the gimbal doesn't shy away there, either. It can carry up to 10 lbs of payload while weighing around 3.3 lbs. And there is a pretty large balancing space to go along as well, which doesn't take too much effort to balance the BMPCC 6k.
Pros
Great stabilization and tracking
Excellent auto-lock-unlock feature
Lightweight yet heavy payload
Comes with a lot of advanced features
Easy to control and balance
Cons
Very much expensive
Not the most intuitive app
#4- DJI Ronin-S – Camera Stabilizer 3-Axis Gimbal
Taking your creativity to the next level with the BMPCC 6K starts from the DJI Ronin S. It's comparatively less expensive than other DJI gimbals while providing you the same reliability as DJI. If budget is a concern, but you want the DJI value, this is the perfect gimbal.
What makes the gimbal effective for many people is its ease of balance. You can switch between different lenses on your camera, and rebalancing the gimbal after that takes just about a minute or so. And the whole process is very straightforward as well.
For convenience and easy portability, these gimbals come with detachable components. It allows you to disassemble the whole gimbal and pack it in your backpack without taking up all the space. Also, with a quick-release system, removing the camera is instantaneous.
The gimbal also features options like Panorama, Motionlapse, Timelapse, and Tracking. It helps you unleash and present your creative ideas in your videography without much work. With every function, you end up with clarity and smoothness in your clips.
Pros
It provides great stability and smoothness
Easy and quick to rebalance
Features various functionalities for creativity
Detachable for easy packing
Build quality is very impressive
Cons
Needs frequent rebalancing
Comparatively heavy
#5- FeiyuTech SCORP Pro [Official] 3-Axis Gimbal Stabilizer
If you want the most professional output from your BMPCC 6k camera, getting the FeiyuTech Scorp Pro might be the way. With its advanced features using high-end technologies, the stabilization quality is top-notch.
The first thing to notice with this gimbal is its compact size. You can fold the gimbal to a size that's pretty much similar to an A4 size of paper. But that doesn't keep this gimbal from its high payload of 10.6 lbs.
A unique factor about the gimbal is its detachable handle. This feature makes it easier for you to take low-angle shots. It also opens up new possibilities for getting creative with the camera to capture cinematic moments.
Plenty of unique modes and functionalities on this gimbal make your life much easier. It has an underslung mode and handheld mode for different styles of shooting. You also get a somatic remote and a wireless remote for convenient controllability.
Pros
Very compact setup
Easy mount and unmount options
Unique handle design for flexibility
Convenient touchscreen controls
Great battery life with quick charging
Cons
A bit complicated to use
Comparatively heavier
#6- Zhiyun Crane 3S 3-Axis Handheld Gimbal Stabilizer
Zhiyun Crane is a popular series of gimbals for professional cameras. They come jam-packed with features that greatly help creators in their movie-making journey. The Crane 3S has some additional features that make it a fair choice for the BMPCC 6k as well.
One of the most exciting facts about the Crane 3S is its battery backup. You get an astonishing 18 hours of battery backup with the TransMount Powerplus unit. Even though you need to buy it separately, it's worth the money.
With advanced technology and algorithms, this gimbal can provide excellent stability in your BMPCC 6k. It has great response speed, and the smoothness is impeccable from the gimbal. Also, the ability to withstand G-forces and high winds is another excellence of the gimbal.
Efficiency gets to a new level on this gimbal thanks to its ease of use factors. The gimbal features a Manfrotto plate for quick release that lets you transition between your devices without any trouble.
Pros
Extendable battery life
Durable build quality
Great smoothness and stability
Very easy to use
Balances cinema cameras quickly
Cons
Can be quite heavy
The app feels outdated
#7- Zhiyun Crane 2S 3-Axis Handheld Gimbal Stabilizer – Best overall
Zhiyun Crane 2S is another classic gimbal for professional filmmakers that brings versatility. It has all the makings of a professional-grade gimbal, except the price is much more reasonable.
First of all, the payload is what makes the gimbal suitable for a BMPCC 6k. It has a weight capacity of 7lbs which is more than enough to hold the BMPCC 6K with all kinds of attachments.
The next best thing about the Zhiyun Crane 2S is its fluid gimbal movement. A brushless motor inside the gimbal allows it to get that perfect smooth motion while moving. And it also gives you access to shooting modes like Pan following, Vortex, Go mode, Locking, and so on.
What makes the gimbal more interesting is that you can upgrade this to a new level with attachments. Adding an image transmission transmitter for team collaborations and focus motors can create a new dimension for you with this gimbal.
Pros
Smooth and fluid motor system
Wide range of shooting modes
Additional attachment options for added value
Solid and heavy-duty build quality
Comes at a reasonable price
Cons
Quite heavy to carry around
A bit tricky to set up
#8- ZHIYUN Weebill 2, 3-Axis Gimbal Stabilizer
If you are after versatility, then Zhiyun Weebil 2 is the perfect gimbal you can get for your BMPCC 6k setup. It supports the camera and elevates it to a new level once you go through a basic setup process.
Something that works out quite well for this gimbal is its 2.88″ flip-out high-quality touch screen. The screen allows you to go through settings and customize the gimbal more efficiently without fiddling around too much.
Another impressive factor about this gimbal is its focus wheel control. Using the wheel, you can adjust all your necessary settings like the gimbal axis control, ISO, aperture, and focus motor. You can customize the wheel for these functions on the touchscreen panel.
As for the stabilization and movement, it has an Infineon chip inside. The chip can provide dynamic stabilization capabilities that result in smooth follow-through of subjects. The response from the stabilizer is also pretty quick on this gimbal.
Pros
Feature excellent versatility
Durable and solid build quality
User-friendly touchscreen panel
High-end gimbal movement
Reasonable pricing
Cons
Difficult to set up
Feels a bit heavy
#9- Feiyutech Ak4500 Ess. [Official] Gimbal DSLR Camera Stabilizer – Best Value For Money
Get some professional quality footage with your BMPCC 6k using this gimbal in your setup. The FeiyuTech Ak4500 is tailored with features that ensure you get footage as professional as possible without breaking the bank.
Something that will make your life much easier with your filmmaking using this gimbal is the availability of different modes, such as inception mode or shadow hunter mode. All of it is paired with the follow focus motor, which lets you take sharp photos and videos in every single shot.
The huge payload of 10.14 lbs makes it compatible with many different cameras and lenses. You can pair many different lenses with your BMPCC 6k on this one since the camera body weighs about 2 lbs.
What makes this gimbal better than any other choice is the value-for-money aspect. It comes under $300 with high-quality stabilization and pretty solid build quality. And there are so many features that the gimbal sometimes feels underpriced.
Pros
Excellent value for money
Smooth stabilization movement
The great payload for compatibility
Quick release plate for fast and easy mounting
Easy to balance the gimbal
Cons
Auto-calibration is a bit inaccurate
Setting up the gimbal takes effort
#10- MOZA Air 2 3-Axis Handheld Gimbal Stabilizer
Moza is a gimbal brand that brings you value within a budget. The Moza Air 2 is another example of such a product from the brand. It has plenty of handy features supporting the BMPCC 6k and helps you shoot some steady videos.
One of the best advantages of this gimbal is its lightweight nature. It weighs around 3.5 lbs while having a payload of 9 lbs. Pairing it up with the BMPCC 6k gives you a total weight of 5 lbs. So, you won't have any troubleshooting with this setup for hours and hours.
Where this gimbal excels the most is in its time-lapse capabilities. There are several different kinds of time-lapse functionalities you can do with it. For instance, zoom time-lapse, motion-lapse, tracking time-lapse, etc.
Control and sensitivity of the gimbal is another impressive factor on it. The gimbal has many adjustment settings for these two factors, which let you control it with more precision. And the sensitivity makes sure everything works efficiently and smoothly.
Pros
Very reasonable pricing
Good control and sensitivity factors
Lightweight and good payload
Compatible with a lot of cameras
Excellent battery backup
Cons
Battery fails after a few months
Tends to shut down automatically at times
Things To Consider When Buying A Gimbal For Bmpcc 6k
Here's the thing, you can't use all kinds of gimbals for BMPCC 6k. To get the best possible output from your camera, you need something that accompanies its features profoundly. The only way to do that is through some considerations.
Below we go through some crucial factors to help you decide on the best gimbal you can get for your Black Magic Pocket Cinema Camera.
Compatibility
The first thing you must consider is whether the gimbal will be compatible with your camera. Plenty of gimbals are out there, but not every one of them will connect to a BMPCC 6k.
Apart from compatibility with BMPCC 6K, you should always check whether they are compatible with other popular cameras. This way, you can use various cameras without spending money on other gimbals.
Weight Capacity
Just the camera fitting in your gimbal doesn't make it the perfect choice if it can't even hold the camera's weight for long. That's why the next thing you must consider is how much load the gimbal can take.
Since a BMPCC 6k camera weighs only around 1.98 lbs. Meaning if you have a gimbal with a weight capacity of around 2 lbs, it should easily support the BMPCC 6k camera.
Gimbal Weight
A unique factor about BMPCC 6k is that it is lightweight. But what's the point of having a lightweight camera if you have a heavy gimbal to hold in your hand, right?
Here, you have to look for a gimbal that's lightweight enough to carry and heavy enough to hold the weight of BMPCC 6k. Finding balance is the key to getting the perfect gimbal for your camera and taking those cool visuals.
Ergonomics/ Handling
The ergonomics of the gimbal plays a huge role in the comfortability and movement of the camera. The handle needs to be easy to control and hold; otherwise, it's impossible to make some movement.
And, of course, you don't want a slippery handle because there are times when your hands can get sweaty while shooting. Try getting a gimbal with grips and ergonomic handles to avoid any inconvenience with maneuverability.
Movement Facility
What makes gimbals worth it is they can move freely in almost any direction. But not every gimbal will provide you with that buttery smooth movement, which makes the shots look unreal. All of that ties to the quality and movement of the motors they install in the gimbal.
Ensure the gimbal you buy has quality motors and moves in all directions. You should have a gimbal that can offer you versatility in the movement to unleash creativity within you.
Ease Of Use
Well, gimbals are generally pretty easy to use, but some gimbals can have complicated mounting mechanisms. You don't want to go through the troublesome process of mounting your camera on your gimbal.
Get a gimbal with an easy mounting mechanism, so you can easily mount the camera immediately without following any troublesome installation method. Try to look for mounting features like a quick-release system or auto-calibration to add to the ease of use factor.
Battery Life
You never want to run out of battery in your gimbal, as it can completely shatter hours of hard work. Considering your gimbal's battery life is crucial as it can give you an advantage while shooting long videos.
Also, if you go on a trip, you may not have the luxury of charging your gimbal every step of the way. Hence, buying a gimbal with longer battery life and quicker charging time is important.
Advanced Features
The availability of advanced features is always a positive in gimbals. Auto correction or adjustments of movement is pretty handy to have. Along with that, you can find gimbals that come with advanced tracking technologies.
Even if the gimbal doesn't have all these cool features, the gimbal must come with app support. Having app support on your gimbal can make your life much easier than anticipated. So, look for gimbals with excellent app support.
Build Quality
One of the primary complaints with gimbals is that they aren't durable. Since it's a very common problem, you should avoid it as much as possible. Going for high-quality gimbals and branded choices can help prevent durability issues.
However, branded gimbals can turn out to be a bit pricey. Still, keeping durability over your budget is always preferable in the case of gimbals, as one gimbal can go along with many different cameras.
Final thoughts
Frankly speaking, finding the best gimbal for BMPCC 6k can be a pretty daunting task if you have no idea what to look for. We have provided the most concise list of gimbals that go well with the BMPCC 6k camera.
While you can choose any of them according to your liking, we recommend Zhiyun Crane 2S 3-Axis Handheld Gimbal Stabilizer. Because it comes with all the necessary features at a reasonable price, it's the best overall pick out of all the choices.
But if you are after any particular factor, you can check out the other choices and get the one that best meets your needs. None of them will disappoint, that's for sure.

I'm Lisa brown, 25 years old photography enthusiast living with the dream to capture every moment I live. I've been engaged with photography for five years in a row. I dream of sharing all the experiences with every rising photographer dreaming of being professional.