10 Best Godox Flash For Nikon
Of course, Nikon flashes work the best for Nikon cameras. But it won't be surprising to discover a flash from a different brand that works as well or even better with your Nikon camera.
Nikon cameras are well-known and used by so many people all around the world. Their usage is not limited to photographers only. Photography enthusiasts, nature lovers, and people from different backgrounds now use these high-quality cameras.
While most of these cameras are well-constructed and loaded with incredible features, a good flash can change the game. And when it comes to the flash industry, we've all heard about Godox. So accompany us as we discuss the ten best Godox flash for Nikon.
Why Use Godox Flash For Your Nikon Camera?
Godox has been ruling the flash industry for a long time. The flashes they produce are popular for being well-built and reliable.
A photographer can't bring the best out of his/her photography skills with just a good camera. Importance of a good flash is immense in enhancing the potential of a camera as well as the photographer's skills. It's always a good idea to invest in good quality flashes like the ones from Godox.
Godox flashes are known for being compatible with many high-end cameras, and Nikon is one of them. Since one flash can work with several models, a professional photographer can use it for multiple cameras.
Most of the Godox flashes are designed to support the TTL mode in popular cameras. Also, they are packed with essential features fit for any Nikon camera.
Godox flashes offer high power at a pretty affordable budget. A lot of these flashes are compact and easy to carry everywhere. The built-in radio receivers in most of them are perfect for outdoor use.
So, it's clear that Godox flashes are very useful and compatible with most Nikon cameras. It's best to research well before purchasing one to make the most out of a Godox flash for Nikon.
How To Set Godox Flash In Nikon Camera?
Before setting up the new Godox flash, it is important to choose one that is compatible with your specific model of Nikon camera. Not all Godox flash will work for all cameras.
Now, let's check out this simple step-by-step guide to set up a Godox flash on a Nikon camera.
No #1: Mounting the Godox flash
The first step is to mount the flash and properly lock it in its place. If the flash is not suitable for mounting on hot shoes, it is essential to follow the manual's mounting procedure.
No #2: Deciding on a flash mode
Now it's time to select a flash mode. It depends on the modes that the flash offers. Some Godox flash supports both manual and auto flash modes, while some allow using only one of them.
No #3: Selecting a shooting mode
The next step is selecting a shooting mode appropriate for the type of photography. While at it, you can also select the aperture and shutter priority.
No #4: Choosing a sync mode
Now, it's time to choose a sync mode according to your requirements. It depends on the types of sync the flash offers, like the high-speed, first-curtain, or second-curtain sync.
No #5: Setting the ISO speed
The next step requires setting the ISO speed. You can decide on the speed according to the type of image you want.
No #6: Adjusting the flash exposure compensation and flash power
This step is for adjusting the flash exposure compensation and setting the flash power depending on the surroundings.
No #7: Getting a sample shot
Finally, it will help to get one or more sample shots to ensure the flash is mounted correctly and the settings are working fine.
10 Best Godox Flash For Nikon Camera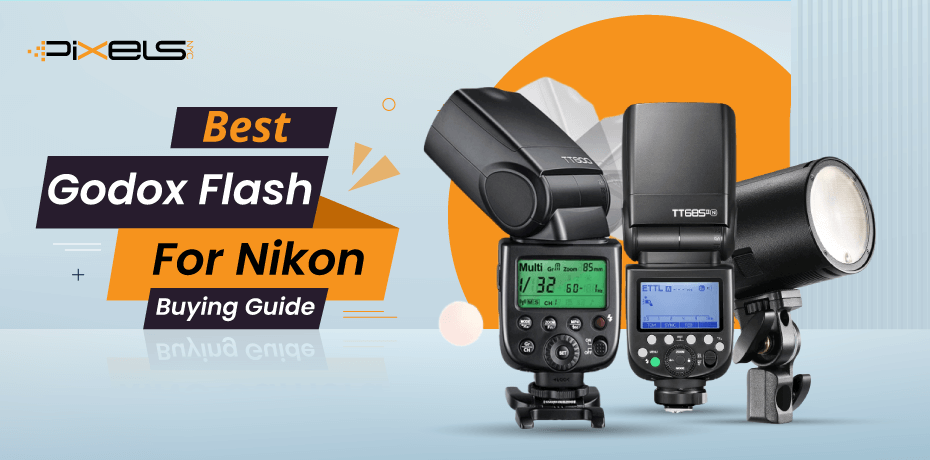 Each Godox flash offers something different. Here, we are presenting you the ten best Godox flashes for your Nikon cameras based on the tests our team conducted to put together this list.
You must go through the properties of all the flashes and check their compatibility with your specific Nikon camera before choosing one. Let's start!
#1- Godox V860III-N Flash
We will start with the powerful Godox V860III-N flash offering 20-200mm full coverage. It is a masterpiece designed to cater to your creative photography ideas. The flash comes equipped with a high-power battery (2600mAh/7.2V).
We found it to be very easy to switch between manual and TTL modes. A quick button on the side of the device does the job swiftly. It is also compatible with I-TTL-II autoflash.
Although it is not a Nikon product, we found it to be one of the most perfect fits for Nikon cameras. The best part about this particular flash is that it doesn't require much effort to set up.
We loved the amount of control this flash has. With a recycle time of only 1.5 seconds, it proves to be pretty energy efficient. Lastly, we must say it is one of the best professional-grade Godox flashes you will find out there!
Pros
Supports both TTL auto flash and manual flash modes.
Offers high-speed sync, up to 1/8000s.
2.4GHz radio receiver makes it ideal for triggers.
Ten levels of brightness adjustment setting.
Supports Nikon's creative lighting system (CLS).
Cons
#2- GODOX V1-N Flash
Next on our list is the Godox V1-N flash. We tried it on Nikon Z5, Z6ii, and D3500 and were impressed by the results we got. Apparently, the V1-N flash supports many other Nikon models.
The great covering range of 28-105mm, backed by a powerful battery, makes this flash a must-have. It offers high-speed sync, TTL auto flash, manual flash, and an amazing flash duration (1/300-1/20000 seconds).
A charming point of this flash is the recycle time of only 1.5 seconds. Just pair it with a Nikon camera and it's possible to capture almost anything anytime. It also works great with wireless transmitters.
The manufacturer claimed it to be versatile and user-friendly. We found them to be very true. It comes with a LCD display that helps the users to easily keep a check on the settings. However, we did feel the manual lacks the potential to guide the newbies.
Pros
High-speed sync, TTL autoflash, and manual flash modes.
Recycle time is only 1.5 seconds, which is super-fast.
User-friendly LCD display.
Incredible range of 28-105mm.
Wireless controller feature perfect for remote controlling the flash.
Versatile flash.
Cons
The manual could be more detail-oriented
#3- Godox TT685II-N I-TTL
This time, let us introduce a super budget-friendly flash. The Godox TT685II is an incredible option to go for if you don't have a big budget but wish to not compromise with quality at all.
This amazing product comes equipped with 2.4G wireless technology supporting 32 channels in 3 groups. It has great lighting control, and it fully supports TTL auto flash mode, high-speed sync, and second-curtain sync.
The fast recycle time is perfect for capturing great moments without much delay. It pairs to a flash trigger effortlessly, so you can control it using other methods as well.
A 60m guide number and a 20-200mm zoom range make it a powerful appliance. We loved the quick-release lock feature and the mechanized zoom head that makes it easy to set up and use, even for beginners.
Pros
Budget-friendly option.
Comes with TCM function.
Provides the user with a longer shooting time.
Compatible with many Nikon camera models.
Offers versatile features like second and rear curtain syncing and stroboscopic flash mode.
Cons
#4- Godox AD100 Pro Pocket Flash
The next one making its way to the list is the Godox AD100 Pro pocket flash. As the name suggests, this flash is easy to carry due to its portable size.
We almost immediately fell in love with its round shape that looks so classy and unique. Although small, it's packed with powerful features to make the photography experience memorable.
The AD100 pro is accompanied by a 3200K LED modeling light that can be dialed according to the user's preferred intensity. This flash comes with a rechargeable 2600mAh battery that can last pretty long.
It supports TTL auto and manual flash modes. In the package, there comes a mounting bracket. Although it's not possible to mount it directly on the Nikon's hot shoe, it works pretty well with Nikon cameras thanks to the super speed syncing feature.
Pros
Well-suited for portrait and commercial photography.
0.01-1.5 seconds of recycle time is perfect for a swift photoshoot.
Compact and easy to carry.
Comes with a 3200K LED modeling light.
2.4G wireless x system supporting 32 channels in 5 groups
Cons
It's not possible to mount it on the camera's hot shoe.
#5- Godox 2X TT600 HSS Flash
Another budget-friendly option to make this list is the Godox 2X TT600 HSS flash. It is designed to assist the photographic needs of all types of users. The flash offers high-speed syncing and an impressive guide number (60 at ISO 100m).
It comes with a 2.4GHz radio transmission system supporting up to 32 channels in 5 groups. The fast recycle time of the flash allows to take beautiful shots without any waiting time.
Things notched up more due to the slave feature of the flash. You can, almost effortlessly, use multiple flashes altogether because of this feature. That being said, additional power support may be required in order to use it to its fullest potential.
Pros
Budget-friendly flash.
High-speed sync and incredible guide number.
Slave feature supports 32 channels in 5 groups.
Great recycle time and fast performance.
Amazing guide number (60 at ISO 100).
Cons
It may require additional power support.
#6- Godox Lux Senior Retro Camera Flash
If you are into retro style, the Godox Lux Senior will definitely soothe your taste. It is a stunning piece of equipment that was built keeping the classic image of a flash intact.
We found the operation of the flash to be quite straightforward, as intended. All we had to do was unfold and mount it on a Nikon camera's hot shoe, and it was ready to light up.
The silver collapsible reflector does a good job of shaping the light while recreating the nostalgia glamor perfectly. There's a lightbulb in the middle giving it a more interesting look.
It offers both autoflash and manual flash modes. The package includes a trigger cable and a cleaning kit. Lastly, we loved the manageability of this retro flash. Upon folding the flash, it became as convenient as a phone.
Pros
Stylish and useful retro flash.
Retractable reflector flash perfect for carrying everywhere.
Offers both auto and manual flash modes.
Pleasant light pattern.
Cons
Doesn't support TTL mode or high-speed sync.
#7- Godox V850Ill Flash Speedlight
The seventh one appearing on the list is the Godox V850III flash. The manufacturer claimed that the lithium-ion battery is interchangeable with the battery of V1 and V860Ill; we tested it and were so impressed by the fact.
It is a combination flash offering both master and slave features. Equipped with a built-in 2.4G wireless X system, the flash can support 5 slave groups.
The light head can be adjusted with a tilt angle from -7° to 120°, both on-camera and off-camera. An upgraded control panel makes interacting with the settings quick and effortless.
With a recycle time of only 1.5 seconds, this flash can provide 450 full-power flashes. It also makes high-speed syncing possible when combined with a transmitter. All in all, we really enjoyed using this flash.
Pros
A broader bounce angle from -7° to 120° offers nice bounce lighting.
Provides a wide zoom range of 20-200mm.
It can perform as a receiver and transmitter unit simultaneously.
The interchangeable battery makes it easy for professionals who use multiple flashes.
Cons
High-speed sync mode is not available when you mount it on your Nikon camera.
#8- GODOX Lux Junior Retro Camera Flash
We discussed the Godox Lux Senior already. Do you know there's a junior that's also very promising? Meet the charming Godox Lux Junior Retro Flash.
People are bound to praise your choice as you mount this beautiful flash to a Nikon digital or film camera. The classic silver front part paired with the black textured body gives it a timeless look.
We tested the product to ensure all the claims and immediately fell in love with this fun and user-friendly flash. It comes with both auto and manual flash modes and the S1/S2 optical control mode.
We loved its ability to work off-camera with the help of the sync cable included in the package. This enabled us to point the light anywhere we wanted.
The Lux Junior Retro might not be the best choice for someone looking for a professional-grade flash with high-speed sync and TTL. However, using it surely took us back in time.
Pros
A timeless design; fun to use
The low price point makes it perfect for everyone.
Creates the perfect look for Nikon digital or film cameras.
Manual mode takes you back in time
It has a fair amount of flash power in a small package.
Cons
No TTL or high-speed syncing.
#9- Godox TT520II Wireless Transmission Flash Speedlite
Another flash serving as both transmitter and receiver, the Godox TT520II made the list for its amazing features and foolproof construction. We loved that it is a budget-friendly option, which is just perfect for beginners.
The flash is very easy to operate. Just mount it on the hot shoe of a Nikon camera, adjust a few settings, and it's ready to go!
It has a 433 MHz wireless transmission and 16 channels to trigger. A great fact about this flash is its auto self-protective features that help save power and also safeguard from overheating.
The flash supports three flash modes. However, the fact that impressed us the most was its ability to rotate both vertically (0°-90°) and horizontally (0°-270°).
Pros
Great deal for money; beginner-friendly.
It can be used in a variety of scenarios.
Self-protective features help save power.
Offers a decent range for angle adjustments.
Cons
It can make the shoot take longer than expected; it does not support TTL mode.
#10- Godox MF12-K2 Macro Flash
The last one to make the list is the Godox MF12-K2 Macro Flash. This is yet another great creation of the brand. This flash brings something unique to the list with its unique designs and innovative technology.
As the name suggests, it is designed for macro photography. When trying the product, we were very impressed by its capability to capture tiny details with such clarity.
Another thing that we found very attractive is the adjustable head angle of the flash. This gives the users freedom to try creative things with their photography skills. What's more amazing is that this powerful unit comes in a pretty lightweight body.
It has a user-friendly interface. The LCD display allows you to adjust the settings effortlessly. When attached to a mounting ring, it can act as a more powerful device with multiple flashes.
Pros
Perfect for both outdoor and studio use.
It is an ideal flash for shooting small objects or close-up subjects.
Supports complex lighting arrangements.
Serves as a ring flash when attached to a mounting ring.
Lightweight and user-friendly.
Cons
Quite expensive, it might not be suitable for beginners wanting to start with an affordable flash.
Things To Consider Before Buying A Godox Flash For Nikon
Although Godox products are known for their reliability, you still can't just choose any flash for your Nikon Camera.
Many things come into the scene when you are trying to decide on a good flash for Nikon. Take a look at the most common factors to consider below.
Your photography type
The first thing to consider before choosing a Godox flash is your type of photography. For projects that demand high-speed sync or fast recycle time, the user needs to look for these features in a flash first.
Flash mode
The second most important thing is the flash mode. Different flashes offer different flash modes. The user must determine the flash he/she is planning to purchase comes with the required flash modes.
Example: If you want TTL autoflash mode, the chosen flash must support that. Similarly, in order to use the manual flash mode, the flash has to offer it first so the user can have more control over the flash.
Mounting system
Godox flashes offer different mounting systems. If you are looking for a flash that can be mounted on the hot shoe of your Nikon, you must check it beforehand to see if the flash is compatible with that.
Also, if you want the freedom to mount it elsewhere, you need to ensure that the flash you choose supports that.
Size and weight
Next, the user must consider the size and weight of a flash. Example: If someone goes for outdoor photoshoots a lot, a flash that is easy to carry and swift to set up would work the best.
Flash groups and channels
The number of flash groups and channels determines if it's possible to use multiple flash units remotely. This ensures the chance to create a unique lighting setup with variations.
This factor is especially crucial for professional photographers who have to work with different lighting requirements.
Recycle time and lighting output
Recycle time and lighting output are two of the most important factors in determining how efficient the flash is.
Recycle time is the time the device takes to prepare for the next flash. The lower the recycle time, the better.
Lighting output determines how bright the flash can be. It is crucial to check the lighting output offered by a flash beforehand so it can meet the specific requirements of the user.
Type of battery
It is vital to consider the type of battery as well as the battery life it provides before purchasing a flash. This will allow the user to get the perfect runtime to complete all the projects.
Price and budget
Lastly, you must consider your budget. It would be best to decide on a budget after going through the prices and features of several flashes in the market, whether offline or online.
Final Words
Godox flashes are amazing. While using high-grade cameras like Nikon, it's important to invest in a good flash as well. The right flash can give the photographs a whole new outlook.
As we took our time to research and select some of the best Godox Flashes for Nikon, we also had our favorites. Our top pick from the ten flashes would be The Godox V860III for its powerful performance at an affordable price.
Another one right behind it is the Godox Lux Junior retro flash. The retro look, coupled with the amazing performance of the flash, is everything one can want from a flash. We hope the article can help you find the right Godox Flash for Nikon cameras.