10 Best Nikon Lenses For Indoor Photography
Indoor photography means total control over your clicks. You can control the light, the wind, the exposure, almost everything. However, with so many benefits, indoor shoots have perks, including less distance, more softboxes, and proper lenses. Additionally, other things are handy to get but not the lenses.
Finding the right lenses is also a challenge, especially if you are using a particular brand body like Nikon. You might get puzzled about which Nikon lens you should buy for your indoor shoots from numerous options available.
That's where we come to aid! We've compiled this list of some best Nikon lenses for indoor photography depending on the best features and affordable price ranges. Also, we have included the guide on required indoor photography settings so you can get the shots you want. So let's roll this out!
Review of 10 Best Nikon Lens For Indoor Photography
Making your indoor photography more vibrant will be much easier with the following lens units. We have listed the ten best Nikon lens units you should choose. So read on and find out the best one.
1. Editors Choice: Nikon 70-200mm f/2.8G ED-IF AF-S Lens
First, we are going into editors' choice for our list of lenses. We have considered factors such as user reviews, durability, and performance of the lens to give its tag.
When working on smaller product photography, you need robust zooming capability. On the Lens of Nikon 70-200mm f/2.8G ED-IF AF-S, you get nice and smooth telephoto photographs. Hence, your products, such as jewelry, will appear cleaner and sharper.
Talking more about the zooming, it's quiet and noise free. You get seamless transitions thanks to the single wave motor zooming and autofocus. As the Lens works, you won't disturb people outside the room. It's a huge plus for photographs working from home.
The Vibration Reduction function of the Lens is top-notch and gives you cleaner images. Even if you are photographing with your hands, the image will not blur. Instead, the Lens stabilizes your images eliminating any potential camera shake effects.
But, if you are a fan of taking photos on hand, the Lens might feel a bit heavy. Front-end of the Lens is heavier, and it's a bit tricky to balance. But, don't get us wrong, as with regular usage, you will get used to the Lens and get spectacular images on the go.
Why Do We Love It
Does not create any noise while zooming and autofocusing
Great to take photos with your hands
Beginners can achieve amazing results on the lens
Why We Don't Like It
The lens is a bit heavy to operate on hand.
2. Best for Professional Use: NIKKOR Z 24-120mm f/4 S Lens
Your search for a professional-grade indoor photography lens ends with this amazing Nikkor Z lens. With its superior built quality and efficiency, this lens is made for rough day-to-day work.
Also, the lowest focal length of 20mm to the highest of 120mm allows this lens to capture close shots of tiny objects like jewelry to big objects like a full mannequin. Also, the highest aperture of this lens is f/4 means you will not face any issues with the lighting.
Further, the following Lens allows you to take sharper pictures within the range of 1.15ft. Thanks to its superior quality and build, it's great for professional use. In other words, it's great for continuous usage throughout the day and night.
On the other hand, photographers like to have faster autofocus in indoor photography. If it's the case for you, then the following lens would be nice. With crisp autofocus, you can take stunning photos within a few seconds.
But, one aspect of being aware is that the lens doesn't offer image stabilization, which is why it's best to follow the steps to stabilize the image. For example, you could maintain a good posture when taking photos to eliminate camera shakes.
Why Do We Love It
The Lens is great for close-range shooting with focusing within 1.15 ft.
Taking closeup images is way easier
Best for faster photoshoots
Why We Don't Like It
Does not offer image stabilization
3. Best Compact Unit: NIKON NIKKOR Z 20mm f/1.8 S Ultra Wide Angle Fast Prime Lens
In search of a quality Wide Angle lens for your DSLR unit? Better off checking out the mentioned Lens. The name of the Lens stands for NIKON NIKKOR Z 20mm f/1.8 S ultra-wide angle fast prime lens. It's a lens that provides you with a high range of compatibility.
For the longevity of the Lens and its protection, the following unit features an ED glass element. Thanks to the characteristics of the following glass layer, your Lens stays clean. It even helps protect the lens surface from scratches. All in all, it offers you cleaner images all the time.
As clicking photos indoors might include low light conditions, the following Lens has its answer. The Lens features wide f/1.8 apertures. Due to the wide aperture, your images appear brighter. As a result, the image will be cleaner and sharper even if you are in a low light condition.
Meanwhile, the mentioned lens is only compatible with Nikon mirrorless DSLR. Checking out the given compatibility chart is the way to go. Make sure you go through camera brands supported for the specific Lens. Otherwise, it's a fine lens you could take indoor photography on.
Why Do We Love It
Great for low-light indoor photography projects
Images appear brighter
Provide exceptional image quality
Why We Don't Like It
Only suitable to use with Nikon mirrorless cameras only
Related: Best Extension Tubes For Nikon Cameras
4. Best For Auto Focus: Nikon AF-S FX NIKKOR 24mm f/1.8G ED Lens
Looking for a lens to capture wide-angle interior photographs for your next project? Checking out the following Lens will be the best option because it's one of if not the best wide angle lenses for wider photography. In addition, it brings dramatic contrast to the composition.
Aside from the interior, the following Lens is also great for product photography. Creating effects such as the bokeh are super easy on the following lens kit. You only have to set the product on a flat pain. Afterward, set up your camera and adjust the focus until the background gets blurry.
Getting out higher resolution images is much easier using the following Lens. Its high compatibility makes sure your camera works with the lens kit in a great way. It will be best if you work with different kinds of cameras on your projects.
Even though the AF(Auto Focusing) works great, it can sometimes shift its position, so you must be aware of the focus shifting while using the Lens at F.8 aperture. However, if you could get past the tricky focusing, everything works fine and is above our expectations.
Why Do We Love It
Great to capture interior photographs with dramatic effects
Creating bokeh effects is far simpler
Manual focusing is easy to control
Why We Don't Like It
Achieving perfect autofocus is a bit tricky.
5. Best for Dual Mounting: Nikon AF-S FX NIKKOR 17-35mm f/2.8D Lens
Looking for a lens with a nine diaphragm blade? You must check out the following lens kit. To be specific, the lens name stands for Nikon AF-S FX NIKKOR 17-35mm f/2.8D Lens. Its quality lens provides you with the sharpest possible images with your DSLR cameras.
The following lens kit also offers you a carrying case, which is why it's better to go with the mentioned Lens if you travel to different studios. Then, perhaps, you don't have to invest in additional protective equipment to keep your Lens safe.
The following lens kit is far more compact than you might find on other lenses. For this reason, you could use the following Lens on your camera and take great photographs by hand. Furthermore, you don't struggle with balance; the body is built with that in mind.
Due to the lens structure, you might find it a bit of a struggle to work with built-in flash. However, you will be fine using the Lens with a little adjustment. We have discovered that we can avoid these problems with additional flashing equipment.
Why Do We Love It
Compact sizing that lets you carry it anywhere
Traveling with the lens is far easier
Works exceptionally for a landscape photo
Why We Don't Like It
It can cause a bit of trouble while working with built-in flash.
6. Best for Product Photography: Nikon AF-P DX NIKKOR 70-300mm f/4.5-6.3G Lens
Whether you are doing indoor photography or videos, the following Lens can give you a solid boost on your project. The Nikon AF-P DX NIKKOR 70-300mm f/4.5-6.3G Lens is one of the great lenses to have on your projects. So your indoor photos will be done without any issues.
In addition, the seamless autofocus works like magic if you are doing product photography. As you get faster autofocus, your products will always be in counterpoint. Also, due to the top-class autofocus, creating a blurred background is quieter and easier.
Magnification of the Lens is super effective and works great. Every user, including us, found its zooming capabilities correct each time. It makes the Lens suitable for small-scale product photographs. Like, doing jewelry photography would be a good idea to get started.
But, when you perform zooming in and out operation, the innerspring of the Lens might create some snapping sound. It's not anything serious, but it's a vital aspect you should be aware of. Moreover, you usually won't hear the minor snap, and it's not distracting at all.
Why Do We Love It
Spot-on magnification makes it great for small-scale product photography.
Offer steady image capturing
Better corp censoring
Why We Don't Like It
The innerspring of the lens might create a snapping sound
7. Best For High Compatibility: Nikon 18-55mm f/3.5 – 5.6G VR AF-P DX Nikkor Lens
When you are uncertain about using a single DSLR unit, you must get into the following Lens because it offers you one of the best compatibility listings. In addition, changing different cameras will be much easier with the help of the Nikon 18-55mm f/3.5 – 5.6G VR AF-P DX Nikkor Lens.
As a plus point, the following Lens also works with incompatible lenses. So, for example, D series cameras will work with the following Lens with limited functionality. Hence, it's a great sign that the Lens can provide sublime performance even with other cameras out of its range.
Even in low-light situations, the following Lens can be your go-to solution if you are a fan of vibrant colors. Due to its Nikon lens technologies, such as aspherical lens elements, you get better color correction and true tuning.
On the other hand, the only drawback to consider is the manual VR feature. You have to go into the menu to toggle the image stabilization feature. So it might take some time to get used to the setting. But once you get the hang of it, the following feature will not work as a downside.
Why Do We Love It
Works on compatible Nikon "D" series lens as well
Offers great functionaries on SLR camera units
Good for macro photography
Why We Don't Like It
You have to go into the menu each time to toggle image stabilization.
Related: Best Nikon Lenses For Bokeh
8. Best for Sharper Photos: Nikon AF-S Nikkor 50mm f/1.8G Lens
Among the products we have gone tough, the Nikon AF-S Nikkor 50mm f/1.8G Lens offers us the best edge-to-edge sharpness. Moreover, it's superior to other Nikons lenses we have put on the list. These kinds of features make it perfect for interior photography.
Unlike any other lens unit, the following Lens is suitable for both Nikon DX and FX mounting. Supporting two types of mounting will let you avoid a huge hassle. Hence, fewer lenses offer you the luxury of mounting a single lens on two different mountings.
On the other hand, we have found that lens provides exceptional quality in portrait photography. The subject stays in focus with sharper detail and the background darker. We have done portrait photography in low light, and each photo turns out great.
On the other hand, the zooming feature is unavailable on the following Lens. So if you wish to have a zoom, you may opt for another model with zooming. But the other model is a bit costly; perhaps, going for the following one would be the best if you are looking for an affordable option.
Why Do We Love It
Offers superior results in indoor portrait photography
Easy to carry with a small pouch
Goes with both fx and dx mount
Why We Don't Like It
You can't zoom via the lens's built-in settings.
9. Best For Unique Perspective: Nikon AF-S DX NIKKOR 35mm f/1.8G Lens
When you are looking to create a superb and unique perspective on your image, try out the following Lens. The following Lens is great for inputting some diversification into your photography projects. Built-in settings are easy and simple, which lets you create a finer output.
The following Lens stands up in most of our benchmark testing comparing low light performance. Objects are much clearer and sharper in low light. As indoor photography happens within a low-lighting environment, getting the Lens is the only way.
Plus, these kinds of lenses are great for low-range shooting, which is great for anyone doing indoor photographs. Doing product photography would be a breeze to go through.
You might get a bit of chromatic aberration when you work on extreme f/1.8 apertures. Hence, it's better to set the aperture a bit lower to avoid getting these kinds of issues. Apart from that, everything seems fine with the lens unit.
Why Do We Love It
Creating a unique perspective on the image is much easier.
Higher benchmark performance in low light
/best for portrait photography
Why We Don't Like It
Working with an extreme aperture like f/1.8 is a bit challenging.
10. Best Affordable Unit: Nikon AF FX NIKKOR 50mm f/1.8D Lens
If affordability is a big concern, how about checking out the following Lens? Here we present you with the Nikon AF FX NIKKOR 50mm f/1.8D Lens. It's one of the quality lenses which you can use on your indoor photography projects.
Along with the affordability, the Lens is super compact to carry with you. The Size of the Lens is far less than you could have on your single hand. However, don't go for the size as it offers you great performance like any other high-end lens unit you could get.
Moreover, the following Lens has it all if you want zooming features. It won't be an issue to perform zooming functions in your indoor studio. Small-scale product photography will be easy to perform using the following lens unit.
On the other hand, Auto Focus only works on Pro series cameras on Nikon. This is why it's better to ensure your camera is within the compatible listing when you need autofocusing.
Why Do We Love It
Affordable lens kit to go for
Great for anyone who is just started out
Supports built-in zooming feature
Why We Don't Like It
The auto-focus feature doesn't work only on the Pro DSLR series.
Camera Settings For Indoor Photography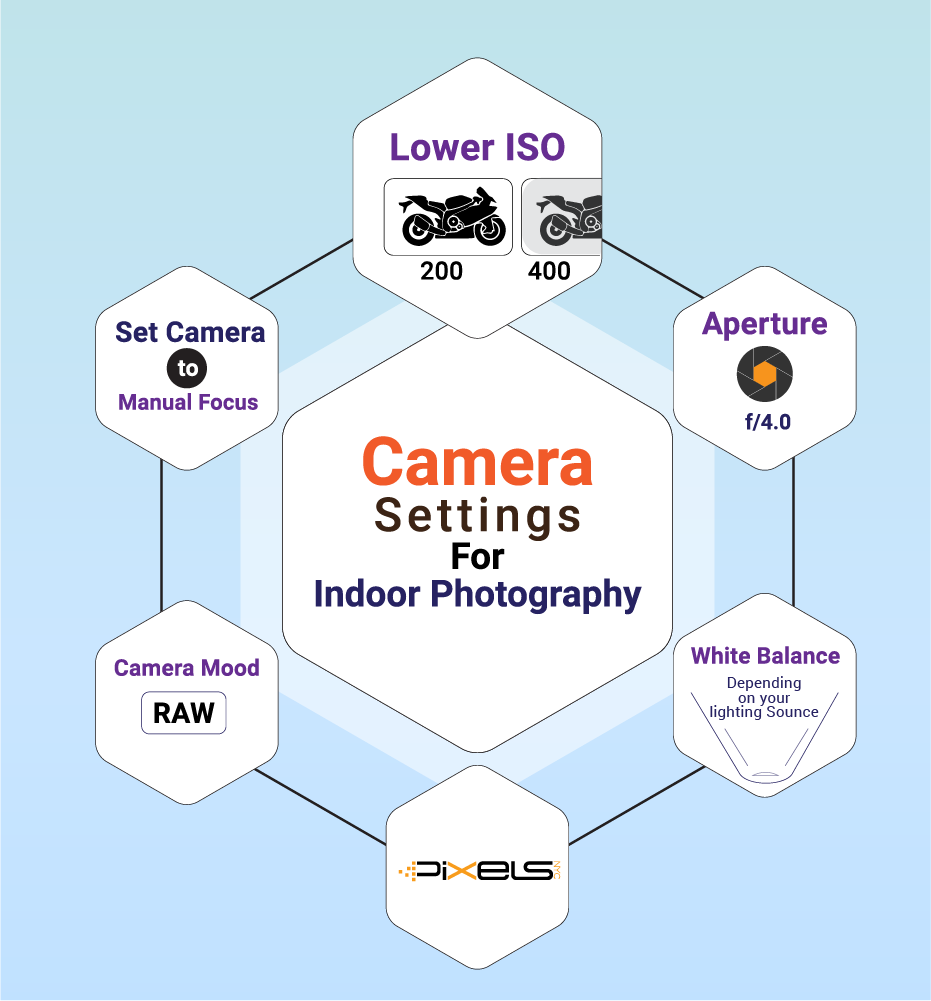 Let's get into the settings which you would like to get into for indoor photography. You should consider these settings to get better images for indoor settings.
ISO Settings
Whether you consider it or not, ISO is one of the crucial factors when it comes to indoor photography. Lower ISO will mean better images going through your Lens. In addition, it will make your image brighter and more clever to capture indoor photos.
In general, ISO settings are found within the camera settings. Before starting the main photography process, ensure you have fine-tuned the ISO settings. Hence, your photography would be much more seamless, and the album would be much nicer.
Aperture
Indoor photography always consists of lower lighting setups. It's not always possible to create enough lighting without getting overexposure issues. This is why, when you are doing indoor photography, keep the aperture count lower than f/4. Perhaps, it's the best way to go forward.
On the other hand, we have got to experience that you should not go beyond the f/11 mark when it comes to wide angles. So it would be good for you from all perspectives possible.
White Balance
You must adjust the camera's white balance depending upon the lighting, which is why, first, you should consider adjusting the white balance. In short, you don't have a fixed amount on the white balance. Therefore, leaving the white balance to the automatic option is better.
Camera Mood
The RAW option is the best way to go when you are shooting indoors. Because you get to edit the image in RAW format, otherwise, it won't be possible to adjust the lighting on formats such as JPEG or PNG. At the same time, RAW file format is best for editing photos.
Set Camera To Manual Focus
While doing indoor photography, ensure you set the camera to manual focus mode. It will help you take the sharpest photos possible. In addition, manual focus will help fine-tune the subject's appearance according to your preference. It's a must for most indoor photography projects.
Related: Camera Settings for Cloudy Day
What MM Lens Should I Use For Indoor Photography?
You should not go beyond the 35-mm for indoor photos. On the other hand, you should consider having at least 24-mm. Everything will be fine for your indoor photoshoot when you stay within the following range.
What F Stop Should I Use Indoors?
You should be within the f/4 to f/11 range. Anything above and below the range will cause problems within your photo session. When done with the following aperture setting, indoor photos will be clear and steady.
What Is The Best ISO For Indoor Photography?
Anything between 100 to 200 ISO will be fine for your indoor photograph. It's the best option for anyone who is doing indoor photography. But, perhaps, ISO settings adjustment is necessary to get better results. 
What Shutter Speed Should I Use For Indoor Photography?
You must go for at least 1/50 per second. Whether you have lighting in your indoor setup would be a better option. We always use the following parameter while doing a professional project.
What Is Time Of Day Best For Indoor Photography?
Shooting at noon is the best option for indoor photography because you can utilize most of the sunlight at this time of the day. 
Conclusion
That's our take on the best Nikon lens for indoor photography. Hence, you can improve your photos with a proper lens faster than any tweak. Of course, Shure, editing photos might help, but having a proper indoor lens is a huge plus point.
Moreover, these lenses are great for doing product photography as well. Because these lenses have an edge in working in darker situations, make sure you follow our roundup for better buying choices. It will be a huge advantage for you.

I'm Lisa brown, 25 years old photography enthusiast living with the dream to capture every moment I live. I've been engaged with photography for five years in a row. I dream of sharing all the experiences with every rising photographer dreaming of being professional.