High End Retouching Techniques For Beginners
High-end retouching techniques are the secret behind every pro-level photograph. Retouching can polish up your image while retaining natural texture. Yet, the High-End Retouching workflow is a bit tough to understand. In turn, we have listed out key high-end retouching methods more simply for you.
Thus, high-end retouching is vital in various fields. These include beauty, fashion, e-commerce, and counting. You have different techniques for each category of photos to work on. So, now it's time to explore what is high-end retouching and which branches. With an in-depth overview of each method, you would get to know each one from its core.
Let's start right in.
What are Photoshop's High-End Retouching Techniques?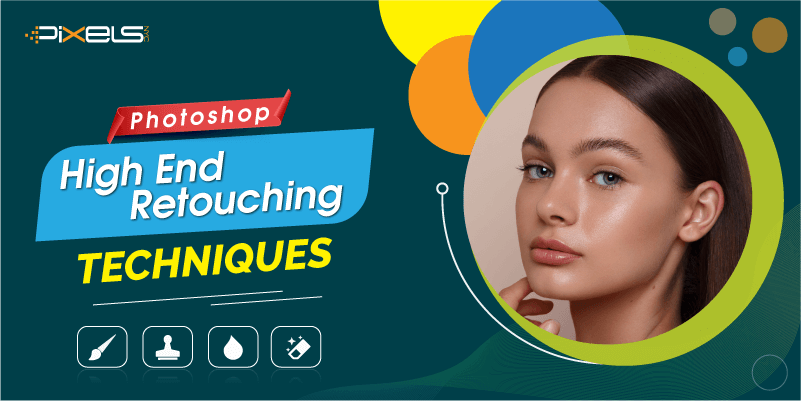 The Photoshop high-end retouching lets you remove imperfections from the image. At the same time, advanced techniques let you blend in rough textures with a natural look and feel. Retouching makes it look like the image was not retouched yet.
It's better to know, high-end retouching takes a decent time to complete. The process is often tricky and needs proper skills at the same time. A proper high-end retouching technique can transform your image from top to bottom. To get better results you must choose the correct retouching techniques based on the image category.
List of High-End Retouching Techniques
The high-end retouching technique has wide lists within its category. These photoshop retouching techniques are popular across different industries. And let's have a proper look into all of the advanced retouching techniques. These techniques are great at making your image look perfect while preserving a natural vibe.
Skin Retouching Techniques
In skin retouching techniques in Photoshop, you get to remove skin issues from your model image. The high-end skin retouching technique lets you keep the natural texture in place. In turn, your model's skin would look natural and smooth at the same time.
Skin retouching makes sure your models look clean and full of life. Thanks to Photoshop tools like spot healing, and clone stamping it's possible to achieve. Advanced retouching is a blend of processes like texture blending, detail masking, and others. This retouching process lets you get smooth skin on your model.
Body Retouching Technique
The high-end body retouching techniques involve improving the tone of the body of your photography model. Meanwhile, with high-end retouching techniques in Photoshop, we improve the overall shape as well. It makes your model figure slimmer and attractive as well.
Even if you want to fix body blemishes and turn them smooth, Photoshop's high-end body retouching techniques work the best. In addition, you could make your model look great with proper body retouching. Further, high-end body retouching can let you add specific stickers or art as well.
Hair Retouching Technique
It's no secret, hair is a bit hard to manage while photo shooting. As a solution, you could use high-end hair retouching techniques on your images. Using Photoshop techniques, you could retouch split and stray hairs. Moreover, the retouching techniques let you achieve a flawless look on the hair.
High-end hair retouching could let you alter the base hair color of your model's image. You could tone up or down the hair of the model. The main idea is to make the hair appear smooth and flowing. The retouching techniques need an eraser tool with a customized feather.
Face Retouching Technique
You need to improve your facial appearance in most of the high-end portrait retouching projects. Face or beauty retouching entails removing wrinkles, dark spots, and blemishes. These techniques make your model's face smooth and glowing at the same time.
To remove tricky wrinkles and lines around the eyes, and lips, we use a Photoshop clone stamping tool. Using color adjustment we get to improve the color depth of the overall face. The result is often a polished face that looks attractive.
Clothing Retouching Technique
High-end clothing retouching focuses on removing unwanted wrinkles and spots. The retouching technique also focuses on improving the hue of the clothing. High-end retouching is necessary for most eCommerce and fashion photography.
In clothing retouching, we tend to keep the natural texture of the clothing. The technique gives you proper-looking clothing that is smooth and rich in colors. In the following retouching technique, you may have to use layer blending, brushing, spot healing, and others.
HDR Retouching Technique
The phrase HDR stands for High Dynamic Range image retouching. The following technique is huge and popular in real estate photo editing. Thus, HDR retouching lets you combine multiple images with different lighting. When you blend in all the images in Photoshop, it gives you an evenly lit photo.
It takes proper experience to HDR and retouch photos with perfection. If the blending goes wrong it won't entail even lighting at all. Thus the techniques cost more as it takes time and resources to blend the images in a perfect way.
Fashion Retouching Techniques
The fashion retouching technique is a mixture of face, hair, and clothing retouching. It's an essential part of all big fashion, clothing, magazines, and e-commerce stores. The Photoshop high-end retouching tools let you make fashion model photographs eye-catching.
You get to improve the overall aesthetics of fashion model photography. Thus, it attracts more audiences via compelling campaigns. High-end retouching makes sure the fashion photograph is error-free and up to the mark.
Others Retouching Techniques
Want to know more? You have plenty of other Photoshop high-end retouching methods to explore. Such as Boudoir, interior, jewelry retouching, and others. All of these retouching techniques are used in their respective photography.
All of these retouching techniques let you polish images based on their category. Like, If you might want to retouch your real estate, go for high-end real estate retouching. Even when looking for service keep it in mind as well.
Photoshop Retouching Techniques with Action
If you need to retouch a bunch of the same category photos, use action instead. An action or plugin, you name it, would let you automate the process. You could build your own set or search for existing high-end retouching Photoshop actions. Afterward, install and play it within Adobe Photoshop and test it out.
The thing is, actions are tough to build. Only a handful of people who are experts in Photoshop can create automatic effects that work. So, try to search for plugins that work for specific photos. For the sake of example, you could use the Photoshop skin retouching plugin to refine your model skin texture.
Why You Need High-End Retouching Services
It's no secret, that high-end retouching needs skill and time to complete. In professional projects, making high-end retouching on your own is not visible. To make things work, high-end retouching services would be the key. It would ensure spot-on high-end retouching on every photo of your project.
The best service provider can apply specific high-end retouching techniques for your project. It makes a lot of sense as you don't have to learn each Photoshop technique every new day. In short, the high-end retouching services are worth trying.
Conclusion
Even though high-end retouching techniques are tricky, it gives you a polished image. Make sure to check in Photoshop retouching tutorials for beginners to get an idea of the retouching process. But in professional projects, having a custom retouching service would be the best option.
Since high-end retouching techniques are everywhere, getting familiar with them is a must. So, don't hold yourself back from learning it. Meanwhile, it would give you an edge when choosing specific retouching services. High-end retouching services are popular in a lot of domains. And it has taken the photography world by storm.