How To Photograph Necklaces For E-Commerce Store
Necklaces are a bit hard to photograph for any jewelry photographer alike. But when you know how to photograph necklaces it becomes way simpler.
The truth about jewelry photographs is that with better preparation you could get great-looking images. It's a lot more seamless than anyone thinks.
Better necklace images would lead you to better results in eCommerce or other sectors.
With proper lighting, presentation, and camera settings you will get amazing results. Hence, many photographs have got great output with the below-mentioned steps.
In today's article, we are going to explore all the options and methods to photograph necklaces correctly. Let's get in.
How To Photograph Necklaces for Your Online Business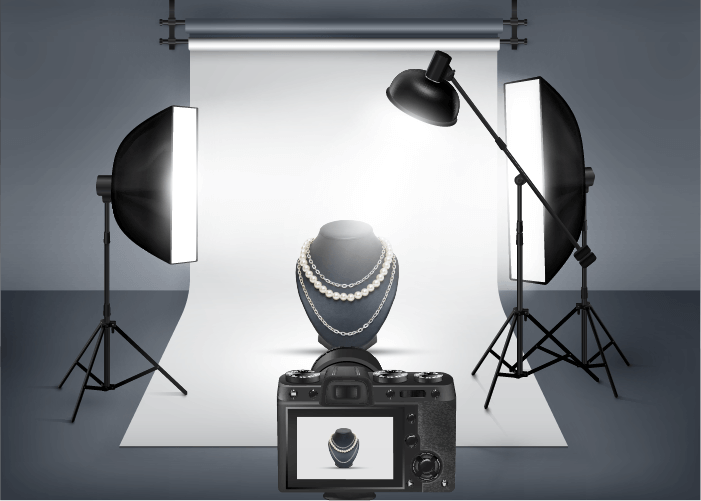 One of the first options you must consider when taking necklace photos is to harness them. One of the great ways to photograph necklaces is when the main jewel and stones are the focus. Hence, you need the following steps to get a perfect hanging necklace photo.
Harness the Necklace
First, you need to harness the necklace to start taking photos. Use any option to harness the necklace on air. For example, you could have a stick and tie both ends of the necklace on it and place it on two supporting bases.
On the other hand, set up a rectangular cardboard frame. To create a rectangular hole with the same proportion. It creates a cardboard frame that is useful to hang the necklace. Apply clips to stick to the two ends of the necklace.
Setup Proper Lighting
Once you harness the necklace, it's time to set up lighting for better images. The best setup for necklace photography can be the 3-point light. For example, go for 3 LED lights or softboxes to properly light the pendant or necklace.
Another thing, while you set up the lighting make sure to diffuse it with a cloth. Because harsh light can create bad-looking reflections on the necklace jewels. On the other hand, if you want to go for daylight, be sure to diffuse it as well.
Pro Tip: Using a plain white paper sheet as a background would be the option for most of the necklaces.
Place Your Camera and Adjust Settings
While placing your camera, place it on a tripod. Even when you have smartphone devices such as the iPhone, you must use one. Because with a tripod you could avoid taking shaky images. It's a must to get professional results on each of your products.
Talking about camera settings, for DSLR, set the ISO to around 100 and the aperture between f11 to f13. On the other hand, smartphone users should set their camera mood to macro. It would be helpful for any type of macro jewelry photography. Plus you should fix the focus beforehand.
Start Taking Photos
In the following step, start taking photos of your necklace. Even though harnessing a necklace doesn't give you the option of experimenting with angles, be sure to change the lighting setup when needed. It would help you get the perfect shot.
In addition, including a 5-second timer on the camera can help avoid camera shake. Because mobile device users might face a camera shake when they press the shutter button. Most smartphone camera apps have a timer app and you should have the feature right now.
Polish Necklace Photos
It's a lot common to have errors and imperfections on your necklace photos. You must polish them up to make them look professional. You have the option to use software such as Adobe Photoshop or online tools to give it a try.
But, if you have a bunch of photos with complex errors, giving them to an expert would be the best option. Or hire any freelancer or agency for a jewelry retouching task. It makes your workflow a lot easier as a jewelry photographer.
Alternative Photography Styles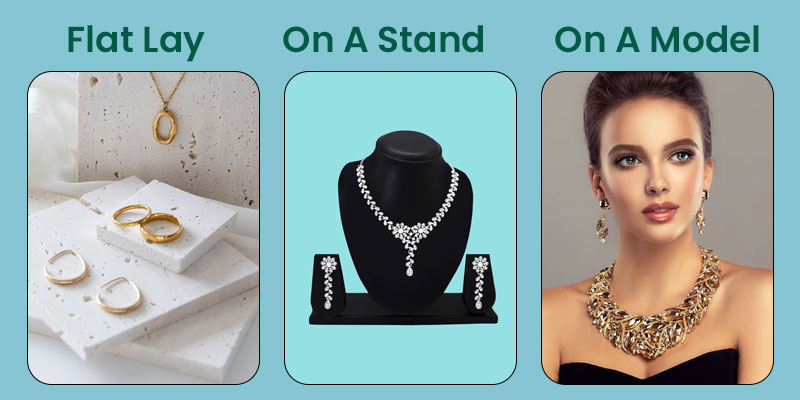 Other than hanging necklaces, photograph in other styles as well. Below we are talking about each of the styles in detail.
Photograph Necklaces On Flat Lay
If hanging necklaces seems difficult, lay the necklace on a flat surface. First, you need to select a surface. Use textured or plain white surfaces. While laying the necklace, make sure it has a good composition.
In flat lay photography, apply props to make the image look good. For example, add flowers, luxury stones, and other times to create a unique composition. At last, you must set up a camera stand or take an image from your hand while taking flat lay photos.
Photograph Necklaces On A Stand
Another option for taking necklace photography is to take them on stands. Like, place a black necklace stand to photograph the gold or white-colored necklace. Using a black stand creates a nice contrast on your white background. Plus, it helps the viewers imagine wearing the exact necklace.
When you are choosing the necklace stand, check out if the necklace fits perfectly on the sand. Afterward, be sure to capture images with proper lighting and angle. If done right, your images would be magnificent and luxurious at the same time.
Photograph Necklaces On A Model
While you are doing jewelry photography with models, make sure the focus is on the necklace itself. Further, you may need to set up professional lighting equipment like softboxes or umbrellas for better reflection. Plus, you may need to use an additional whiteboard reflector to improve the image.
Plus, you must maintain proper communication during the photo session. It creates the workflow a lot smoother for both you and the model. Meanwhile, keep in mind to take multiple images when you are shooting necklaces.
Steps to Improving The Necklace Images
Follow additional steps to make your necklace image a lot better. As a result, your image will be attractive and better looking. You should follow these points on most of the bracelet photographs.
Always Edit Jewelry Photos: It's a must when you are shooting photos of necklace images.
Sparkle the Necklaces: Many beginners photographers make mistakes in not sparkling the jewels of the necklace. This is why you must customize lighting to create sparkle on the necklace jewels.
Setup The Lighting In Perfect Way: You must not shy away to create a perfect lighting setup. This is why you should apply artificial lights if possible. If the lighting is still not sufficient, use a lightbox to capture images of your necklace.
Let's go on to some of the equations regarding necklaces photography.
What Is The Best Aperture For Necklace Photography?
While taking necklace photos, the aperture should be anywhere between f11 to f13. Setting the aperture to these settings provides you with the best results in your necklace photography. Alongside the aperture, make sure you have set other settings of the camera to get better performance.
How Should A Photographer Avoid Any Sort Of Reflection?
To avoid reflection on jewelry, you must eliminate unnecessary lighting around your studio. Further, wear non-reflective clothing. Remove your reflective sunglasses as well. Plus, you must adjust the lighting angle to get the minimum reflection.
What's The Way To Add Additional Elements To Photos?
You must remove the background of your additional element image and set the png on top. Any photo editing software such as Photoshop provides you the option. If you are not used to Photoshop, get into other online tools available over the internet.
People Also Ask
Conclusion
Now you know how to photograph necklaces correctly. It will provide you with a great advantage over others.
Using the same steps, you could learn how to photograph any jewelry at home. It does get easier when you start the process and the necklace photos will be of high quality.
Plus, don't put yourself back if you don't have a DSLR camera. Countless photographers have got splendid results on their smartphone cameras.
With a little bit of practice and patience, you could achieve a great set of necklace images that brings higher sales. Start taking necklace photos right now.

I'm Lisa brown, 25 years old photography enthusiast living with the dream to capture every moment I live. I've been engaged with photography for five years in a row. I dream of sharing all the experiences with every rising photographer dreaming of being professional.