6 Steps on How to Start a Photography Business in New York
Learning how to start a photography business in New York can greatly boost you. First, setting up a photography business offers scalability and freedom on your hand. Plus, you have plenty of client base depending on the category of photography you are good in. So let's find out how to do it in the following article.
When you look around, New York City has plenty of successful photographers running their businesses. Most of them are lucrative and started to hire new photographers.
As you set up a business, it would also be good for your branding.
Key Points on the Setting Up Photography Business
Before getting into the actual steps of setting up a photography business, let's talk about its key points. As you have seen, a lot of successful New York-based photography businesses all follow some of the fundamental aspects.
You could start your photography right from your home.
You need to get a photography license to set up a running business.
Within the photography business, it has different types of niches to go into.
It could cost a bit. First, you could get a lease to lower the cost.
Steps for Starting Photography Business in New York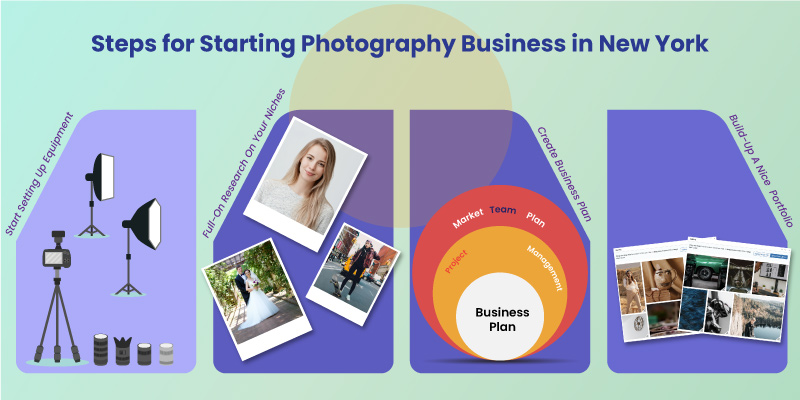 Getting into the photography business in New York has its steps. To help you out, we have sorted out some of the crucial aspects with simple steps. So let's get into the steps and find out more about it. It would be short and simple to understand as well.
Step 1: Start Setting Up Equipment
First of all, you need photography equipment to start your photography business. But it's not always that you should go for expensive gear. Instead, you must start your photography business with a lower-cost lens and camera. Then, as you start increasing your price, you can afford the high-end gear.
You may need to invest a bit to buy a camera and lens when discussing the cost. But, in case you don't want to spend money, lease the products on a short-term basis. In the following way, you could have started creating photographs without your equipment.
Step 2: Do A Full-On Research On Your Niches 
Right now, you need to do some research on the photography niche you have chosen. For example, portrait, street, wedding photography, or others. It's better to choose a photography niche that is familiar to you yet it's highly professional.
Once you determine the niche, starting your photography projects becomes easier. Hence, you could target a specific audience for your photography services. But, one thing to consider when choosing a niche is you should not focus on more than one category.
Step 4: Create Business Plan And Register Within New York 
Right now, you need to write a business plan. It's important as you could gain traction in your registering process. While creating a business plan, you could create a summary of your business. In addition, you could add mission statements, history, and similar kinds of things.
Afterward, you should decide your photography business name and category. Afterward, you need to register it under New York law. Hence, you would get a license for your photography business. Getting a photography business license would also help you manage the taxes.
Step 5: Build-Up A Nice Looking Portfolio
Right now, you need to work on the portfolio to create a better impression on your clients. As you have selected a specific niche, start working on the photos. Or you might showcase your previous photos to create a compelling portfolio.
You might create a custom website to show off your portfolios. Having a website makes you a lot more convincing to your clients, which is why creating a fasting loading website that shows all the portfolio images right away is recommended.
Step 6: Start Putting Effort Into Marketing
In the end, you need to put effort into marketing your services. As a small business, digital marketing would be the option to go. Because it provides you a larger audience reach within a smaller amount of budget. It's efficient and easy to understand.
However you may try to get into digital marketing, but sometimes it might seem overwhelming. You might consider taking help from any digital service agency as well. Or you could learn online advertisement techniques to get into it.
Related: Start A Photography Business In Texas
Running Photography Business: Best Practices
You have some best practices to follow to run a photography business. Aligning yourself to the best practices will help you to gain an advantage in the long run. Plus, it helps your business to grow.
Have an additional photographer in case of emergency. Some of the projects might need more photographers as well.
Always hire an accountant for your bookkeeping when the business grows. Because, at first, you might consider it yourself, but later, you may need help.
Be careful when setting up pricing. Don't go way lower to stay reasonable. Consider the time and cost that gets into your projects when you determine the pricing.
Tips On Getting Out First Clients
You need to follow some basic steps when getting out the first client. For example, you should reach out to your known ones when you are first starting. It's a lot common to have your first clients who are from your friends or family.
In addition, make sure you tell them to refer to their known ones. It's the word of mouth that spreads faster without you realizing it. Plus, you should try out to get freelance photography clients. You could get photography projects by reaching out to professionals in your industry.
Pros and Cons of Having A New York Photography Business
Starting a photography business in New York is a bit of a hassle, but it also has a rewarding factor. In the following section, we are going to explain some of its pros and cons. After that, it would help you to put everything in perspective.
Pros
You get to manage your business according to your schedule.
Freelance projects give you complete freedom over your creativity.
Scaling up a photography business is super easy and lets you have a piece of mind.
As time progresses, you could start charging higher to value your time and effort.
Cons
Depending upon your location within New York, you may need a certain license to run a business.
First, you need photography equipment, which may seem a bit expensive.
The photos might get errors and need a photo retouching service to make them look perfect.
Frequently Asked Questions
Is Having a Photography License Essential?
Having a photography license is not essential, but having one will simplify things. For example, the tax process will be much simpler than you may expect. In addition, you could go onto any insource service for your business without any issue at all. 
Is Real Estate Photography Profitable In New York?
Capturing real estate is a full-time profession for many photographers around New York. However, when done correctly, it's a much more lucrative profession. It's a profitable niche and provides an ample amount of paycheck in exchange.  
What Are The Policies Of The New York Photographer?
Policies for photographers in New York are a lot more suitable compared to the other states. For example, within New York, street photography is legal. You could take images of people who are in public places. As with the other state policies, photographs will get protected with copyright protection policies.
Conclusion
When you are confident in your photography skill, learning how to start a photography business in New York is a must. New York provides all the necessary things to let you start a photography business. You could quickly scale up your photography business within a shorter time frame.
Most of all, when you are working on a new business, take some time. Don't rush off when getting out new clients. You would get profitable clients with a little effort and time. In addition, in the first phase having freelance projects is an advantage.

Hi, this is Maria, I've been in the photo editing and retouching business since 2012. I've worked for hundreds of professional photographers and agencies throughout my career. Now my goal is to share all the knowledge I've gathered to fulfill the dream of the rising talents in the industry.