6 Best Camera For Paintball Filming + Buying Guide
Recording everything on the go enables us to capture the moments we don't want to forget. In this modern era, gamers like to record their exciting matches with the help of video cameras that they can mount on their bodies.
Paintball is a popular game, especially among the young generation. Many paintball enthusiasts love filming their fun adventures to relive the moments later. But, to make the best quality videos, you need the perfect camera.
When it comes to selecting the right camera for paintball filming, there are so many different options. This is why we assembled the six best camera for paintball filming so you can check them out. Let's get started!
Features Of A Good Camera For Paintball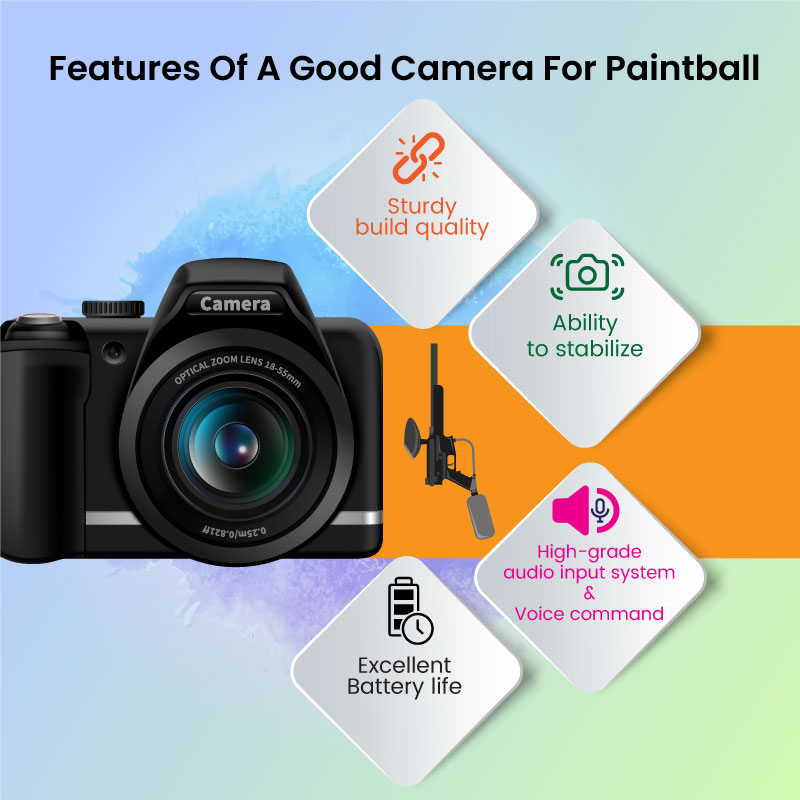 The best part about a good action camera is that you can use it for other things besides filming paintball games. Before discussing the best ones, let's look at the basic features of a good camera for paintball first.
Sturdy build quality
A camera used for paintball games must have a sturdy build quality to
withstand the hits and cope with the gaming atmosphere.
Ability to stabilize
As you record the videos at the extreme moments of intense paintball shootouts, the camera needs to have the ability to stabilize well.
Water-resistant nature
A good paintball camera should be water-resistant. Because of its protective exterior, only a waterproof camera can survive through paintball gameplay.
High-grade audio input system
Another essential feature of a good paintball action camera is a high-grade audio input system so that the video outputs come with clear audio.
Voice command
The voice command feature can make your camera using experience more effortless. Although it is not mandatory, with voice command, you can control the camera without using your hands while paintballing.
HD Recording
HD recording feature allows you to record high-resolution videos with little effort; if it can offer 4K resolution, then nothing like it. The better the resolution, the more precise and high-quality your videos will be.
Excellent battery life
The final feature of a good quality paintball camera is its battery life. It needs to have an excellent battery life to support you during matches.
Tips To Make The Most Use Of A Camera For Filming Paintball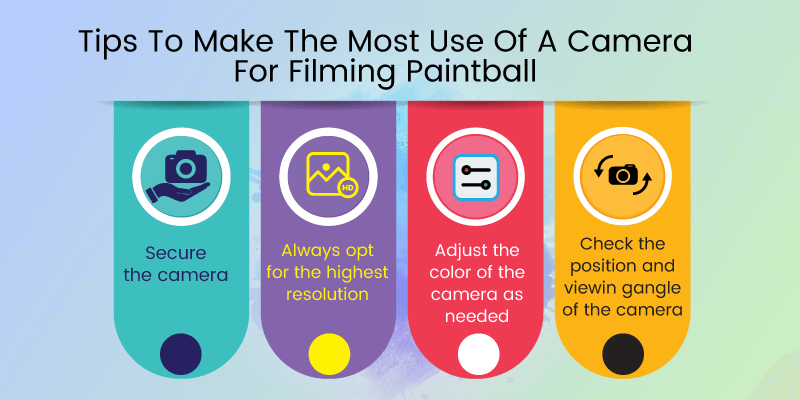 Using a paintball camera and filming and live-streaming exciting games with it is a fun activity. With simple tips, you can get the best videos and images from a paintball camera and enjoy using the camera for a long time. Find the tips below –
1. Secure the camera
Always secure the camera well before getting inside the gaming arena. Use the necessary accessories to mount the camera.
2. Always opt for the highest resolution
Since you will be filming while playing, you need to record the video at the highest possible resolution. It will ensure that you get the best quality video with less distortion.
3. Adjust the color of the camera as needed
In some situations, adjusting the camera's color settings may be necessary. Check the lighting and change the color option according to the needs of videos with excellent color balance.
4. Check the position and viewing angle of the camera
Finally, before you jump inside and start hitting others with paint, check the position and viewing angle of the camera. These are very important. Make sure that you consider your gaming habits while adjusting the position and camera angle.
6 Best Camera For Paintball
We took it as a challenge to try out several cameras and find the best ones for filming paintball matches. Finally, we picked the six best paintball cameras that can make your gaming life fun and exciting. Take a look.
#1- GoPro Hero 11 Action Camera – Best for stability and high-quality visuals
Riding at the top of the list is the fantastic GoPro Hero 11, with its amazing build and top-notch performance. The current generation loves GoPro, and the name will probably come up in the top 3 of every paintball gamer who loves to film their gameplay.
As we tested the camera, we were amazed at its ability to offer 5.3K video at 60 fps and 27 MP images. You can also film the whole gameplay and get your desired stills (24.7 MP) from there without losing the textures and crispness.
The large canvas allows you to capture more of the surroundings, which can be an additional benefit while filming paintball gameplay. The GoPro Hero 11 is waterproof and enables voice command, so you can use it hands-free.
We were curious about the award-winning HyperSmooth 5.0 stabilization, and it didn't disappoint. Even if the camera rotates at 360°, you will still get perfectly straight and stable images thanks to the horizon lock feature.
The incredible 8:7 image sensor and auto boost feature significantly improve image quality. The Enduro 1720 mAh battery backs all of these features. Something that bothered us a little was the random noise in the HyperView videos.
Pros:
Offers 5.3K at 60 fps
27 MP images and 24.7 MP stills from videos
Award-winning HyperSmooth stabilization
Horizon lock feature
Image sensor and auto boost feature
Cons:
Occasional noise in videos
Trouble pairing with the GoPro app
#2- YI 4K Action Camera – Best for performance
The YI 4K Action and Sports camera is the second on our list. You will fall in love with it at first sight. It looks compact yet sturdy, and with the built-in gorilla glass, it can withstand the force from paintball hits well.
It is very easy to use, which makes it an ideal option for beginners. Nonetheless, whether beginner or pro, this camera gives top-notch outputs. What impressed us the most was its ability to offer 4K at 60 frames per second and capture 12MP pictures.
The digital stabilization ability is of great help. It may use up a lot of battery life, but it allows the user to record amazing visuals at 30 fps. The camera produces high-quality, crisp, and stable photos and videos with the most advanced technology.
We also loved the 160° wide angle that makes previewing and shooting more real. The retina touch screen lets the user adjust the modes with fast responses. With this camera, you can stream and share easily. It also offers a voice command feature and has an app for better usability.
Another charming point of the product is its incredible battery life, backed by a 1200 mAh battery that can provide support for a long time. But we did feel that the audio quality could be better. As you relive the moments later, good audio makes the experience more enjoyable and authentic.
Pros:
Offers 4K at 60 fps
Highly responsive touchscreen
2.2-inch gorilla glass for security
Wide viewing angle
Offers 12 MP crisp photos
Digital image stabilization
Cons:
The audio system is not up to par
#3- Sony FDR-X3000 Action Camera – Best for water-related activities
Let's talk about the stylish camcorder – Sony FDR-X3000, specializing in underwater activities. Manufacturers claim it to withstand 197 feet deep diving into the water. We wanted to check its ability to support paintball games and were surprised at how good it was.
Due to its specialty in underwater activities, it is built in a way that can easily withstand the extreme gaming environment of paintballs. We realized it was a bit bulky after using it for a few games.
An impressive trait of the camcorder was its incredible audio quality. The recorded videos allow you to enjoy almost the same sound experience during the game. A noise reduction feature reduces wind noises and makes the audio more transparent.
The camcorder comes equipped with a Zeiss Tesser lens and Exmor R CMOS sensor that guarantee less distortions and professional 4K videos. The battery life is also commendable.
The balanced optical SteadyShot image stabilization feature compensates for any camera shudders and gives you brilliant results. You also get three viewing angles and 12 MP still pictures up to 10 fps in burst mode.
Pros:
Balanced Optical SteadyShot image stabilization
Good battery life
Impressive audio quality
Distortion-free, clear image and video
Sturdy waterproof exterior
Cons:
It can be a bit bulky for some users
#4- Drift 10-010-00 Ghost 4K Camera – Best rotatable lens
Meet the Ghost 4K from the Drift Innovation Store, an action camera with a sturdy physique featuring dual microphones. What we loved the most about this camera is its simple design. It runs on an Ambarella A9SE processor that offers movie-quality videos.
Although not as compact as the previous ones, it comes with a strong build that can support well during paintball gameplay. This camera can deliver 1080p at 120 fps and 4K at 30 fps.
It comes with an IPX7 waterproof rating which is more than enough for paintball games. The best part about the camera is the 330° rotatable lens that allows it to cover everything around the user during gameplay.
You can use the time-lapse feature to bring innovation to your videos. From the two microphones, you can either choose one or let the auto-mode select one for you.
The 12 MP lens provides high-grade pictures that can easily take over the place of regular cameras. Also, let's not forget the electronic stabilization system. You can use the drift life app, available for Android and iOS users, to handle the camera.
Pros:
Supports up to 120 fps recording
It comes with dual microphones
330° rotatable lens for the best view
Offers time-lapse recording
Electronic stabilization system
Cons:
Not at compact as other paintball cameras
#5- DJI Pocket 2 Creator Combo Action Camera – Best for portability and handling
Next on the list is the DJI Pocket 2 creator combo action cam, which can become your number one choice for its portability. As the name suggests, it is pocket-friendly and easy to carry.
More than the size, we felt that the handle of the camera makes it more convenient to carry around. We loved the outstanding image and video quality of the camera. You can enjoy 4K high-resolution videos and capture 64 MP photos.
It is super beginner-friendly, which makes it a great option for a new paintball gamer who recently got into filming and streaming. The 3-axis gimbal offers excellent stability. Four different microphones work together to pick up all the sounds.
Another incredible feature of the camera is the Active Track 3.0 sensor. This sensor helps track moving subjects. The lens will automatically move around to capture everything in your surroundings.
Pros:
Pocket size, easy to carry
Offers great handling
Delivers outstanding audio quality
Active Track 3.0 sensor
3-axis gimbal for stabilization
Cons:
The handle gets hot after long-term use
#6- Insta 360 One R Twin Edition Action Camera – Best for professional use
Lastly, we present the ultimate professional expert – the Insta 360 One R Twin Edition action camera. With this, you can enjoy shooting in 5.7K at 60 fps.
We enjoyed filming with the 4K wide-angle camera. It helps capture so much more than most other action cameras, which gives it a professional touch. Also, the AI editing system and advanced image processing take the whole experience to another level.
The FlowStage stabilization system provides gimbal-like stability. The scene detection ability doesn't miss out on anything and keeps the images steady.
A unique feature of this camera is the invisible selfie stick that allows you to achieve the third-person perspective without the involvement of an actual stick or a third person. It also features automatic horizontal leveling, which is incredible.
Aside from all these, this fantastic action camera offers great slow-mos, 360° previews, Color Plus, Night Shot, and Time Shift features, so it's a win-win from wherever you look.
Pros:
Up to 5.7K video resolution
IP68 waterproof rating
Crystal clear videos and images
Automatic horizontal leveling
Invisible selfie stick
360° recording option
Free Air-powered edition facility
Cons:
It can get stuck while filming in HD, occasionally
Things To Consider When Buying A Camera For Paintball
While looking for the perfect camera for paintball, there are a few factors that come into play such as the video resolution and budget which can heavily impact the selection. Since it is an important investment, one must consider the following things before deciding on a camera.
Video quality
You will use the camera to record the moments during paintball gameplay. So the first thing you must consider is the quality of the video and image the camera offers.
While choosing a paintball camera, ensure that it offers more than 720p quality, preferably 1080p or more at 24 fps. Aside from checking the specifications, you can check customers' reviews to get some ideas.
Stabilization
The next thing to consider is the stabilization feature. You will move around a lot while filming with the camera as you will be playing; the stabilization feature will ensure that the movements and vibrations don't affect the recording output.
Durability
Paintball is an intense game. Just like how the player has to wear protective gear and costumes, the action camera must be up to the mark when it comes to durability. Check the build and nature of the camera beforehand to ensure it can withstand the gaming environment.
Battery life
Since you will be filming for a long time, that too, recording high-resolution videos, the camera's battery life plays a vital role. So you must take this into consideration before making a purchase.
Weight and portability
The weight is another crucial thing to consider as you will be mounting the camera on your body. If it is too heavy, it can be troublesome for you to move around freely. Alongside the weight, you must ensure that the camera offers portability.
Budget
Investing in a quality action camera is always appreciated. If you have the money, you should invest in a camera with high-resolution videos, a good battery life, and a sturdy exterior. Therefore, you must fix your budget and research well to find the best paintball camera for your budget.
We assume you are ready to invest in the right camera that suits your taste and gaming style. You may still have a few questions in mind. Take a look at these frequently asked questions to gain more insights.
Can a paintball break your camera? 
Although most action cameras claim to be sturdy enough to withstand hits and forces, a direct impact from the paintball can still be too much. Even if the camera's body remains intact, a direct hit can affect the lens the most. 
Where should you mount the camera for better filming?
You can mount the camera on your shoulder or forehead to get the right angle for filming your paintball adventures. You can also mount it on the helmet. You will need the correct mounting gear to secure the camera in its position. 
Is using a case mandatory to secure the camera from paintballs?
In most scenarios, using a case is the best approach to secure the camera from paintballs. Although these cameras are designed to deal with extreme situations, including a case only will enhance security. If you are a regular paintball gamer, consider using a case to ensure the camera's longevity. 
Conclusion
Most action cameras are suitable for paintball filming if they are waterproof, sturdy, and can deliver good video output. We tested many action cameras to assemble the six best camera for paintball so you can make an informed decision.
After analyzing all the features and specifications, our two top picks are – the GoPro Hero 11 action camera and the YI 4k action camera.

I'm Lisa brown, 25 years old photography enthusiast living with the dream to capture every moment I live. I've been engaged with photography for five years in a row. I dream of sharing all the experiences with every rising photographer dreaming of being professional.