Best Gopro For Softball Games
Recording softball games requires a camera that can keep up with the game's fast-paced action. Action cameras are just perfect to capture quick movements in any softball or baseball game.
Whenever we talk about action cameras, GoPro has to be the name that always makes it to the top of the list. So, when you look for an action camera to record your softball games, the search always starts with GoPro.
That's why here we will discuss the best GoPro for softball games and show you how each can be impactful. So, let's not waste any more time and jump right into it.
Is an Action Camera Best For Recording Softball Games?
Here's the thing: you can use any camera to record your softball games. Whether it's a DSLR, a mirrorless camera, an action camera, or even a camcorder, it doesn't matter.
But to have the best footage and capture all the moments of the game properly, an action camera is your best choice.
Several factors make action cameras more suitable for recording softball games than other cameras. Such as –
Action cameras have a wider FOV to capture more on the field than other cameras.
These cameras are quite sturdy, so there is no need to worry about the balls hitting the camera.
Faster auto-focus and quick tracking ability make it very easy to track the movements of a softball game.
Many action cameras also have a slow-motion feature, which can be helpful when analyzing games.
Most high-end action cameras have high resolutions for excellent zooming and crystal-clear visuals.
Because of these benefits, an action camera provides the best value when recording softball games.
How Can You Record Softball Games On Gopro?
Just having the camera isn't enough when you plan to record your softball games with the GoPro. You will need some additional accessories to set up the camera and record your softball games.
Usually, these accessories include a fence mount specifically for recording softball or baseball games. Then there are things like battery extensions, cap mounts, head mounts, tripods, etc., to record the games more conveniently.
Check out this video for a complete GoPro setup for recording softball matches.
Once you have the setup, you can move on to the GoPro settings. Having the default settings is okay, and they can get the job done for sure. But if you want something specific, you must change the settings.
For instance, if you want a smoother gameplay recording, then make sure to record the games at least 60FPS. In this case, prioritize FPS over resolution, as some GoPros may not support 4k resolution with 60FPS.
So, when do you prioritize resolution? Simple, if you want to focus on the details of the footage and gameplay, use a higher resolution. In short, go with 1080p at 60FPS for smoother footage and 4K at 30FPS for more clarity.
And if you can get a camera with high resolution and FPS settings, don't think too much and opt for that setting immediately.
5 Best Go Pro For Softball Games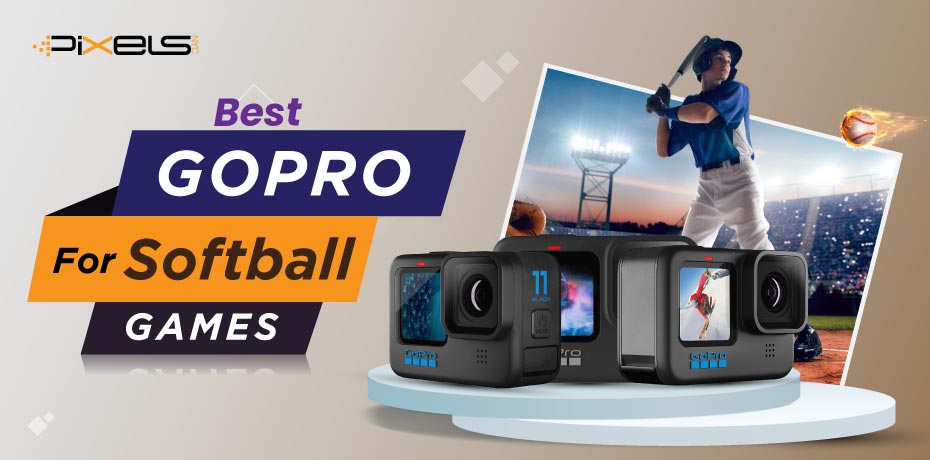 The good thing about choosing a GoPro for softball games is that they all assure you of quality and reliability. There is no way to go wrong with any of these options.
It's just about what features you want and what your budget is. Because they vary in price and features, for the most part, let's go ahead and see the differences to find which one meets your preferences the best.
#1- GoPro HERO10 Black Accessory Bundle
Among all the other GoPro cameras, the Hero10 Black accessory bundle proves to be a top contender for recording softball games. The camera is already a beast at recording smooth and high-resolution clips. But the additional accessories just make it a complete package.
What keeps the camera ahead of some other options is its HyperSmooth 4.0 technology. This makes sure whenever you are taking those fast-speed softball game shots, they always come out smooth and clean. It also greatly helps get the perfect exposure, even in low-light conditions.
The cherry on the cake for this camera is its 5.3K resolution. It can easily capture all the details present within its FOV. And the best part is you can record at 60FPS even when the resolution reaches 5.3K.
If that's not enough, then an 8x slow motion feature is added at 2.7k resolution. With this feature, any softball game can also become much easier for the coaching staff to analyze. You can even pause the video and take still images at a 5.3k resolution with 15.8MP zooming ability.
Pros
High-resolution recording
Smooth and detailed videos
Great image stabilization
Excellent autofocus
Perfect colors
Cons
Not the best battery life
May have overheating issues
#2- GoPro HERO8 Black Retail Bundle
When portability and compact size are one of your concerns, Hero 8 might be the perfect solution. It has a unique shape that makes it easy to keep in your pocket. Even changing the batteries is much more convenient and faster than other versions of GoPro.
To get a hold of all the moving balls during a softball game, there is the TimeWarp 2.0 technology. It keeps all the footage much more stable and provides the smoothness you would desire to have in quality videos. And the use of HyperSmooth 2.0 just elevates that aspect a bit more.
As for the resolution, it's not as great as the Hero 10, but you still get to enjoy 4K video recording at 60FPS. That already is a great advantage to have when you are recording softball games. It brings you enough clarity and smoothness in the video.
Another great aspect of this camera is its color accuracy. Whenever you click a photo or record a video, everything feels true to color. This can make the softball games appear livelier and more exciting later on.
Pros
Compact size and weight
Excellent stabilization
High-quality video recording
Top-notch color reproduction
Decent battery life
Cons
Software support is problematic
Night videos can be noisy
#3- GoPro HERO9 Black, Sports and Action Camera Bundle with Froggi Accessory Kit
The GoPro Hero 9 sports camera bundle has to be one of the best overall picks out of all the choices here. It comes with a Froggy set that includes most of the accessories you need for recording sports videos. Even with that, the pricing of the whole bundle is comparatively lower.
The camera has the highest resolution of 5.3K to provide clean and detailed video footage. It can record at 30FPS when using the highest resolution, which can be great for analyzing the game. But for smoothness, you can always record in 4K at 60FPS.
What makes this camera even better for recording games is the live-streaming feature. Combining that with the HyperSmooth 3.0, 30% additional battery life becomes the perfect tool for recording games.
To top things off, this is the perfect thing for beginners because it has everything set up. The camera itself is also very easy to use, and setting it up for recording softball games is also very straightforward.
Pros
Come as a complete package
Great resolution and framerate
Excellent smoothness in video
Comparatively affordable pricing
Very Easy To Use For Beginners
Cons
Battery life is questionable
The mounts aren't of solid quality
#4- GoPro HERO11 Black – Waterproof Action Camera
With one of the most upgraded and high-quality sensors, the GoPro Hero 11 will never disappoint with the footage. It has all the updated features that provide quality at the forefront and make your softball videos look exceptional to the eyes.
To bring that fluid motion and smoothness to the videos, the camera uses the latest HyperSmooth 5.0 technology. This feature gives it unmatched image stabilization and makes all the softball clips run smoother than butter.
When you pair that up with a 5.3k resolution video recorded at 60FPS, things just get even better. The quality can easily be compared with a high-end camera for professional cinematography. You get all the details in the field and all the movements in one fluid motion.
Something that makes the Hero 11 a bit better than the other ones is its software support. The software compatibility is much better than the other versions of the GoPro, and it provides excellent functionality.
Pros
Come with all the latest features
Provides smoothest footage
Great video quality
Top-notch software support
Excellent configurations
Cons
It has an overheating tendency
Doesn't have the best battery life
#5- GoPro MAX — Waterproof 360 + Traditional Camera
Now, this camera will boast its versatility factor over anything else. If you want to get footage from both ends of a field, this 360 GoPro Max might be the perfect weapon in your arsenal. It's easy to use and has convenient settings to record your desired videos.
What makes the camera unique is its 360-recording feature. So, whenever you are recording the front side of the field, you can also record the back end and make a vlog. It can be the perfect thing for a softball enthusiast vlogger.
The camera will also be suitable to stream your games on a platform. It supports a live streaming feature with some excellent video quality. With its HyperSmooth technology, the streams always turn out to be high quality and free of shaky footage.
Coming to the resolution and frame rate, you get a 5.6k resolution on the 360 camera with 30FPS. As for the traditional camera, it can go up to 1440P at a 60FPS rate, which is pretty decent for recording softball game footage.
Pros
Great versatility for games and vlogging
Excellent live-streaming quality
Convenient and easy to record
Easy to use touch screen panel
Smooth and stable videos in every aspect
Cons
It is not a very high-resolution
Poor battery life for long games
Things To Consider When Buying The Best Gopro For Softball Games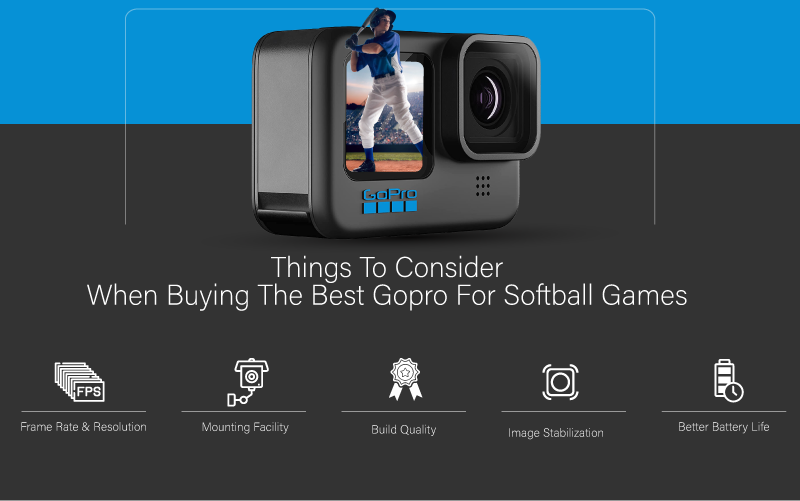 If you are thinking of buying a GoPro for recording softball games, there are plenty of things you need to consider. These factors can always help you find the perfect choice for your particular needs.
Frame Rate And Resolution
The first thing you have to look into is the frame rate and resolution of the camera. Factoring in the resolution will help you determine how many details you can have in your softball footage. Higher resolution means more details.
Considering the frame rate helps you determine what kind of smoothness you will get in your footage. A higher frame rate means you get smoother footage.
In most cases, the cameras tend to have 4K resolution at 30FPS and 1080p resolution at 60FPS. It's the standard you should settle for, at least. But if you can get 4k resolution or more with 60FPS, don't hesitate to pick that up.
Mounting Facility
Another crucial factor when you want a camera to record softball games is the mounting features. For softball games, the best kind of mounting option will be with a fencing mount. They are the most convenient and provide the best hand-free recording experience.
Having versatile mounting options can always be helpful to record videos from different angles. Plenty of GoPro cameras have different mounting features to give you the perfect versatility in angles.
Build Quality
Even though build quality is never a concern with GoPro cameras, you still need to consider the rigidness of it. GoPro cameras are meant to go through rough conditions and withstand heavy-duty usage, but some may not fulfill that promise.
Whenever you get a GoPro for shooting softball games, you must ensure it's rugged. Sometimes, the balls can come and hit the camera directly and damage it. So, the camera has to be sturdy enough to withstand the ball's impact.
Image Stabilization
The main purpose of using a GoPro camera for recording softball games is its image stabilization feature. The stability of the footage is the key to producing smooth and professional quality clips of your softball games.
GoPro cameras use this HyperSmooth technology in their cameras to provide that smoothness. The latest version of the technology will always prove to provide much better smoothness than the previous ones.
The HyperSmooth 4.0 or above should give you the best possible smoothness. But you can still get some satisfactory results with HyperSmooth 2.0 or more.
Battery Life
Last but not least, battery life is crucial for the GoPro cameras. Especially for recording longer softball games, you have to get a GoPro with better battery life.
Many choose extended batteries to back up the camera with the necessary battery life. Consider that factor beforehand as well.
Final Thoughts
In conclusion, finding the best GoPro for softball games may sometimes come down to your preferences. They all deliver on quality, and you can rely on every single one as they are from the same brand.
But if you were to choose any of them for softball games, we would pick the GoPro HERO9 Black, Sports and Action Camera Bundle. Considering the price and performance, it's a complete package and one of the best overall options.
If this one doesn't meet your needs, you still have 4 other amazing choices. No matter which one you pick, you won't be disappointed with the results whatsoever.