Top 7 Best Tripod For Plein Air Painting
A tripod holds a paramount role in the plein air painting world. For artists who venture outdoors to capture nature's vibrant beauty, the best tripod becomes their steadfast ally. The quest for the best tripod for plein air painting is common to ensure hassle-free balancing while capturing. But how can I choose the best Tripod For Plein Air Painting?
Well, choosing the best Tripod involves features like adjustability, lightweight, durability, portability, ease of use, and much more. As so many brands are available in the market, that may make your decision tough.
Don't worry! Here I will try my best to list the best tripod to perfect your Plain air paintings. Stay with me and explore the top selected Tripod on real using experience for Plein air painting.
7 Best Tripod For Plein Air Painting: In depth Review
So many popular Tripod brands and models are equipped with excellent features. Some are the best to ensure balance and stability, while others are good for portability and durability. The decision can be challenging to choose one of the best. Let's explore detailed and honest reviews of the following Tripods for Plain air painting –
1. Sienna Plein Air Tripod Easel
Look at my first Tripod, Sienna Plein Air Tripod Easel, a top-quality Tripod with all the essential features. You really needed this superior tripod to hold your heavy all-in-one Sienna Painter's box. Keep everything in place; no wobbling or slipping.
Many things impressed me about this Tripod. The first thing I liked most is that it is sturdy, made of aluminum, and can withstand challenges. It can carry your 14 lbs Sienna box easily. Its quick-release mount makes its setup fast and simple.
The ability to adjust angles in a variety of ways is another feature. Portability and setting the angle for good balance are big challenges when painting on mountains. But it ensures easy portability due to only 3.9 lbs weight. It can be locked into place at 3 different angles to ensure good balance.
Height setting is a must-feature in a good tripod, and this one offers an easy height setup mechanism. You can adjust its height by flipping off the quick lock leg lever. If you have a bag or backpack, you can hang it on its bottom hook.
Assembling is always a challenge for users, but you will be happy to know it will not take more than 5 minutes to set up. One more thing I must tell you is that it has excellent customer service. If there is non-human damage, you can get its replacement for free. They also offer free repair services.
There are a few things, though, that I do not like, and they need to be improved. Its tripod head often shows a problem when opening the box. Another thing is its carrying bag; it needs to be of better quality. Its Zipper quickly broke, which needs improvement.
Pros
Various angle settings
Sleek and modern design
Lightweight but sturdy
Legs slide smoothly
Easy Portability
Cons
Wobble or shake when used for Canvas
Only black color limits the choice
2. New Wave u.go Plein Air | Tripod LCS1 |
Here's another great Tripod by New Wave, Tropic LCS1, that is great and sturdy compared to the other one we have tried. It is well worth purchasing due to its small size, lightweight, and sleek design.
The aspect I liked the most about it is how compactly it can be folded to fit in the modest backpacks we can use to transport our UGO setup. This feature allows users to use the tripod in all conditions, including wind.
I found it very stable and high-quality, holding more than 26.6 lbs. There is a sturdy 360-degree ball head swivel to handle heavy weights easily. Its 2.9 lbs weight makes it perfect for outdoor painting treks. You can easily carry this tripod with your luggage on hills.
I discovered some notable features, such as a retractable weight hook, flip leg locks, carry bag, aluminum construction alloy, and dovetail quick-release plate. I was very impressed by its design; it is a universal 1/4 inch threaded tripod mount that is compatible with all u.go Plein Air pochade box models. You can use it for DLSR cameras too.
There are many good things, but we only liked a few of them. The first is its height; its maximum extension is 55", and you fold it up to 13.8". Its folding facility is good, but the full extension of 55" is too low for most people. People over 5 feet may not find it a good tripod. There is a need to extend its height by a few inches.
Another thing that I noticed is that it needs to be lighter than advertised. No doubt aluminum is used, but to reduce its weight, it is very thin, which is not much studied practically.
Pros
Hex key for easy adjustments
Compatible with DSLR tripods and as a companion to wooden box easels
It comes with a convenient carry bag
Lightweight materials ensure easy portability
Superior performance in all weather conditions
Cons
The maximum height is too low
Thin aluminum makes it weak against heavyweights
3. Deluxe Oak Wooden Field & Studio Sketchbox
Explore my best tripod, French easel, Delux oak wooden Field, and studio Sketch box here. It is a classic, durable, and well-made easel. The tripod guarantees real wood of the highest quality and is highly adjustable.
The things that I loved were its sleekness and quality wood. It is constructed from American red oak that meets the standards for fine furniture. I found this wood exceptionally strong and hardwearing compared to other woods. You can use it to carry heavy items; one more thing that will amaze you is its natural smell. Your enjoyment of capturing nature will increase due to its smell.
The main thing I noticed that sets this Tripod apart is the tray attached to the side box. You do not need to place your necessary items. It will hold your books and manuals to follow for drawing, or you can put the canvas boards, etc.,
It is a highly well-made wooden tripod. You can adjust it for desktop usage or pull out the legs for a full-blown adjustment. It is not just an easel stand but a piece that will add practicality and beauty to your studio or gallery.
However, here are a few things that I'd like to mention. It is easy to assemble, but no instructions are available in the manual, so it may become tough to assemble properly.
Another thing is that it has lapses in craftsmanship, edges are sharp, which may hurt you. Copper hardware needs to be better tightened in the wood. It takes a lot of time to adjust and assemble the easel. Manufacturers should improve these features.
Pros
Multiple adjustment options
Ensures stability and longevity
Sleek and natural wood
Side tray for placing items
Height is perfect for most
Cons
Heavyweights may get tired during transportation
Features are not worth the price
4. The En Plein Air Pro Traveler Series for Watercolor with Slik U874 Tripod
Here is another recommendation I have for artists who want to reduce the weight of their plein air gear. The Tripod is easy to set up and ensures greater stability and longevity.
I loved its sturdy pallet tray, which is a useful feature. Its backpack offers plenty of space for all the supplies required for a painting excursion. The outside of the Tripod has straps to hold the stool, and there are plenty of spaces where you can attach your equipment, jackets, or whatever.
Another thing I liked is its stability; you can enjoy a stable setup on the uneven rocky coast. Its telescoping legs make it a snap to set up and lock into place.
Its silver color looks very attractive. I found it compatible with iPhone X and iPhone 8 devices. Some of its unique features include being rotatable to set different angles when painting on a hill station.
Many more things await you to take your painting experience to the next level. However, I will mention some drawbacks too. The shelf needs a place to mount a hook where a water container can hang.
Another thing that should be improved is stroke absorption. When you move the paper, its support shakes, which may ruin all your efforts.
Its bag size is smaller, which may make it hard to carry items such as sketch pads, brushes, or painting boards. It should be at least one inch taller to provide more room to load the tripod.
Pros
Lightweight ensures easy portability
Assembling is very easy
The shape and color are awesome
Rotatable furniture ensures easy movement without moving the setup
Multiple adjustment options ensure setting different angles
Cons
The pad for Canvas is too small
Height is not enough
5. Falling in Art French Plein Air Easel Set
The next tripod I select is the Falling in Art French Plein Air Easel Set, a perfect piece from every angle. Its color, weight, wood, and space for accessories everything is perfect.
Many things can help you have a smooth air plein painting experience. However, there are a few major things that I loved. Assembly remains challenging for most Tripod users, but it is very simple; everyone can assemble it in a few minutes. There is no need for any tools to assemble it.
I liked that it accommodates cross-stitch accessories. It is fully loaded with cross-stitch supplies that make it easy to carry. The flat top could be used to place the chart with stitching or a book for instructions. Its pull-out drawer will accommodate the flat sketch board. The amazing thing about it is that it does not take up much room, allowing you to use it anywhere without worry.
You will love its sleek and lightweight design; unlike ordinary field easels, it has ultra-light but strong aluminum legs. You can fold it into a box shape and comfortably carry it over long distances. Furthermore, its adjustments at different heights allow you to set it at your desired height.
Overall, its features are excellent. However, you may not like some features. Here are a few things I do not like and think need improvement. The wood quality could be better than advertised.
Its height is also not feasible for people who are above 5. It should be a few inches higher. Another issue is that a small magnet holds its aluminum legs in place. It makes it tough to fold when needed.
Pros
Solid and durable wood construction ensures longevity
100 % money-back guarantee and lifetime free warranty
Different height adjustment options
Perfect for painting on rocks, grass, or any rough surface
The perfect gift for friends or lovers
Cons
The magnets on the legs aren't very strong
The clamp mechanism for legs makes folding and packing tough
6. Traveler Tripod Shelf by En Plein Air Pro
Here is another top performer that is equipped with all the essential features. It offers versatility in use and ensures consistent performance in all conditions. Many things make it worth buying.
The features I liked most include its size and compatibility with multiple tripods. The hole can accommodate a water cup in addition to being large enough to hold the pallet. It easily fits onto Sienna Tripod. It can easily carry 120 sommelier half-sticks.
Another thing I am amazed about is its Traveler Tripod shield, which is handy for holding paper towels and a canister of thinner, etc. It has enough holes for your paintbrushes, a red cup holder, a color wheel, and a shelf portion to lay the sketchbook on.
It can quickly attach to trips and add a lot of workspace. Assembly is also very simple; you do not need any tools or guidance to assemble. Its beautiful color and style add aesthetic appeal to your Gallery.
It can be the perfect Tripod for outdoor adventures because it is lightweight. You can pack it quickly to transport it from one place to another. It is very stable; even on rough surfaces, you can paint comfortably.
However, multiple things made me disappointed. Its holes do not support most of the travel brushes. They need to be appropriately sized, which can ruin your comfort level.
Another thing that makes it poor quality is its legs. The legs could not carry the weight as promised. They start shaking if you add all the supplies. It becomes very heavy when you add the supplies. Therefore, you will need to remove the accessories each time you move before doing so.
Pros
A good size ensures great comfortability
A travel tripod shelf provides enough space for keeping supplies
Sleek and modern design
Very lightweight, easy to carry with
Easy to assemble
Cons
Difficult to put onto the tripod
Legs could not support heavy supplies
7. Portable Artist Easel Stand T-Sign
Here's my last selection, one of the best portable Tripods that can bring your plein air painting experience to life. Its material quality, features, and versatility make it the best for plein air painters.
The feature I liked the most is that you can carry it without hurting your back because it is small and lightweight. It can be a useful tripod if you are traveling with a child or want to paint quickly outside.
One more thing that impressed me was its height. You can extend it up to 66 inches, which is enough for anyone. Even people who are 6 feet tall can use it comfortably. No worries if you are short; it can be folded and adjusted at only 21 inches. You can set it at any height you feel comfortable with.
Stability is always a demanding feature in Tripods, thanks to the spring-loaded top clamp that can keep the artwork securely in place. Its adjustable legs can be adjusted to make your painting smooth; you can easily paint on uneven surfaces such as rubber foot grips or rocky surfaces.
However, a few features need some improvement to reach perfection. It can carry only 16 lbs; however, practically, it could be more stable even if you have a 16 lbs load.
It is easy to port because of its smaller size, but it only works well if you use it with wide or heavy canvas. The manufacturer should increase its size by a few inches.
Pros
Lightweight and easily portable on your back
Offers flexible height adjustments
The design is eye-catching, but it is sturdy
High-quality natural wood is used
Combined with practical and quality features
Cons
Not stable enough to write on the whiteboard
Not as sturdy as advertised
Buying Guide for Best Tripod For Plein Air Painting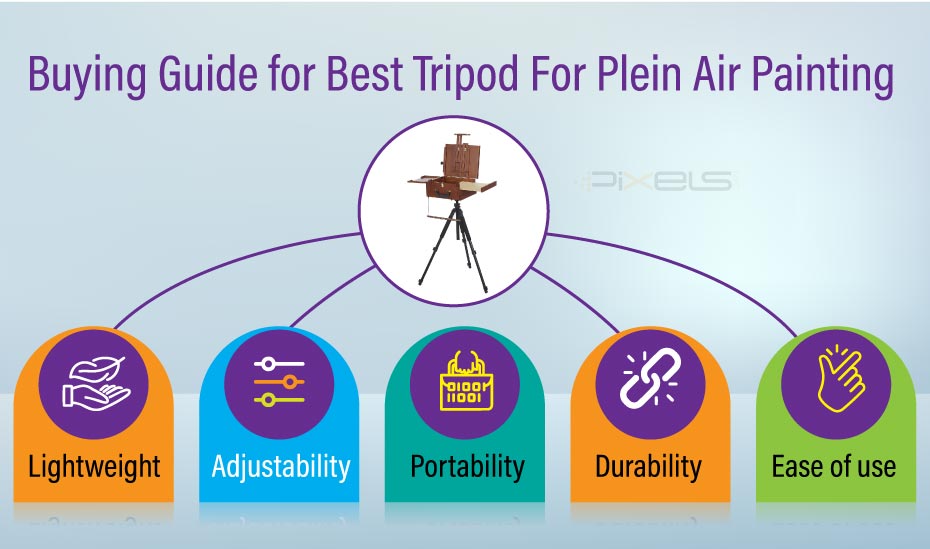 You may get plenty of tripods for plein air painting out on the market. But if you don't know what things you should consider before buying the best tripod, your investment may go wrong. To ensure well worth your investment let's see the things you need to consider before buying the best tripod for plein air painting.
Lightweight
Always check the weight of your tripod, especially if you enjoy being outside and in the great outdoors. If you plan to travel through rugged or hilly terrain, you should choose a tripod that is easy to carry.
Adjustability
Adjustability is crucial for the painting because you may need to paint at different angles. I suggest you choose a Tripod that ensures multiple adjustments regarding height and angles.
Portability
Another feature that a plein air painter must consider when choosing a Tripod is flexible portability. I always prefer a Tripod that is easy to assemble, disassemble, and port from one place to another.
Durability
Like every item, Tripod should be durable. A durable tripod not only ensures longevity but also ensures stable performance while painting. It offers greater resistance against heavy loads of supplies.
Ease of use
What makes Tripod more useful is its ease of use. Always select a Tripod that offers a simple mechanism for use. It should be easier to assemble, adjust, backpack, and use.
Can you use a camera tripod for a pochade box?
Yes, you can use it; there is no issue with using it for a pochade box. A camera tripod also ensures excellent stability for outdoor painting. However, you should ensure the box is securely attached to the tripod plate and consider weight and height compatibility.
Are heavier tripods better?
Yes, a heavier tripod may be more advantageous because it will ensure stability and strength against wind and camera movement. You can take steadier shots; however, they may need more portability.
What is the best plein air easel?
A good plein air easel has all the essential features, such as adjustability, sturdy construction, a secure canvas grip, easy assembly, and flexibility for various media. It also offers excellent stability and convenience for outdoor painting.
What is the most important issue in choosing a tripod?
When choosing a Tripod, the main issue is its stability. People prefer lightweight tripods for easy portability, but light materials make them less stable. It may ruin your painting experience.
What is the best size for plein air painting?
The size choices may vary from artist to artist. However, tripods 8×10 to 12×16 inches are commonly favored. The size regarding height should be a maximum of 66 to 70 inches but with flexible low height adjustments.
Conclusion
Now you are in a better position to choose your favorite one. However, I suggest you go for Portable Artist Easel Stand T-Sign; it is lightweight and offers flexible height adjustments. Although it is a little expensive, it will be worth buying.
If you are looking for a stable Tripod, I recommend New Wave U.go plein air Tripod LCS1. It can carry a heavy load of more than 26 pounds. Its height is also good, and the hexa key allows you to adopt any angle for perfect working.
However, the best Tripod for plein air Painting depends on your demands and choices. You can go with any of the above; all of them are good performers and are recommended in the market.

I'm Lisa brown, 25 years old photography enthusiast living with the dream to capture every moment I live. I've been engaged with photography for five years in a row. I dream of sharing all the experiences with every rising photographer dreaming of being professional.