Top 10 Best Photo Retouching Services in USA
Photographers often run on tight schedules and little spare time for post-production. Meanwhile, taking help from photowork professionals is helpful in such cases. Moreover, with professional help, you can do all the major photo editing, such as color correction, composition enhancement, contrast, brightness adjustments, etc. with ease.
Anyway, just like in other industries, there is a glut of service providers. So, picking the right one gets a bit challenging sometimes. That's why I've come up with this solution.
To aid you in your search, I have compiled a list of the Top 10 Best Photo Retouching Services in the USA. See the article below.
Top 10 Best Photo Retouching Services in USA
Below is the list of the 10 best photo retouching services in the USA. These services have a wide variety of options available, so you can pick the one that works best for your needs. They also have a team of professionals ready to assist you with image optimization.
1. Pixels NYC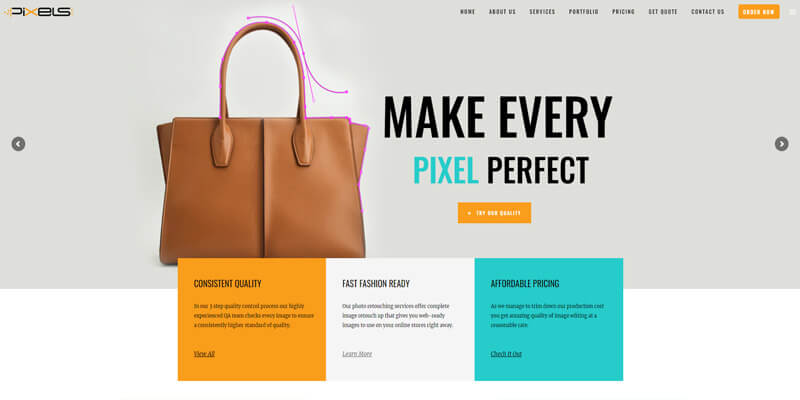 Pixels NYC is a premier photo retouching service provider in New York City. It brings together the most skilled, experienced, and in-demand editors, designers, and photographers to create stunning visuals that will take any project to the next level. 
They offer services that include cropping, adjusting contrast, lighting, color correction, and other enhancements that help create a professional finish for images. They also have specialized services such as panoramic stitching or HDR merging for creating dynamic photos from multiple exposures.
When working with Pixels NYC's expert team, you can expect high-quality results due to their attention to detail during every step of their retouching process. They treat each project with a personalized approach to ensure that the result meets or exceeds your expectations.
Concerns regarding third-party editing vendors often arise when working with an outside editing provider, but with Pixels NYC, you can relax knowing that your data will be kept safe and secure at all times. Also, pixels NYC can help you save as much as 45 % on your budget.
Overall, Pixels NYC provided over 35M+ pictures and over 10,000 stores worldwide with over 170+ highly qualified Photoshop professionals. In other words, they provide the services quickly while maintaining the highest quality.
2. The Clipping Path Service- CPS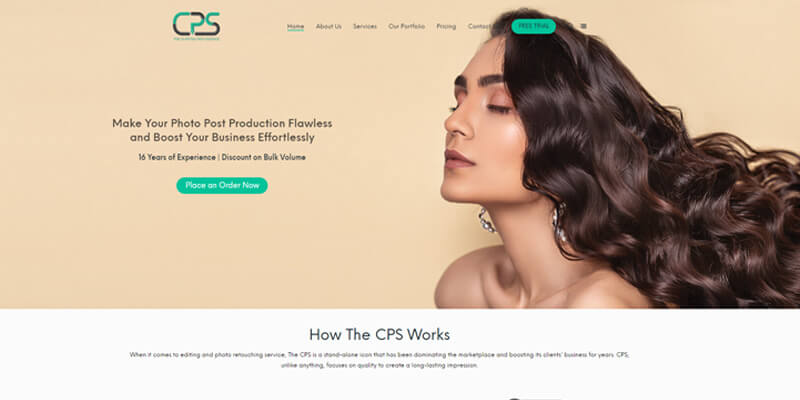 Whether you need a quick touchup on one photo or complex adjustments on a large batch of images – CPS has got you covered. From their attentive customer care team to their unbeatable prices, CPS will surely exceed your expectations when delivering superior quality results quickly and affordably.
The clipping path offers various photo-editing services, such as adjusting the brightness and contrast of an image or erasing distracting backgrounds and objects. To make an image look more genuine, the clipping path service has the best available image optimization techniques to correct specific problem regions.
Regarding your image editing projects, they won't be compromised in any way. Your only responsibility is to submit the order, and they will handle everything else. They will tend to your photographs and consider even the smallest of complications.
The best aspect of this service is that they can make even a low-quality photo look stunning by increasing the photo's contrast and correcting the photo's color.
However, with CPS services, you may relax even if you just have time to send your photograph. This organization retouches 5000+ photos daily with 200+ graphic designers and exceptional QC consultants.
3. Tradexcel Graphics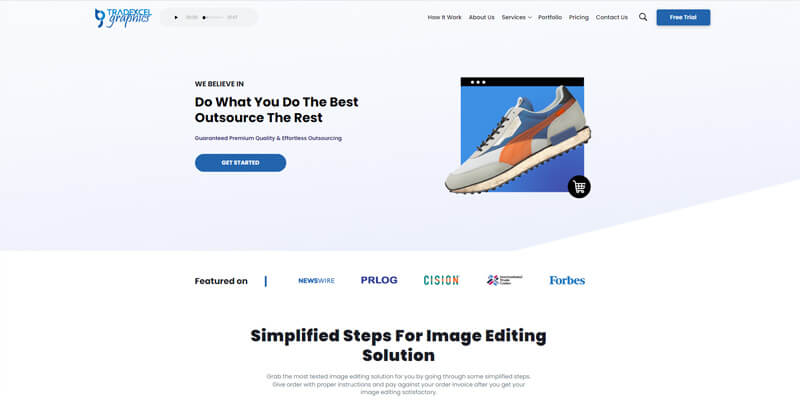 This picture retouching service is perfect for photographers who want their shots faultless. They provide photographers and first-rate picture editing services, which can significantly influence how consumers perceive a product.
It is widely recognized that Tradexcel Graphics offers an excellent model retouching service. Some of the primary services improved upon in model retouching include the creation of improving digital makeup, the removal of skin imperfections, the liquefying and slimming of the body, the reduction of wrinkles, scars, acne sports, and so on.
Also, this photo retouching service can provide beauty, skin picture, and glamour retouching services at competitive prices.
Furthermore, this service offers e-commerce picture editing, which entails fixing defects on a product shot, adding effects like flaming and cropping, and making the photo seem presentable for online sales.
Moreover, you can expect superior results from their editing efforts, so your photos will always look their finest. Plus, they have a next-day service that is fast, safe, and perfect for when you need help with picture editing immediately.
The standout part of this service is that all of your data and information are kept safe and confidential by rigorously adhering to a non-disclosure agreement (NDA).
Overall, if you need any picture retouching done, from family portraits to wedding images to jewelry, Tradexcel Graphics is your best bet.
4. FixThePhoto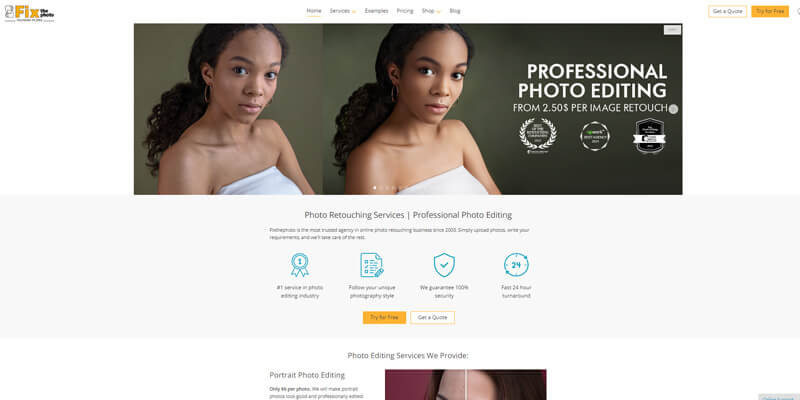 Fixthephoto is regarded as the foremost source of professional picture editing services. The organization offers essential and extensive picture editing services, including the creation of 3D effects, the addition of shadows, and other complicated alterations, for those who need to touch up their photographs merely.
Suppose you have a wide variety of identical products in different shades. In that case, the experts at FixThePhoto can make the necessary adjustments to the product's color and offer a background replacement service.
5 RetouchUp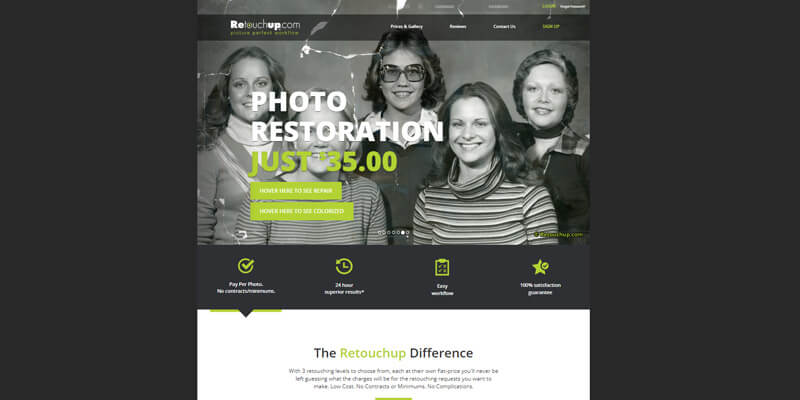 The style of RetouchUp's website is somewhat antiquated yet functional. It offers a variety of photo retouching choices, similar to other editing services. Three distinct retouching types are available: Complete, Complete Plus, and Special Services.
They provide various editing services, including basic color correction, full retouching, clipping paths, special effects, and more. Also, you can request that they remove any unnecessary elements from the shot, fix any damaged areas, and adjust the color.
6. WeEdit.Photos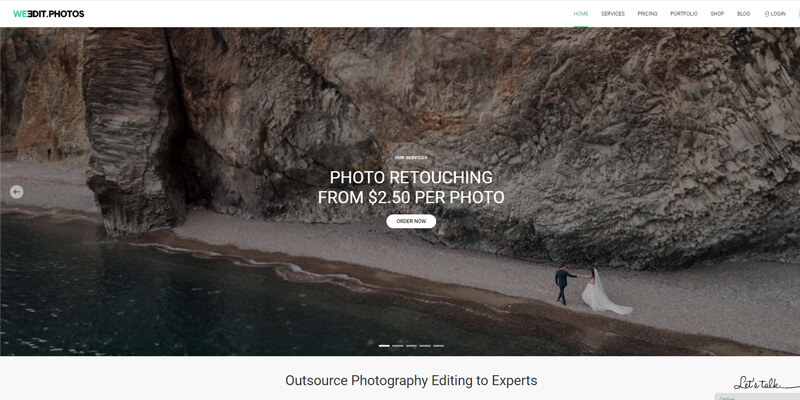 WeEdit.Photos deliver expertly enhanced images that seem natural in every way. The retouchers can successfully take off the backdrop and create convincing shadows. You can make an order in the morning and have the processed photo sent to you by dinnertime on the same day.
This image editing service's website is attractive and features many work samples from many photo genres. Each picture provides a detailed description of the alterations made to their respective websites to assist you in better understanding how they perform their various duties.
Also, you can get professional photo editing done to promote your items online and in print. They're experts at cropping, resizing, rotating, and adding effects to photos.
7. High End Beauty Retouching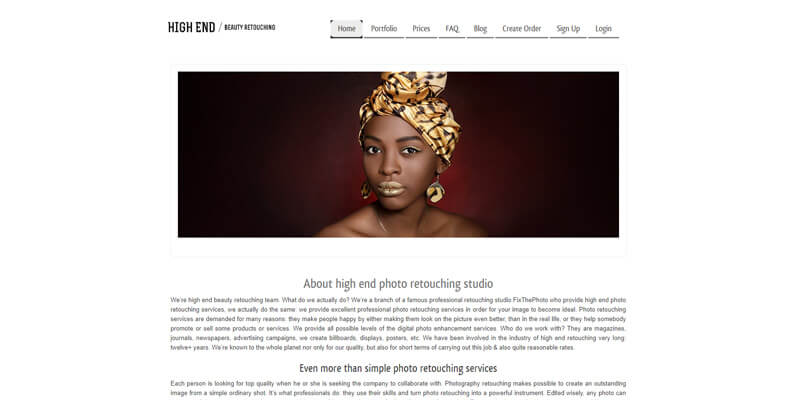 High-End Beauty Retouching service provides to restore a photo to its original, flawless beauty. This is a photo retouching service that specializes exclusively in high-end retouching, which is ordered for the covers of billboards and advertising.
This company's portrait retouching service is top-notch. It comprises having your face cleaned up, made to seem natural but attractive, imperfections eliminated from the skin, the hair made to appear elegant, and so on. This picture retouching service also offers post-processing for magazine images, preparing them for high-quality printing.
8. PixelPhant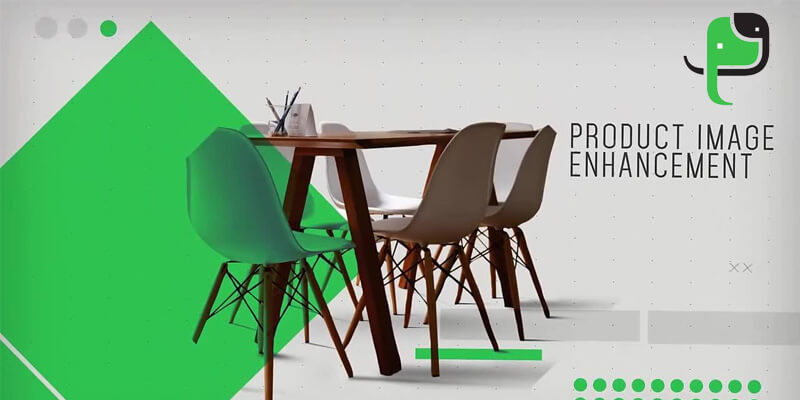 The PixelPhant picture editing service is known for its high-quality, attention-grabbing fashion photography. Most of this service's clients are eCommerce companies and professional photographers who need expert editing for their product photos. Corrections like replacing the backdrop, cropping the image to perfection, erasing blemishes, enhancing colors, and eliminating shadows are all on their list.
Their typical output formats include TIFF, JPG, and PNG. You can select a predetermined image size for easier uploading to social media or other sharing sites.
9. Wedding-Retouching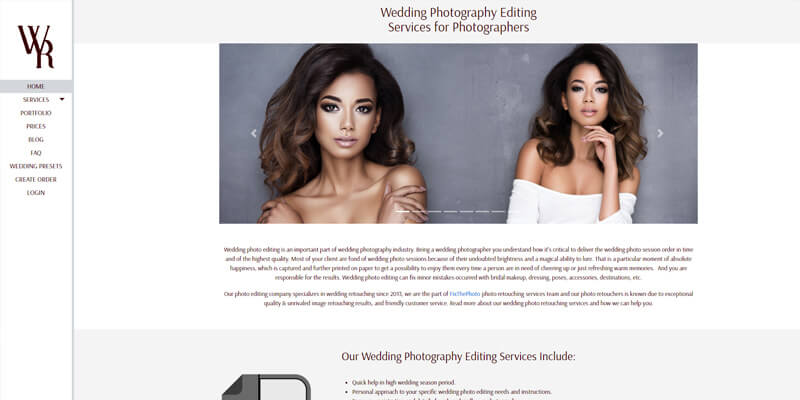 Wedding-Retouching is one of the best picture editing services for wedding photographers who are swamped with work and need assistance during peak wedding season. Photo editing services such as cropping, adjusting colors, retouching, enhancing backgrounds, and removing undesired subjects are part of their services.
You may also get "Culling," "Color Correction," "Simple Edit," "Pro Edit," and "Advanced Edit" among the Wedding Retouching packages that are offered at a range of different pricing ranges.
10. Pixelz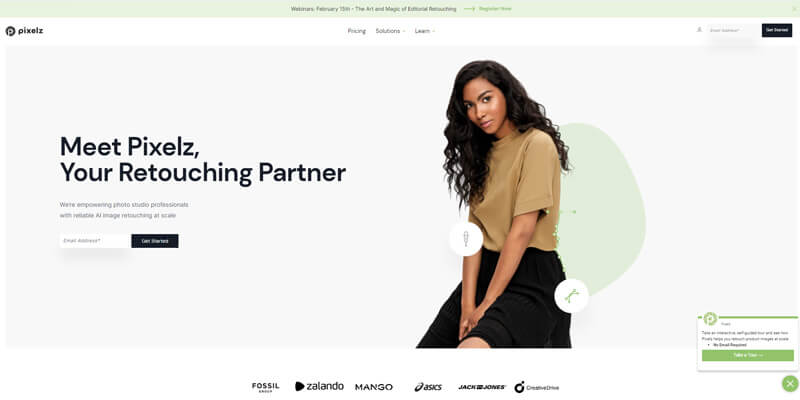 The Pixelz picture editing service places an emphasis, first and foremost, on the processing of product images. This retoucher service enhanced the forms and symmetry of the image by removing distracting props, wrinkles, and creases and smoothing out wrinkles.
However, the product took on an appearance that was rather inconsistent with reality. It is a pretty astute move on the part of the team that they are prepared to modify their image editing to meet the customers' requirements.
Final Verdict 
Most of today's popular social media networks, such as Instagram, Facebook Tumblr, Twitter, and Pinterest, place a primary emphasis on visual content. The market research indicates that the size of the photography services market has the potential to increase by USD 10.88 billion between the years 2021 and 2025
Nonetheless, a photo retouching service is always necessary to ensure that the images in your collection are outstanding, regardless of whether you are a professional photographer or a brand marketer. To give your photos a more polished and professional look, pick one of the services from our list of the Top 10 Best Photo Retouching Services in usa. These services can handle everything from a simple tweak to a complete makeover.

Hi, this is Maria, I've been in the photo editing and retouching business since 2012. I've worked for hundreds of professional photographers and agencies throughout my career. Now my goal is to share all the knowledge I've gathered to fulfill the dream of the rising talents in the industry.