How To Take Jewelry Photos For Online Stores
When you are planning to do jewelry photography, the first thing you should keep in mind is that the quality and process of your photography should be top-rated. Because you won't be able to attract customers if you don't have any dazzling photos of your product, besides, professionalism is also required for a top-notch jewelry shooter.
As an e-commerce businessman, to grab the attention of your customer, using a high-quality image of your jewelry is mandatory. But if you do not know how to snap a perfect jewelry photo, we are here to tell you how to take jewelry photos and which steps you ought to look at to click better.
How To Take Jewelry Photos: The Best Possible Ways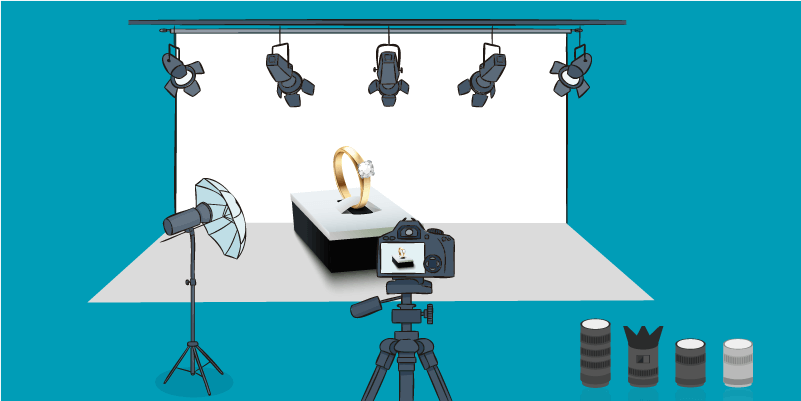 Attaching high-quality pictures is the best option to boost your e-commerce jewelry site. It can double the traffic on your business site. If you are concerned about knowing the best way to photograph  jewelry, then here are some ways and steps that you should follow:
Set Your Camera Setting
Camera settings are important to get a sharp image with a perfect aperture. To get a classy picture of your jewelry, set your ISO as low as possible. Keep the ISO level around 100 or 200 if possible.
Keep An Eye On Your Background
To get a professional photo of your jewelry, giving some attention in the background is necessary. The background of your photo could be any color, but choosing a light color could be a wise decision. Such as white, black, or the color that your customers prefer, that you need to use. 
The white background will be the eye-soothing color for your customer. It will keep your customer looking at your product while preventing it from being destroyed. On the other hand, the black background is perfect for reflective jewelry photographs. Use black and white photography to make your product luxurious. To shoot on the black surface, a 30x30cm product side is appropriate.
Use Of Limited Props
The excessive usage of props will just drag the quality of your photographs. When you are taking photographs of a necklace, pendant, or earring, using props can enhance the quality of your photo. 
But it does not mean you will use props in every picture. Use props as needed; know which photos require props and which only require a background.
Set Your Table
Adjust your table in such a way that light comes directly to it. Setting your table at a 90-degree angle near the window is nice, but it does not mean you will allow harsh light. After setting up the table, set your tripod and do a sweep to place it properly. So that your image is fresh and glossy.
Prepare Your Jewelry
The one thing that you need to have clear in your mind is that you are going to do a professional shoot for your business, not just any casual shoot. So before shooting, just clean and nourish your jewelry. so that, at first glance, your product looks beautiful.
Style Your Jewelry
Do not just spread your jewelry on the surface; try something innovative to show some creativity. Try a hook, hanger, ring holder, or marble slab background to style your ornaments, and try to wipe them down every time you touch them.
Focus On Lighting
Lighting is the most important element in the case of photography. For jewelry photography, bright light is required because if your object faces a lack of light, then the spark of your jewelry will be dimmed. In this case, you can use an LED light.
You need proper light, but do not use unnecessary flash to create artificial light.
Apply The Correct Aperture
To get a smooth photo, selecting the correct aperture priority is important. To get the best jewelry photo,
The Necessity Of Using A Macro Lens
A macro lens is appropriate for clicking a small object. A few pieces of jewelry are too tiny to focus on. In this case, a macro lens works like a charm. It will just focus on your object very closely, and if you want, you can blur your object's background.
Do Not Forget To Apply The Photo Retouching Service
Post-production is something undeniable that is important for your image. Without retouching, you can not change your image into a unique piece. You will be pleased to know that we also provide a jewelry photo retouching service to make our customers' products more attractive.
Moreover, you can use a free photo editor to enhance the retouching quality of your photo.
Try Perfect Angel
Set your camera angle at 45 degrees so that you can click your jewelry with the gist of the background. Do not just jump into the product and click a photo from the top.
Balance The Reflection
In the case of jewelry photography, eliminating reflection is important because jewelry is glittering by itself, and because of reflection, the original glossiness of the ornaments will be lost. To solve this problem, you can apply white paper to the bottom of your camera lens.
Jewelry Photography Equipment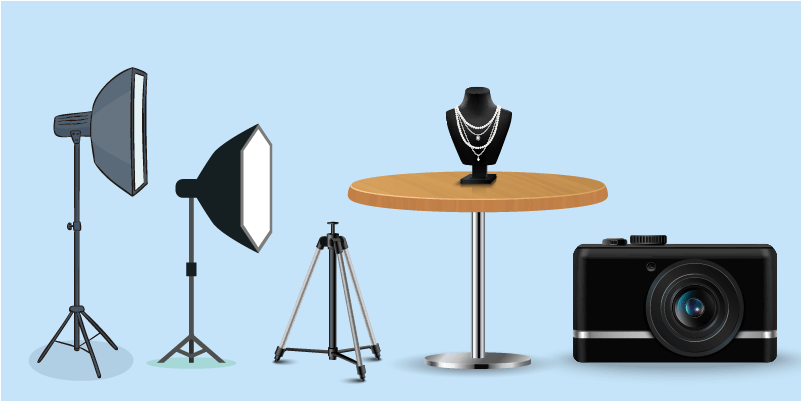 You cannot do a professional photo shoot of your products without photography equipment. The quality of your equipment depends on your budget. Even if your budget is limited, there are a few pieces of equipment that you must have in order to take the best jewelry photos:
Camera
To do jewelry photography, you do not need to buy an extra camera. If you have an iPhone or a good Android phone, then it is enough for you to click a professional photo with the proper setup. But if you are too motivated to use a mirrorless DSLR, then make sure you use Canon, Nikon, or any other good low-weighted camera and use a lower shutter speed to get better photographs.
Tripod
To ignore the camera shake, using a tripod is the best option. In the case of using mobile phones, shakiness is very common. To get a stable photo with a phone or a camera, you should use a tripod.
Proper Lighting
A room with natural lighting is ideal for jewelry photography. But if you do not have access to proper lighting, you can use a softbox. In this case, try to avoid using extra flash. or a diffusing umbrella. Because jewelry photography lighting is the vital equipment. Without proper lighting, you can not get high-quality pictures.
Backdrop
Backdrop mainly refers to the white background that is usually used in clicking an object like jewelry or any other product. The alternative backdrop is the usual white paper board.
Table
A table has the potential to do a photoshoot of the jewelry products. Because doing a flat lay photography table is important. To get a better photo the table should be 24 and 27 inches.
Foamboard
A Foam board is mainly used as a frame on the backside of any photograph. You can use foam board on both sides of your product to lighten it up. If you are planning to do a jewelry photo shoot and there is a shortage of lighting, then use a white paper sweep to lighten up your photographs.
Clams Or Taps
You can use clamps or tape to adjust your jewelry on the mannequin.
Mannequins
If you have a limited budget, you can use mannequins as your models. In the case of jewelry photoshoots, sometimes mannequins play an important role.
Cardboard
Cardboard provides service. Foamboard is similar to cardboard, but the difference is that cardboard gives a brown shade and cardboard is also applicable for that kind of photo that clicks from the top of the product. 
Double-Sided Tape
Double-sided tape can be the easiest way to hide the tape that you have used on your jewelry during photography.
Props For Jewelry Photography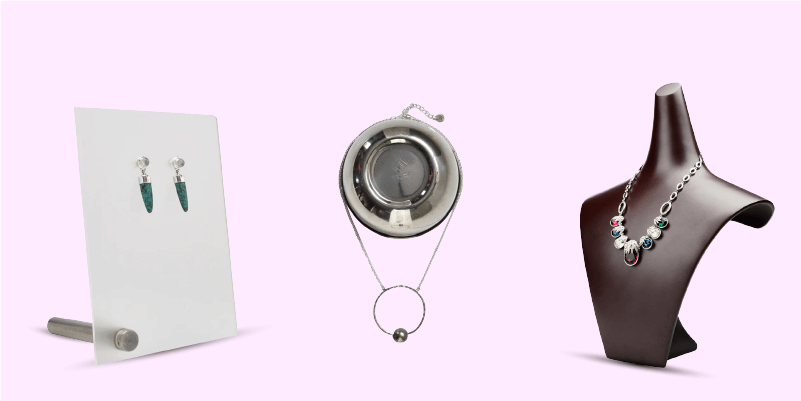 Here are some props for the photography of jewelry
Pendant Stand
A pendant stand is mainly helpful for V-shaped ornaments. If you want to snap a necklace, then a pendant stand can be a good prop.
Using Bowl
To click a jewelry picture on the surface, the bowl can be a helpful prop.
Usage Of Stud Bucks
For an earring photoshoot stud buck is an option.
Hook Back
To give a floating effect to your tiny jewelry. To get a better photo, just use the colorless thread.
Using Prop Wax
To do ring and bracelet photography using prop wax will help you, as an alternative usage, you can use white putty.
Creative Tips For Jewelry Photography
Without creative photography, you will not be able to give a push to your business. You may wonder to know the reason. The answer is that the growth of your business depends on the traffic of your e-commerce site. And without catchy product photographs, it is almost impossible. So, here we are providing a few tips for creative tips jewelry photography.
Choose a stylish background
Resolve the minor glitches in your photographs.
Ignore the overly simple background.
Proper usage of depth of field
Do not allow the shadow to snatch your whole photograph.

Snap consistent photos.
The best possible way to do jewelry photography?
Ans: The best possible ways to do jewelry photography are using a mirrorless macro lens DSLR camera, a tripod, and focusing on the camera settings to set an accurate ISO and aperture.
What is the essential equipment for doing jewelry photography?
Ans: camera, macro lens, lighting system, table, jewelry props, lightbox. and a gray card.
What is the perfect aperture for shooting jewelry photographs?
Ans: The perfect aperture for shooting jewelry photographs keeps your optimal aperture value around 16–22.
Which background is best for taking jewelry photos?
Ans: White, black, or gray background is preferable, but you may use a fancy or natural background too to click jewelry photographs.
To conclude, if you are concerned about knowing how to click jewelry photos, then there is no need to worry. Just grab the best macro camera, keep focusing on lighting, background, and props, and you will be able to click the best picture of your jewelry product. And for showcasing your product in the best way, investing your time in photography has no alternative.

I'm Lisa brown, 25 years old photography enthusiast living with the dream to capture every moment I live. I've been engaged with photography for five years in a row. I dream of sharing all the experiences with every rising photographer dreaming of being professional.