7 Genuine Benefits Of 360° Jewelry Photography
The benefits of 360° jewelry photography are a lot more rewarding than most of us think. It lets your customer get into your jewelry products right away. Plus, it helps you to increase the conversion rate as well. In the following article, we will explore 7 of them at once.
One of the most impressive benefits of using 360 jewelry photography is it lets you stand out from the competition. As a result, you could get the attention of your customers and attract new ones as well. We will go more on these right below.
Benefits Of 360° Jewelry Photography
Unlike still images, 360-degree jewelry photos give you countless perspectives of the same product. As online shopping is growing, it's becoming a lot more essential to offer customers an in-depth look. Below we are exploring all of the potential benefits you would get from 360-degree jewelry photographs. 
No:1 Improve Customer Engagement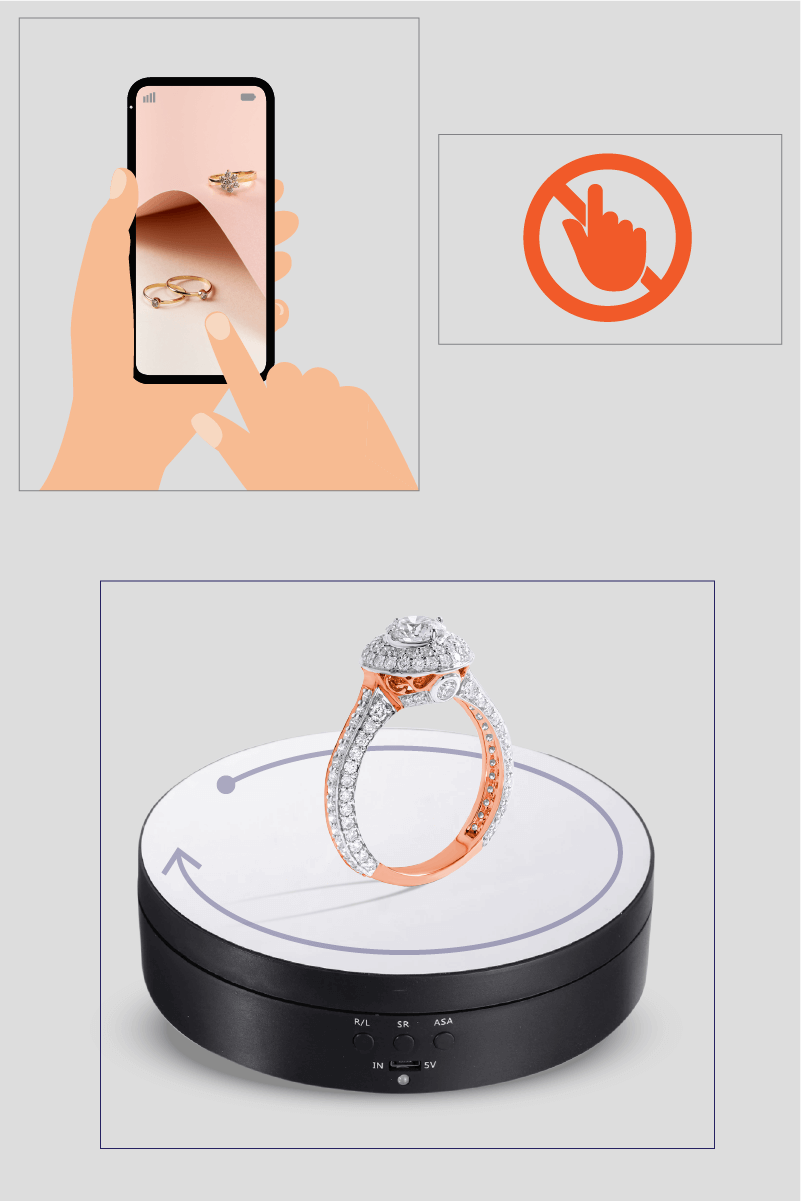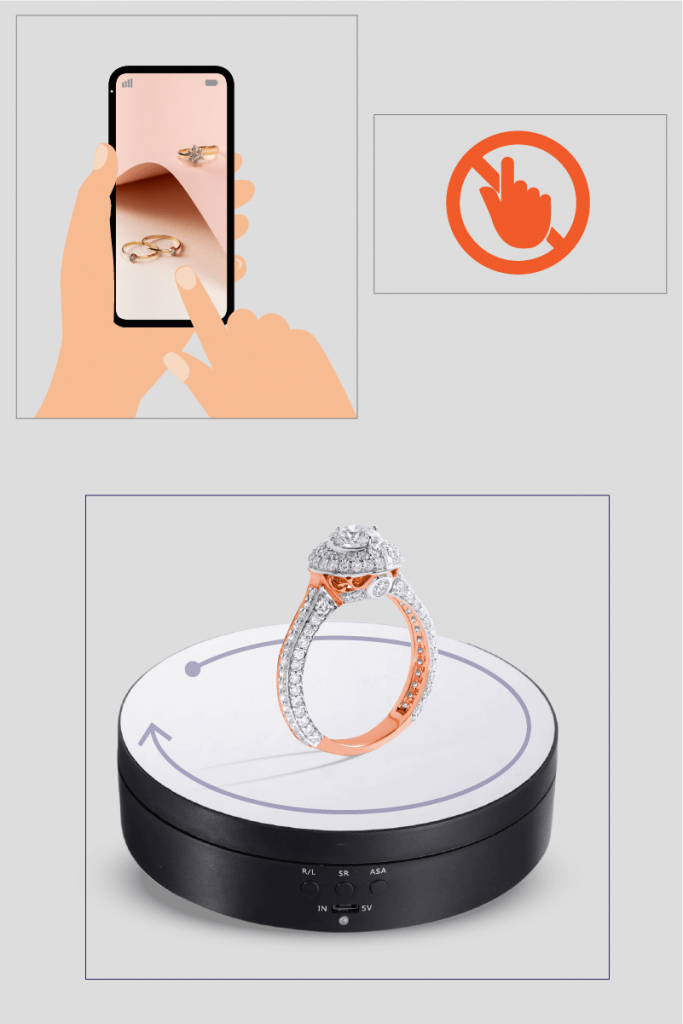 On the internet, most of the customers don't get to touch the product itself. Implementing 360 jewelry photography into your product pages would help build up customer engagement. With still images, the customer can't interact with the images. But 360 images let your customer rotate and pan around your products.
As your customers are spending more time on product pages, the engagement of your online stores goes higher. Moreover, customers become a lot more interested in your products than your competitors. It matters a lot when it comes to ranking in different search engines. 
No:2 Get Ahead of Competitors
Even though 360 jewelry photography has a lot of potentials, still many business owners don't want to use it. But, you could take the opportunity to create 360 photos of your jewelry. As a result, it would distinguish your shop from others in a nice way.
We all agree 360-degree product photography is the new trend. You need to capitalize the trend your way. As a result, you could create trust and confidence among customers. Plus, adapting 360 products photography would boost your eCommerce website in a nice way. 
No:3 Converts Higher Number of Customers
Improving conversion rates is a lot easier with 360 jewelry photography. Your web visitor would stop and take a pulse when they see 360 photographs. Unlike any 2D images, customers get to see a product from all possible perspectives. 
With a better view of the products, your customers are likely to buy from you. The chances of products being sold are a lot higher than you might think when you use 360 product images. With better images, you could cash in higher amounts of sales from your websites.
No:4 Avoid Misleading Customers
It's often seen in the jewelry eCommerce business, customers get misled with shiny jewelry images. One still image might not be sufficient to get an in-depth look at jewelry. Thus, with 360 jewelry photography, you could avoid misleading your customer right away.
Plus, it helps you to lower the return rate of your products. As your customers are getting the exact view of your products, customer satisfaction becomes higher. Thus, your web page visitors would not get any misinformation about the jewelry's color, shape, and sizings.
No:5 Shows Your Products In-Detail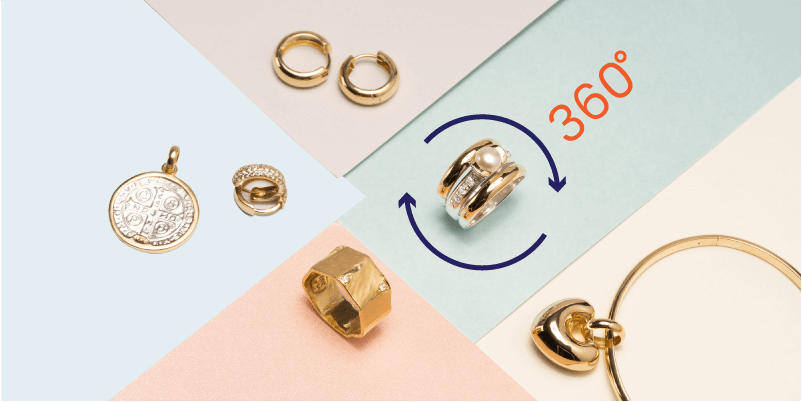 Still, images only show your jewelry from one angle. Yet customers miss the rest of the angles. But you could solve it out with a proper 360 image. These kinds of images let buyers rotate and zoom into your jewelry product images.
Moreover, not a single detail would not be hidden from the visitors. As a result, the credibility of your jewelry business would go all the way up. As a result, you could convince customers to buy products a lot faster. 
No:6 Best for Product Marketing
360 jewelry photography can help you a lot in your product marketing. Your marketing effort would get a lot seamless with 3D models or 360 angle photography. Because it lets you create unique commercial animations to show off to the customers.
Plus, when you create marketing material with animation, it would attract potential customers to your online shop. Further, it would help you in brick and mortar business as well. Overall, your product marketing would get an extra edge with 360 jewelry product photographs.
No:7 Attracts More Audience
As a jewelry business owner, attracting more customers would help you to gain extra sales right away. Incorporating 360 jewelry images would attract more audiences to your eCommerce website. As of now, the 360 images are new to the jewelry industry and you should try them out now. 
When you attract more customers, getting a higher number is a lot easier. As a result, your jewelry brand would achieve higher brand awareness among customers. It would be great for your business from all perspectives. 
How To Create A 360° Jewelry Photography Setup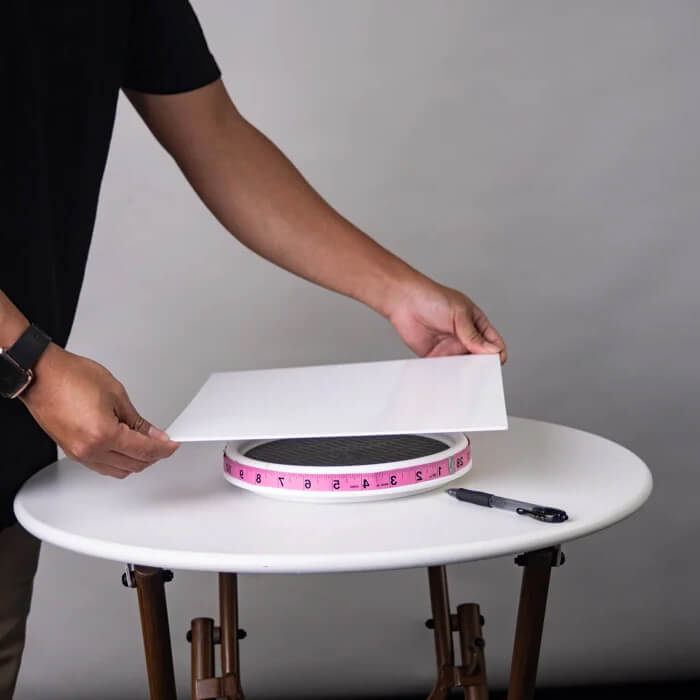 To create a 360-degree you need a white turntable to place the products on. White color is a lot important as most of the jewelry images feature white backgrounds. Further, you need to set up a camera in a way that is able to capture 360° jewelry photography.
Even if you need to work according to the software you are using. Any compatible software would help you out to streamline your photography projects. However, you may need to use a jewelry photo editing service as well. 
Key Notes on 360° Jewelry Photography
Let's understand some of the keynotes on 360 jewelry photography. As a jewelry photographer or store owner, It would help you out to get an overall idea on the following subjects.
360 Jewelry photography takes time to create.

Proper 360 photography equipment is needed all the time

Images should be at high resolution so viewers can zoom into the products
Once you consider the above aspects, your photos would be seamless all of the time.
Below we have listed some of the common questions on 360° Jewelry Photography.
How To Create A 360 Spin Image? 
Creating a 360 spin image needs proper equipment and cameras. In equipment, you need a turntable, 360 camera stands. In lighting, you may need softbox or umbrella lights. After capturing all the images, put them into 360 photography software and get the result right away.
Can I Take A 360 Photo With My iPhone?
You could try to take 360 photos on an iPhone with a Panorama mood. First, turn on your camera and select the panorama mood. Afterward, point the camera at the jewelry and give a round around the jewelry. It would let you capture 360 photos of the jewelry.
How Do You Make A Photo 360 In Photoshop?
In photoshop you have the option to turn an image layer into a 3D layer. At first, select the layer and navigate into 3D > Spherical Panorama > New Panorama. It would let you explore other options to create 360 photos.
Conclusion
When you are aware of the benefits of 360° jewelry photography, it would help you better prepare for it. In short, you must utilize the power of 360 jewelry photographs. It's a new trend that you need to grab right away. It would give your jewelry business a huge boost for sure.
Make sure you utilize the opportunity to show your customers in-depth your jewelry images.  In turn, your online store's authority and reach would increase super fast. Each of the benefits improves your jewelry business from the inside out. Which is why you should try it out now.

I'm Lisa brown, 25 years old photography enthusiast living with the dream to capture every moment I live. I've been engaged with photography for five years in a row. I dream of sharing all the experiences with every rising photographer dreaming of being professional.