What Cameras Are Allowed In Concerts? [Find Out Now]
Concerts are undoubtedly the source of a lot of unforgettable experiences with your favorite artist and their music. Taking pictures is the best way to keep these cherished memories with you. But what cameras are allowed in concerts that take such high quality concert pictures?
The type of cameras allowed in concerts largely depends on the venue and the artists themselves. Some of them allow you to bring point and shoot, mirrorless cameras without a detachable lens. On the other hand, some of them will prohibit bringing cameras according to the artist's preference.
Let's get to know if you can bring your camera to your next concert without facing any trouble.
What Type of Cameras Are Allowed in Concerts?
Every concert venue and artist issues their own policies regarding the cameras allowed in the concerts.
If cameras are not at all allowed in the specific venue, they make you sign a waiver stating you can't bring any.
When the venues do allow cameras inside, you might wonder which type of camera is the best for the occasion. Here are some recommendations for your convenience to decide which one to bring.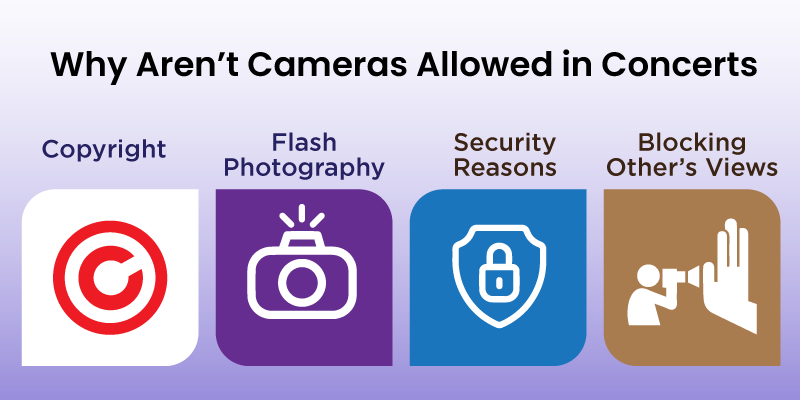 Personal Point and Shoot Cameras
If you only plan to capture photos and videos for the sake of preserving your own beautiful memories, personal cameras are the best. Point and shoot cameras are small and compact, making them easier to carry around.
Point and shoot camera designs are sleek and capable of recording good quality pictures and videos. All you need to be aware of is to turn off the flash of the camera so that others aren't disturbed.
Apart from these, you can also use your own smartphone camera to capture the shots. Make sure the camera quality of your phone is good enough for the atmosphere of the concert.
Professional Cameras
If you are an aspiring or professional photographer, you'll need to bring better equipment and camera to the concert. For that, you'll need to choose high quality mirrorless or DSLR cameras in the concert venue.
To bring professional cameras, you need to possess your own portfolio and obtain a press pass. After getting verified, you will be allowed to bring your professional camera & concert photography lenses into the concert venue.
Now, a high quality professional camera able to capture in the low light and crowd of the concert venue isn't easy to find. That's why, we have gathered here a list of the best concert cameras for you.
Any of these options will get you the most beautiful shot of the concert that you always wanted.
Sony a7 III
Canon EOS 5D Mark IV
Nikon D7500
Panasonic Lumix DC-S5
Canon EOS 90D
Panasonic DC-ZS70 / DC-TZ90
Canon PowerShot G7 X Mark III
Nikon D3300
Fujifilm X-T30 II
Olympus OM-D E-M10 Mark IV
Canon EOS 6D Mark II
Why Aren't Cameras Allowed in Concerts?
Not all concerts will allow unauthorized recording of the artist's performance. You'll figure out if the particular concert allows cameras by reading their camera policy.
You can find the policies in the artist's personal website or check the concert venue and post for the instructions.
No more wondering. Let's get to know exactly why some venues and artists prohibit the appearance of a camera in their concerts.
Copyright
One of the main reasons for which cameras aren't allowed in some concerts is due to the copyright claim to their work. The recorded concert is often uploaded to internet platforms. They sell these clips online illicitly.
However, the actual artists and managers don't profit from these clips at all. Rather, people around the world get to see the exclusive concert for free.
This is detrimental to the artist. Therefore, a lot of the artists can ban bringing cameras into the concert for their own good.
Flash Photography
Most of the concerts are usually held at night or around evening. Therefore, the light in a concert venue is really low.
To compensate for the low light, people tend to take pictures or videos with the flashlight on.
The sudden flashes in the dark can be very disruptive in the concerts. Artists are usually averse to such flashes in their direction as it is disrespectful and also distracting.
So, to avoid flashes in the venue, the artist and company might choose to ban cameras. Unless you can take photos by adjusting the camera into low light, you can't use the flash to take photos.
Security Reasons
It is very easy for a photo or video to expose and incriminate the privacy of people. Someone can capture and record the artist and their personal moments with the camera.
Moreover, pictures taken of the audience can be later used for harassment or stalking purposes by criminals.
Worse comes to worst, these photos can also be used to analyze the concert venue for acts of terrorism in the future.
To ensure the safety of the artist and the audience, bringing cameras into a lot of concert venues has been banned.
Blocking Other's Views
A lot of the time, people bring up their camera to record the performance in front of the other people.
They fail to consider that they're blocking the view from others who are trying to enjoy the concert at the moment.
In order to prevent honest fans from experiencing an obstruction to their concert view, artists choose to not allow cameras inside.
Rules And Regulations For Bringing Cameras in Concerts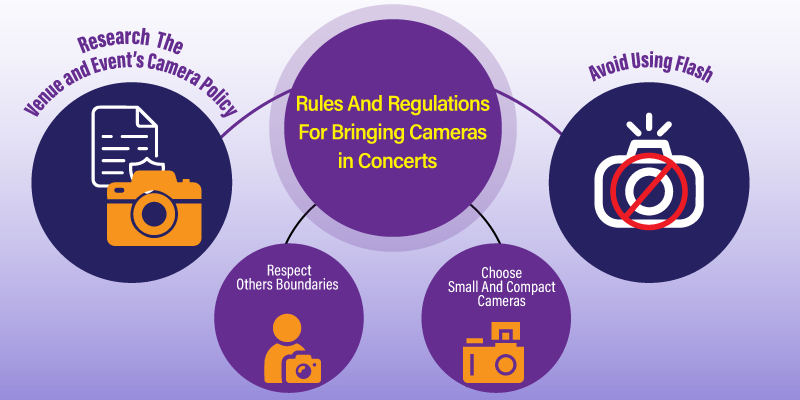 Every concert venue has their own rules and regulations regarding the camera policy. It all accompanies the venue rules along with the artist's preference of conducting their own concert.
Most artists and venues, while allowing you to bring cameras inside, also sets some ground rules. Some of the unavoidable rules and regulations for bringing cameras in concerts are-
Research The Venue and Event's Camera Policy
Whether or not you're allowed to bring the camera and how you should act with it is stated in the camera policy. So, before attending your beloved concert, read up on their policies thoroughly.
You can get to know what kind of equipment and camera you need before going. If you're a professional photographer, you'll also learn what waivers and verification fee you need from this research.
Avoid Using Flash
Set your camera for the concert photography with the right settings for low light. Don't take pictures using the flash at all.
No matter how blurry your photos end up being, refrain from using the flash on your camera.
Respect Others Boundaries
While taking pictures during the concert, make sure you're not bumping into somebody unnecessarily. Don't hold up your camera in front of people for long periods of time.
Let them enjoy the concert to the fullest without blocking their views in pursuit of some pictures.
Choose Small And Compact Cameras
While choosing which camera to bring to the concert, opt for a smaller one with sleek design.
Refrain from selecting any camera that has a detachable lens. These are often not allowed into the venue. So, compact point and shoot cameras with fixed lenses should be your choice.

I'm Lisa brown, 25 years old photography enthusiast living with the dream to capture every moment I live. I've been engaged with photography for five years in a row. I dream of sharing all the experiences with every rising photographer dreaming of being professional.