11 Best Photoshop Plugins For Skin Retouching
Skin retouching can be overwhelming at times. The best Photoshop plugins for skin retouching can make the process a lot easier. You get one-click skin retouching actions, presets which work great all the time. Today we will go over the best 11 Photoshop skin retouching actions and plugins altogether.
Many seasoned high-end retouchers use plugins to get an edge over competitors. Meanwhile, Photoshop plugins offer you extra features and customization which are unavailable on Photoshop. You could get amazing effects on your portrait photographs. Let's explore these skin retouch-up plugins.
List Of 11 Best Photoshop Plugins For Skin Retouching
The best photoshop skin retouching plugins let you get fantastic photographs with only one click. You get to apply various effects via Photoshop plugins in lighting speed. Meanwhile, your model's skin would look super clean and balanced. Below we have listed the best Photoshop skin retouching plugins.
1. Skin White Balancing Plugin – Portraiture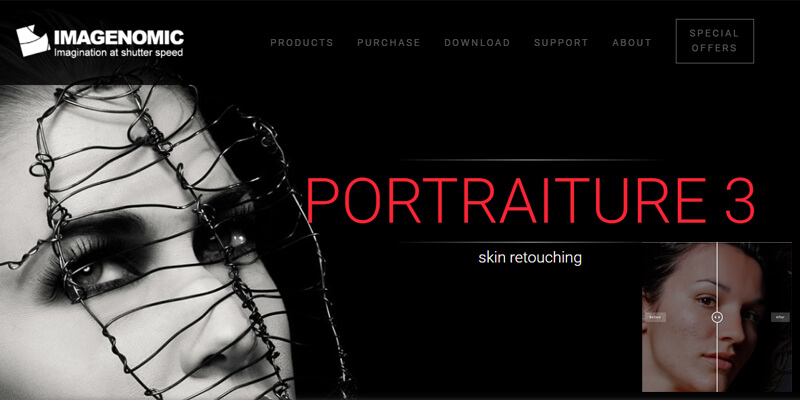 Are you feeling skeptical about the white balance of your model skin? The following photoshop retouch plugins fix the white balance skin of your models with automated actions. It retouches the skin and provides you with great-looking skin on your photos.
Don't get us wrong, and the Portraiture plugin provides you with a whole new set of control panels. The plugin has one of, if not the best, retouch panels for photoshop. You get to customize retouch intensity, masks, and softness with an excellent interface.
It's one of the most used plugins for high-end photo retouching as well. Many beauty and fashion photographers rely on Portraiture to complete photo retouching super fast.
The pace and accuracy of photo retouching make it a perfect plugin to have. Nonetheless, getting the proper white balance and smooth skin is far more convenient with the following plugin. The interface of the plugin is easy to learn for beginners as well. 
The non-destructive workflow makes sure that you can go back after applying the effects. It gives you a lot of flexibility while retouching photos. Thus, you must check out the plugin if you want faster retouching of your image. It's fast, effective, and works with the latest Photoshop versions.
2. Portrait Retouching Plugin – Skin Beauty Retouch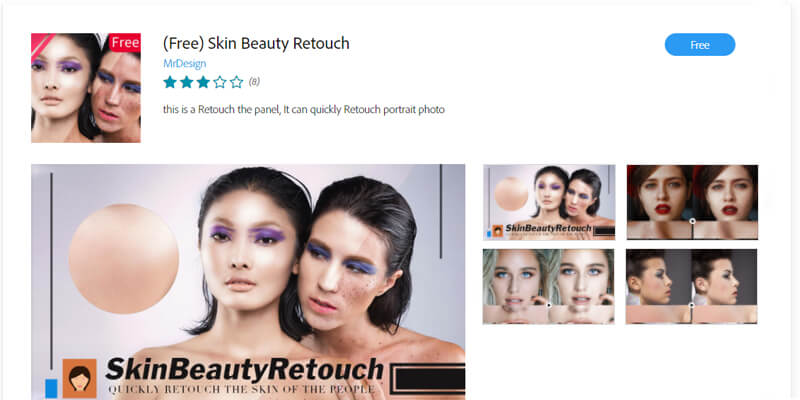 If you are someone who captures portrait images day and night, check out the following Photoshop plugin. It's called the Skin Beauty Retouch. The best part about the unit is free to download and use out of the box. 
The plugin has magical one-click photoshop skin retouching actions to purify your portrait images. Within a few seconds, it would add a purified Photoshop layer. You could turn on and off the retouching layer to check out before and after comparison. 
The best part about the plugin is it's entirely lightweight for use. The size of the plugin is only 76KB. As a result, the installation and usage of the action are way smoother. One-click functionality makes it even perfect for beginners as well.
Thus, the following plugin has a premium version as well. The paid one would let you customize the retouching parameters and alter the effects. You could get access to advanced features like adjusting skin tone and makeup with interface sliders.
In total, it's an effective plugin to apply photography retouching with one click. The result is satisfying and makes your model skin and face look smooth and polished. You could download the skin retouching photoshop plugin free on its Adobe Exchange page. 
3. Sharpening Retouching Plugin – HighPass Sharpen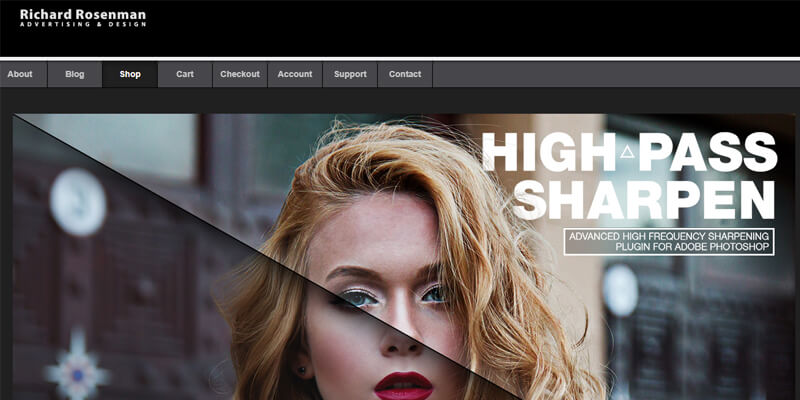 To get better skin sharpening, you could use the following Photoshop plugin. The High Pass Sharpen plugin is a free plugin to install into Photoshop. The plugin lets you customize the effects and details. You could control the skin's sharpening intensity with sliders.
The plugin works excellent to entail the natural texture of the skin in your photographs. It uses high-pass frequency to increase the contrast of the skin of your model. The plugin would work great even in portrait photography as well.
People like fashion photographers would love to use the High Pass Sharpen plugin. Because the plugin offers you a faster and smoother skin retouching process is way softer and quicker. Thus, you get to create proper contrast and add a dramatic effect to your images.
The rating of the plugin is huge, and it has a widespread user base as well. So, you could try the plugin out for skin retouching. The retouching process is non-destructive, and undoing every effect is possible. All of these high-end retouching features are free to use as well. You could go over to its official website, where you could find out the retouching plugin for photoshop free download option. Install the plugin and start using it.
4. Skin Contrast Retouching Plugin – Retouch Panel(Free)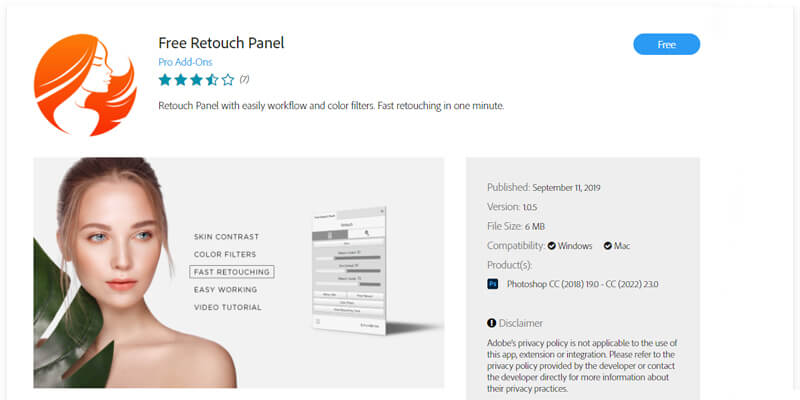 The Retouch Panel plugin offers you one of the best interfaces to retouch skin in Photoshop. Thus, improving skin contrast with the plugin is easier and faster. Aside from skin retouch, you have other functionalities for skin retouching as well. 
Speaking about the user interface of the plugin, it looks clean and smooth. No doubt the plugin has the best retouch panel for photoshop. You get to access each skin retouch option a lot easier via the user interface. 
The skin contrast feature of the plugin is up to the mark. You could adjust the contrast to make your photography model skin look attractive. The plugin can do a fantastic job of bringing out the volume in portrait and close-up images. 
Along with skin contrast improvement, you get other functions as well. For example, you could retouch skin texture and volume using the plugin. Within the retouching panel, you would get Fast Retouch options. In total, you get four different ways to retouch at once. Each method has its separate buttons to let you activate. So, make sure you check out the following skin retouch plugin on Photoshop. You would get fantastic results on your images.
5. Skin Frequency Separation Plugin – Retouch ninja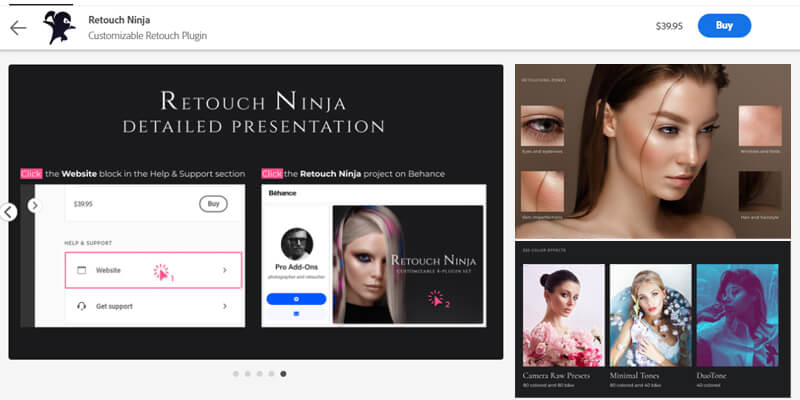 Looking for a faster skin frequency separation technique? Retouch ninja would be the best plugin to use. In all scenes, the plugin has a great set of Photoshop actions to retouch skins. Let's get into the detailed retouch ninja review for more.
The plugin gives you ten methods when it comes to frequency separation. Plus, you would get 20 built-in settings for high-end skin retouching. Each of the Photoshop actions is spot-on and gives you flawless skin retouch on your photos.
It's a premium plugin that has an abundance of preset actions on skin retouching. You could retouch skin with techniques like Dodge and Burn to correct exposure. Plus, Dynamic masks let you erase unwanted marks from your face. Customization of the plugin effects is excellent to have. Within the package, you will get three additional plugs for effects customization. 
Thus, you could achieve the perfect skin tone and texture on your images a lot faster with the plugin. Even though the interface is not as clean as the previews plugin, the Retouch Ninja plugin has a decent retouch panel to navigate between effects. The plugin is a lot more powerful when you need to retouch a lot of portrait images at once.
6. Skin Blemishes Retouching Plugin – PortraitPro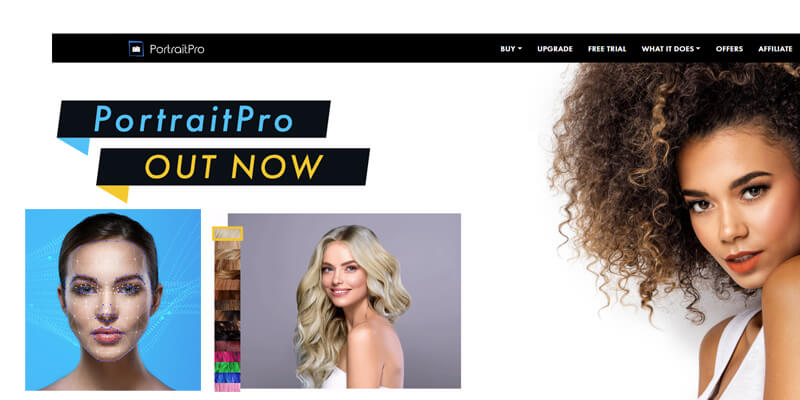 The PortraitPro is a high-end skin retouching solution from its origin. Though, you could install the Photoshop plugin version as well. However, it's one of the Photoshop plugins for skin retouching and removing skin blemishes.
The plugin has built-in AI face detection features. Thus, it could detect and apply an effect on your photography model face. It's a full-flex portrait retouching plugin photoshop tool. Moreover, the plugin is a lot easier to use and apply effects. You could activate its action through one click, and it would give you a blemish-free face from the image.
Once you apply the AI effect, it would add a Photoshop layer above the base image. You could turn on and off the effect layer to check skin retouch before and after comparison. It's easy to work with and provides quality results. Usage of the plugin is way more accessible as well. When you start the plugin, it will move your image into a new window. After you edit your photos, it will save your changes on a separate layer. As it's a non-destructive skin retouching plugin, your base image would be safe. Thus, you could go back to your preview image anytime. 
7. Smooth Skin Retouching Plugin – Universal Retouch Panel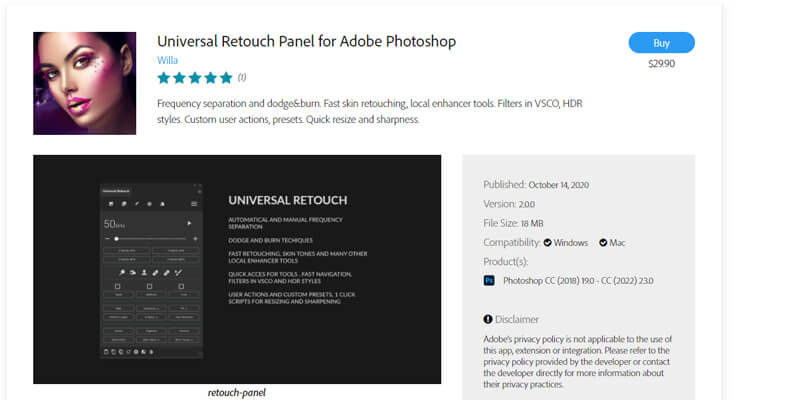 The Universal Retouch Panel is a premium skin retouching plugin for Photoshop. It comes with a wide variety of tools and presets for improving skin. Thus, you could smooth out the skin texture in your photos.
If you are a fan of customization, then the following plugin would be great to go for. It's one of the Photoshop plugins for skin retouching, which offers you effect control. The sliders are available to fine-tune the effect on images.
It's an all-rounder skin retouching plugin as it features other features as well. For instance, you could apply frequency separation, burn and dodge effects on your photography model images. The local enhancement of the plugin would make your photography model look terrific. Fast retouching features would let you get speedier skin smoothing on the go. To let you get the best skin smoothing, you get to adjust, the texture layer, opacity. In addition, you could use intensity sliders to go back and forth on the skin smoothening effects.
The following extension is a gem if you are someone working in beauty and portrait image skin retouching. Check it out right now. Even though it's a paid plugin, it offers you unique filters and customization. To let you get smooth and shiny skins.
8. Skin Texture Retouching Plugin – Magic Retouch Pro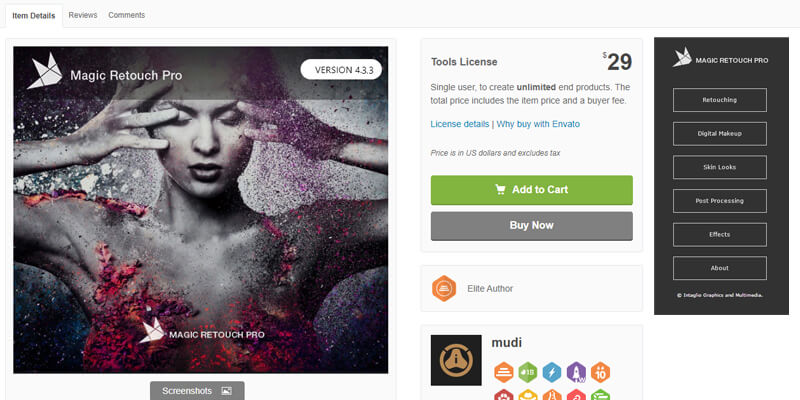 The following photoshop plugin is called Magic Retouch Pro. It's one of the best plugins which provides you with advanced photoshop skin retouching actions altogether. You could get to improve your model's skin aesthetics a lot faster.
It's a great plugin to apply effects on skin texture. You could intensify the skin texture or dim it out using the plugin. Retouching skin texture would let you enhance the look of your model. You would get extraordinary skin retouching features as well. These are digital makeup, lip color boosters, and others. For example, you could add artificial and colorful makeup to your photography model's face.
Making changes on the skin looks using the extension is way more accessible as well. You could choose from 4 skin looks on the plugin. It contains action for Tan, High Key, Candy Skin, and Gritty skin effects. Each of the panels is easy and eye-catchy to watch on. Further, you get the "Compare Image" section to check before and after comparison. Nonetheless, the plugin gets updated regularly as well. It's a massive advantage for you to have as a skin retoucher.
9. Skin Tone Retouching Plugin – Exposure X7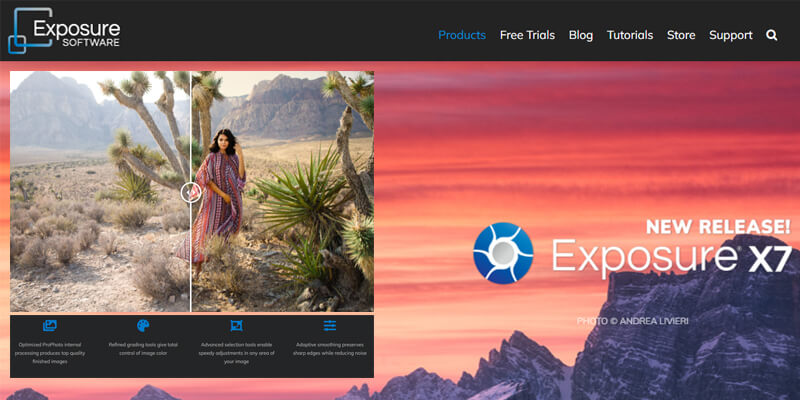 If you need to improve your portrait photo skin tone, check out the Exposure X7(the previous version is X6). It's a great extension to pump up your photo with portrait retouching features. The settings and effects of the plugin always give you a perfect skin tone.
Unlike any backdated plugin, the Exposure X7 is lightweight to run on Photoshop. The retouching process won't lag at all. The GPU-optimized actions are faster, and you don't have to wait a bit to retouch skin tone and make your image look great.
Thus, the photoshop plugin lets you retouch skins with noise reduction as well. The face and skin of your model would look clean and warmer. Meanwhile, you have tons of presets to beautify and retouch skin on photographs a lot faster. The complete extension is paid to add into Photoshop. You could try out the premium skin retouching photoshop plugin free with a 30-day trial. 
10. Skin Wrinkle Retouching Plugin – Beauty Box Photo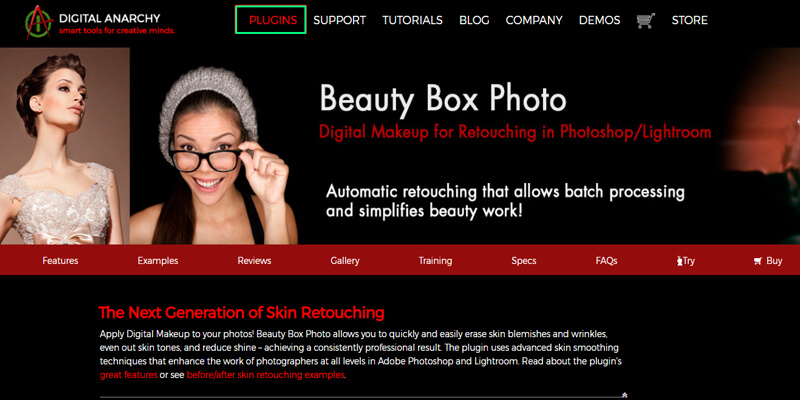 Beauty Box Photo is an excellent skin retouch plugin for Photoshop. It lets you clean any imperfection of your model skin out of the image. The wrinkles around the eye would vanish, and your model face would look smooth.
The plugin has great features, where it detects your model skin and applies effects where it is needed. All of these are done within one click. Most of the automatic results are great to look at. In case you are not satisfied with the skin retouching results, you get further options to customize. It's a lot easier to customize the effects.
Along with skin smoothing and face line removal, the extension does a great job at skin tone retouching as well. The plugin would automatically select the right skin tone for your image model. So, check the plugin out, as it's an excellent piece for retouching skins faster.
11. Skin Spots Retouching Plugin – ON1 Portrait Al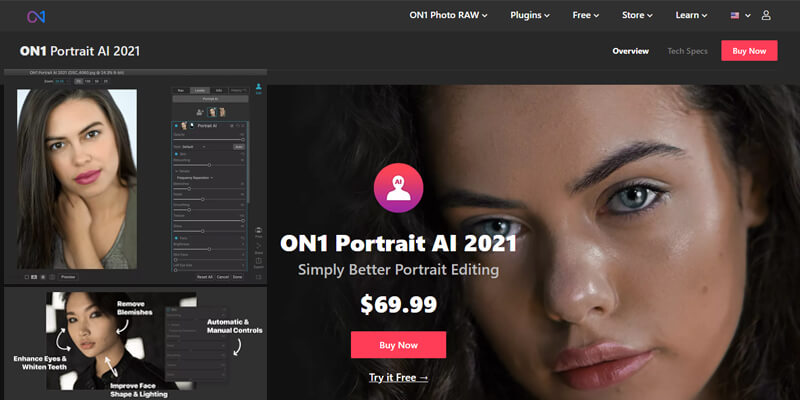 The ON1 Portrait Al 2021 is a feature-rich high-end skin retouching plugin. If your model has dark spots on your face, the following Photoshop extension will help you a lot. As a new age plugin, it uses AI to detect face detection. It means you only have to start the plugin and apply your effects, and it would retouch your model photograph.
Thus, your model face would look great and smooth. The interface of the plugin is minimal and easy to understand. Thus, you get a lot of options to alter the effects and get the perfect skin retouching. 
In case your photos contain two people, you could apply skin retouching effects for each person separately. These independent controls make the Photoshop plugin a lot more dynamic. The plugin lets you enhance eyes, teeth, and lips in portrait photography a lot faster. You could improve your face and body shape to make the image look compelling. You could check out the following photoshop skin retouching plugin download page to get the free version. To use full features, you could get the premium ones.
How to Install Photoshop Plugins?
To install your favorite plugin, first, download the plugin package. Afterward, open Photoshop and click on Edit menu > Preferences > Plugins. Check in the option "Additional Plugins Folder." Then open your system's program file folder and the Photoshop file. Afterward, open the Plugins folder and paste the plugin file. At last, restart Photoshop.
How Do Photoshop Plugins For Skin Retouching Works?
Most of the portrait retouching plugin photoshop kits use automated actions. Nowadays, plugins use AI technology to detect skin and apply effects that suit best. Many plugins offer you effective customization as well.
When to use Photoshop Plugins?
If you need to batch process a bunch of images, you could use the photoshop plugin. Further, you could use the Photoshop skin retouching plugin to make the process a lot easier.
Conclusion
The best Photoshop plugins for skin retouching offer you a lot of flexibility and accuracy. If you need to retouch a lot of photos, you could use the plugins. Your high-end retouching skin retouching process would be a lot faster than you might think.
So, make sure you have used photoshop as mentioned above skin retouching actions to speed up retouching tasks. The best part is, these plugins offer you a wide variety of customization tools as well. You could apply a lot of new effects and adjustments with Photoshop plugins. Choose the right one now.

I'm Lisa brown, 25 years old photography enthusiast living with the dream to capture every moment I live. I've been engaged with photography for five years in a row. I dream of sharing all the experiences with every rising photographer dreaming of being professional.